We have seen a lot of research about what makes a successful leader, but most concentrates on business rather than community leadership. In many ways, being a community leader in Rio de Janeiro really separates the strong leaders from the weak: the challenges of resources, gaining trust amongst people in the community, and all the clientelistic relationships from state and non-state actors that demand leaders to assume a diplomatic type position.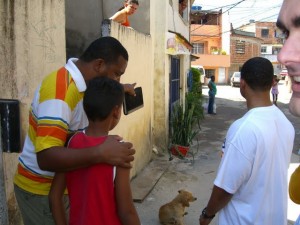 I thought it would be interesting to see the lessons that I learned from a Carioca community leader. What are the lessons we can learn from those who fill some of the most difficult leadership positions?
I met Carlos Alberto Costa, known as "Bezerra," who lives in a small and rather new community (over 25 years old), Asa Branca, in the West Zone of Rio de Janeiro. (To see pictures of the community, click here.)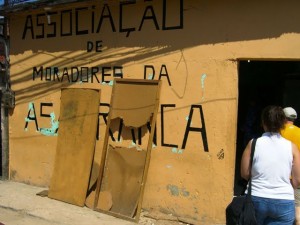 Bezerra has been the President of the Residents' Association for most of the last 12 years. His case is unique, not only because Asa Branca is a fairly new community, but also because Bezerra has been able to motivate his community together to carry out unique projects including building a sewerage system, improving access to water, creating a community recreational space, increasing environmental awareness, organizing community first-aid training, and more.
This is what I learned:
Smart and Resourceful: A leader needs to be able to observe problems, and work to solve them in the most efficient way, and finally learn from the past in order to work ahead of future problems. For example, one year it rained so much that the rain clogged the new sewerage system and flooded the community. Bezerra had to figure out how to stop the flooding and fix the sewerage system, and help those who lost their houses. But he also worked to figure out how to redo the drainage system so it wouldn't happen again. He also got his community ready for next time by providing first aid classes to a group of people. If there is another emergency people are more prepared from the start to handle it.
Be an Ambitious Idealist: It is imperative to look into the future with a vision and work hard to accomplish it. One aspect that Bezerra always emphasized was that he has a vision for another life for the children in his community. He has lived his life, and so even if he runs into many walls, he keeps going because he wants the children of his community to not experience what he has had to pass through in his own life.
Know When to be Open to Critics and When to Be Thick Skinned: Sometimes in the work place we forget that this is so important. You have to not only give feedback, but be able to receive feedback, learn from it and let it be a motivator and not stop you. Bezerra says that mostly his "constructive criticism" comes in the form of others complaining about his performance, but instead of letting the comments hurt him, they motivate him to try and figure out a better way of leading his community.
Not Afraid of Failure: Bezerra said that when the Association started to build a new recreation area, many questioned him and said, "Do you really think this will work? Do we have the resources?" Bezerra explained, it might not work out, but he was going to try and work his hardest until he figured out a way for his community to have a recreation space.
Creative and Innovative: Bezerra is maybe one of the most creative leaders I've met. He attributes this quality to the fact that he has to be innovative, saying "Those who have a lot can afford to not be innovative, but here in my community we don't have much. We work with what we have." One example of his creativity: He wrote a play about the environment for the community's children to perform. Through this experience, the children were able to learn about the environment, participate in something productive, and gain the confidence they need. The group was sponsored to perform the play all over Rio, which taught others in Rio about the environmental challenges that low-income communities face daily.
A Great Listener: Bezerra underscored that he is a leader of his community, but he in fact works for his neighbors. He needs to know what they need, what they think, and what they see for the community's future in order to do a good job in his position.
A Motivator (This is a community after all!): You are a leader, not a one man show. If you motivate more people behind your cause, you have more force. Utilize people's strengths, and get them involved. Once when I asked Bezerra how he was able to realize so many accomplishments. He laughed at my question. I was confused. He replied, "I didn't accomplish these things, my community accomplished these things. He took me outside and introduced me to his carpenter, to his cultural leader, to his construction team, to his financial assistant, and said, "It is one thing to have the idea, it is another to implement it. These are the people who are working hard."
Never Stop Learning: Problems change, visions change, your "followers" change, you change. The world is always changing and so we must keep learning and anticipate change. Although Bezerra works every day to fix daily problems (to pave roads, provide access to water, create a recreation center, etc.), he also finds time to promote environmental awareness and health epidemic awareness in order to strengthen his community against potential future problems.
Bezerra explained that he was born with some of these leadership qualities, but he also learned a lot from experience. He explained how on his first day as Residents' Association President he didn't know anything and had to spend his first year learning from others.