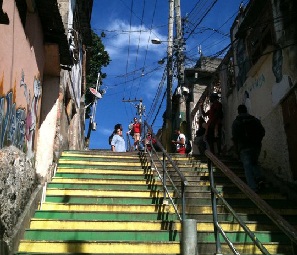 By the famous staircase beside which lie the many houses in 104-year-old Morro da Providência marked for removal by the Municipal Housing Secretariat (SMH), thousands live their lives full of dreams and expectations. Children, adolescents, young and elderly lovers of the community where they have built a their lives.
Walking through Providência, we met Viviane Neves, seated on the stairs with her youngest son. The young woman of 25 – a clothing saleswoman and community resident since birth – spoke a little of her career to date.
For two weeks she has been mourning her stepfather, Paulo Sergio, who died of muscular fibrosis at 56. Dazed by grief and memories, Viviane says she sees figures of her stepfather in the house all day. "He was my hero. He raised me since I was very small. Through the pain, the joy, and the anguish, he was always there for me," says the young woman emotionally.
She recounts some of the trials she endured during her teenage years in Providência. She got pregnant at 15 with her first boyfriend who, she says, was sexist and unfaithful. "When I found out I was pregnant, it was desperation. We were dating a short time and I didn't like him that much. When my daughter was born, I could not even take care of her right. It was my mother who took care of her, and I wanted nothing to do with life," she says.
Viviane had over 10 boyfriends in Providência and became pregnant more than 4 times. "I was trying to find the right man in the wrong places. I was careless and became pregnant," she explains.
At 18, she had an abortion after 6 months of pregnancy, after seeing her boyfriend kissing another girl at a dance. "I was very angry, and then I thought: 'Why should I let a child suffer in this world?'" Then my friend lent me R$2,000 and I had the abortion," she admits. At age 20, she became pregnant again with twins from another boyfriend, but then had to abort after three months because the babies were developing outside the amniotic sac. "It was very painful for me. Sometimes I even think it was punishment from God for the abortion I had had two years before," she says.
Her childhood in Providência was an adventure. She was always up on the hill, causing trouble and then getting spankings from her stepfather. "I took toys out of the trash (my mother called me 'Maria-Lixo'), I saw couples having sex early in the morning, I drank beer in secret …"
Today, Vivian has two children and says she had finally found the love of her life, until she discovered that he was married, and had been for 12 years. "I had many passions, but love is only once. He deceived me, but I had decided to forgive him as long as he separated from his wife to be with me, but that never happened," reports the young woman.
Viviane's house is today marked by the SMH, and, after the death of her stepfather, she and her family are without a steady income. Her destiny is unknown, but she is not discouraged and professes a commitment to her children. "They are everything to me and I do not want them to go through what I went through," she concludes.
On the other side of the hill is the story of Luis Gomes, 50, who was paralyzed 20 years ago, as he defended himself against a mugging in Nova Iguaçu. "Two pickpockets came to approach me, and since I'm used to the bandits here, I could not accept those kids threatening me. So I fought back and was shot eight times in the chest and spine," he explains.
A retired port worker on disability, Gomes says he hopes to walk again. He has been doing physical therapy for a few months and is slowly regaining some movement. Dependent on his friends to help him down the stairs, he feels very limited. His family disbursed to Sepetiba after the death of his mother, who suffered from respiratory failure.
Although his home has not been marked by the SMH, he feels for his friends and neighbors who will have to relocate. The community has many founders and standing out among them is Dona Isaura, his grandmother who died of respiratory failure, the same disease as his mother.