The lives of hundreds of residents in Complexo do Alemão have been disrupted by daily armed conflicts since the 2014 World Cup ended on July 13.
According to residents, a teenage boy known as Matheus, age unknown, was shot dead on Sunday, July 20. He had only just become a father. News website R7 reported that alleged drug trafficker Diogo Werllington Costa, 28, commonly known in the community as Bebezão, was also shot dead and died in hospital.
Residents report that conflicts between the police and drug traffickers have been rampant for a while but that since the international soccer event finished shootouts are occurring at least once a day with no warning in the neighborhoods of Alvorada, Grota and Morro do Alemão.
The favela's cable car service was stopped for a week on Tuesday due to 'public security issues' and residents have been too afraid to leave their homes to go to work or open their businesses.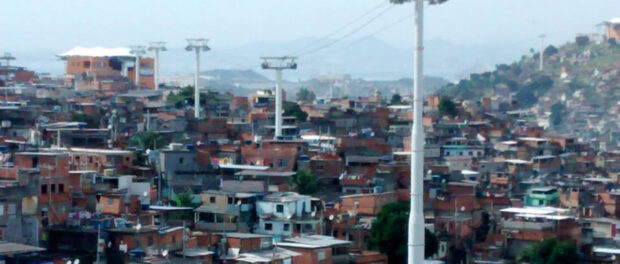 Residents who prefer not to be identified told RioOnWatch: "Since the beginning of this year the frequency of the conflicts has increased. Since three months ago, they started happening weekly, sometimes daily but after the World Cup it happens every day, any time."
Photos of bullet cases and walls damaged by shots surfaced this week, as well as a video allegedly showing military police officers putting the body of the unidentified teenager into a police car and driving away, and several recordings of the shots fired in the favela.
Residents report the behavior of the police has been brutal.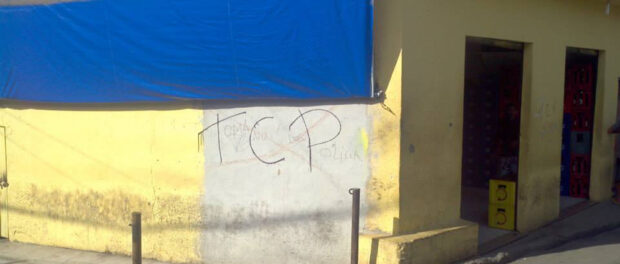 "It's been absurd because they'll stop and frisk children who have no way of being suspects," they said. "They frisk anyone in places with lots of people, making them feel embarrassed because they always yell and curse the residents and when the shootout is happening there's a lot of yelling provoking the traffickers."
Residents have also alleged that police grafittied the letters 'TCP' on the walls, which stands for Terceiro Comando Puro (Pure Third Commant), an enemy faction of the chief drug gang in the complex, the Comando Vermelho (Red Command). This would be the ultimate provocation to "intensify the conflicts," according to residents.
When asked the favela felt safer before or after the military occupation of Complexo do Alemão, a resident said: "I felt safer before because there were warnings when the police came into the favela so we knew when to hide. Now, [shootouts] happen unannounced."
Last March residents and non-profits organisations in Complexo do Alemão published a manifesto for peace. Written by community collectives including Occupy Alemão, Raizes em Movimento, Educap, Jornal Voz da Comunidade, it read: "We want to be happy and walk freely in the favela where we were born." The occupation of Complexo do Alemão and the installation of Pacifying Police Units (UPP) have been problematic ever since the unscheduled military operation of November 2010, with constant complaints of police abuse from residents.
"To us, the police are worse than any criminal," said one resident.
Complexo do Alemão continues to be the scene of daily shootouts and the areas of Nova Brasília, Capão and Loteamento have had no electricity since Monday. Latest reports from residents say the Special Operations Battalion (BOPE)  has entered the favela.