This is the second article in a series by guest researcher Jeffrey Omari,* on ICTs in Rio's favelas.
During a recent visit to Complexo da Maré, in Rio's North Zone, a friend and resident of the community showed me around the favela. It was my first time in Maré and my friend suggested I keep my smartphone in my pocket as we walked through the favela. With its competing gang factions and military occupation, I knew of Maré's fraught political climate. However, as a newcomer to the favela, I was unaware of the true complexities of Maré's tensions. My friend declared that it was fine to use my phone in private and that it would even be alright to use the device in semi-public spaces (inside stores, restaurants, bars, etc.), but public spaces were completely off limits. Of course, I was a foreigner in the community so perhaps a different set of rules applied to me? When I inquired, however, my friend assured me many residents refrain from using their cell phones in public. As we walked through the favela, I did observe a few people (mostly favela residents) freely using their cell phones publicly. Still, given that mobile phones are the primary mode of Internet access in these communities and granted the recent proliferation of the devices both in Brazil and its favelas, the public use of cell phones was not as great as I had anticipated in a community the size of Maré.
Although my friend never fully explained the reason why many Maré residents refrain from using their mobile phones publicly, the recent controversy surrounding Maré's community run Facebook page, Maré Vive, helps us understand why. Since its inception in March 2014, Maré Vive has become a focal point for news and information about life in the favela. As with most of Rio's favelas, Internet access has become almost ubiquitous in Maré and most of Maré's residents access the web via mobile phones, rather than desktops, laptops, or tablets. In Brazil, however, standard SMS and text messaging charges from national carriers are often very expensive. Thus, accessing the Internet via mobile phone means the free and wildly popular Facebook-owned messaging application, WhatsApp, is almost obligatory. Problems for Maré Vive arose when someone started a faux Maré Vive Facebook page with posts denouncing many of Maré's traffickers. These derogatory posts included photos of many of the dealers in question. Without any links or other distinguishing features noting the source of the photos (i.e., the fake Maré Vive Facebook page), they were shared via WhatsApp using the hashtag #marevive. Needless to say, the traffickers were not pleased. Death threats to the creators of the original Maré Vive Facebook page soon followed and traffickers began policing the cell phones of residents with hopes of finding the informants.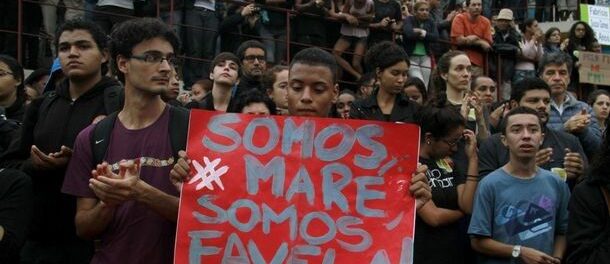 Digital Inclusion
Fear of retribution for posts on social media is not specific to Rio's favelas as research shows similar instances of traffic-related censorship in areas like Vitoria, Brazil. Unlike the favelas in Vitoria, however, Rio's favelas are currently undergoing pacification programs with aims of disarming and reclaiming gang-controlled territories while also intending to offer programs that improve infrastructure and strengthen social services. Although favelas like Maré have only had limited success with police occupation, digital inclusion—the idea that increased access to technology can be a boon to society by serving as a means to increase democratic participation, help reduce violence, and incorporate favelas into Brazil's formal economy—remains pivotal to the State's efforts to redefine the economic and political conditions in favelas.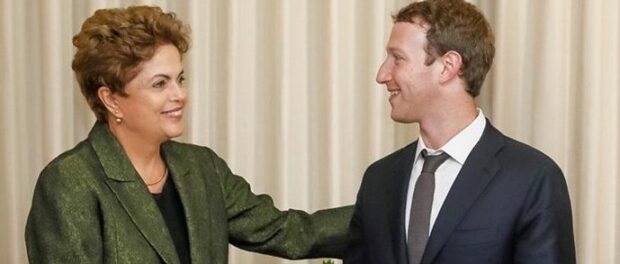 While pacification often controversially facilitates the security needed for gentrification, Brazil's recent surge in mobile phone use helps realize the goals of digital inclusion. Rio's City government, meanwhile, is launching what appears to be an ambitious program to promote digital inclusion with its new Knowledge Ships initiative. According to Rio's Secretary of Science and Technology, Franklin Dias Coelho, the vast economic inequalities in Rio result in a city that is "not only socially fragmented, but also digitally—in terms of opportunity, information, and knowledge." Situated near favelas and other disenfranchised neighborhoods with the most need for technological resources, "Knowledge Ships" are high tech community centers that aim to promote digital and democratic inclusivity by connecting local residents to the digital realm with free public access to the Internet via laptops, tablets, and digital skills training. In addition to advancing digital inclusion, a broader goal of this strategy is to make Rio an "intelligent city," which includes state-of-the-art telecommunications infrastructure, facilitates the Internet of things (an Internet development in which everyday objects have network connectivity), and builds Intelligent Communities (those that regularly incorporate technological innovations in their day-to-day lives).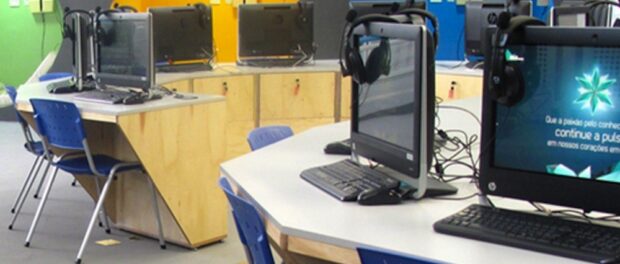 With the realization of broader Internet access comes the corporate push to capitalize, and companies like Microsoft, Google, and Facebook have led the charge. Although the goal of increased profits is always a strong incentive, for its part Facebook has partnered with the Brazilian government with the aim of using digital inclusion to increase access to public services such as health, education, culture, work, and technology. The program is likely to boost traditional literacy levels and access to employment in the formal economy. As part of its digital inclusion strategy, Facebook's first project targets a favela in São Paulo, Heliópolis, and implements a free, high-speed wireless Internet service.
Although there is both a government and corporate push for more technological access in favelas, the example from Complexo da Maré illustrates that digital inclusion is not a simple task and is tied to a number of broader socio-political realities and risks. Indeed, several of the residents I spoke with expressed doubts regarding technology's ability to resolve inequalities in favelas. At the same time, however, they conveyed their hope for digital inclusion's potential to include their communities economically and politically in matters of the Brazilian state. Certainly, with its ability to foster opportunities in the areas of employment, activism, media consumption, education, access to government services, and independent news coverage, digital inclusion has the potential to open the doors to democracy. Our example from Maré also shows that the state's goal for broader inclusion can often clash with the realities of technological access in favelas. Indeed, as it relates to the repression in Maré, dreams of democracy are sometimes deferred.
*A PhD candidate from the University of California, Santa Cruz, Jeffrey Omari studies Internet access and cyber law in Rio de Janeiro.