For the original in Portuguese by Miriane Peregrino, published in Agência de Notícias das Favelas, click here. And click here for Part II.
Located on oceanfront Avenida Niemeyer in the South Zone of Rio de Janeiro, the Vidigal favela used to be home to nearly 9,000 people. The first inhabitants of Vidigal arrived in the 1940s. The Pacifying Police Unit (UPP) was launched on January 18, 2012, serving Vidigal and neighboring favela Chácara do Céu. This is the first of a two-part article on Vidigal, addressing tourism, history, and favela memory following the installation of the UPP.
The sign says "Vidigal is Ours"
A sign, high in a tree on the favela square, reads: "Project: Vidigal is Ours!!!" A short but intriguing phrase: who would feel the need to write such a thing on a public sign, and hang it near the entrance to the favela, as a statement of resistance and also a warning?
Some people told me the sign was the work of a young man called "Emerson the hot dog man," but when I tried to find him they said he didn't live there anymore. Some said his family couldn't afford the rent in Vidigal so he had gone to live in Xerém. Others said he was a talented young man who had won the first Vidigal 6k race. Plenty of other stories came out. But whatever the case, the phrase is striking, and prompts reflection on the us invoked by the word "ours," as opposed to them.
In the context of residents' frequent complaints about increased real estate speculation in Vidigal, and complaints about the wave of foreigners—including [rumors of] Madonna and David Beckham—buying property in the favela, it's easy to conclude that us refers to long-time favela residents who were born and raised in Vidigal, or have lived there a long time, as opposed to them—foreigners and the so-called playboys who began frequenting the favela and even settling there after the UPP was installed in 2012. Such a dichotomy certainly exists, but it doesn't fully explain the profound transformations affecting Vidigal. In January and February of this year, we spoke with a number of favela residents, whose words highlight the diverse interests at play in the dispute for this territory.
Trendy Vidigal: favela in crisis
Thanks to its privileged location between São Conrado and Leblon, its spectacular views, and the massive investment of public capital into "pacification" projects in Rio's favelas, Vidigal has recently begun attracting tourists, and new residents with more purchasing power. The favela now faces hour-long traffic jams, renovation projects and new construction everywhere you look, frequent power outages, and growing real estate speculation.
At 5pm, the traffic is completely jammed at Largo do Santinho, the electric company truck in the road and workers on a telephone pole. People are complaining about the lights being out. The taxi can't get through. "The lights are out. They keep going out. Yesterday there was no power for three or four hours," says 44-year-old driver and Vidigal resident Orlando Souza.
Jaime, 55, also complains about the traffic. "So many trucks. Garbage trucks, city trucks, delivery trucks, furniture store trucks. It's like they all get together and decide to come up at the same time! It's even hard for motorcycles to get in; it's hard to get up the hill."
In the streets and alleys, the bags of cement and other building materials are hard to miss. Vidigal resident and moto-taxi driver Bianor, 43, says: "There's a lot of construction, but it's for them [the foreigners], and for hostels. If you look at it, it's all sheet metal. Locals wouldn't be able to do that; locals' houses are made of concrete, bricks…"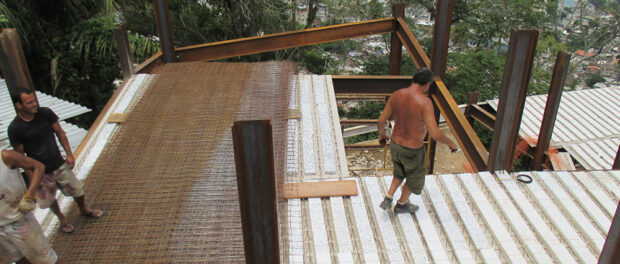 Vidigal resident Rosa Batista, 57, speaks to the question of the community losing its character, and points out that Vidigal's infrastructure hasn't changed to reflect the population increase. "There are more and more people living here… And the kind of people coming in is changing. Before, this was a place where everybody knew each other, but now it's a sea of different people, different businesses—especially foreign ones," she says. "And the infrastructure is the same as when there were 9,000 people here! Now there are about 16,000 families registered at the public health clinic, and the infrastructure is the same as always!"
Tourism at the top of the hill… for whom?
Though the hiking trails and scenery of Vidigal have always attracted tourists, since the installation of the UPP in 2012, the number of tourists and new residents—foreign and Brazilian—has more than tripled.
While Vidigal has a public security policy, it lacks a tourism policy (such as the one in place in Santa Marta), and the results are plain to see. Jaime questions the logic of pacification in Vidigal in the absence of other public policies. "At the end of the year you couldn't help seeing it: a lot of tourists came up here, from other countries or not. With the pacification of the favela, a social welfare program would be critical, but where is it?"
Residents also pointed out they are not the ones who profit from tourism; the money generated doesn't stay in the community.
"The tour guide who comes from down there [in the more affluent neighborhoods of Rio] is the one making money off tourism. We're just starting to develop the mentality of having our own guides," says Hiran Lima, 47. "But you have people who come from down there with a group of foreigners, charging X amount of money per person. They come up, they don't buy anything in the community, they do whatever they want. They go up to the top of the hill, they take the hiking trail, and from what I've seen, some of them lack environmental awareness. There's a lot of deforestation, a lot of trash on the trail. It's disorganized. I think some organization, either from inside the community or from outside, should take a look at this."
Vidigal resident Roberto, 31, thinks the favela should charge an entrance fee for the hike to the top of the hill, and that the money should go toward improvements to the community. "The tourists come, but they try to spend as little as possible. I think there should be a fee. They should have to pay to visit. They pay R$35 or R$60 (US$11-20) to visit other places, but they don't think they should have to pay here just because it's a favela?"
Moto-taxi driver Bianor complains that tourists and the new residents don't leave anything behind for the community. "They don't leave anything for us here. They don't spend anything here. The only thing some of them do is hire a motorcycle to the top of the hill."
The idea of charging a fee to visit the community comes up in every interview. It's also a source of frustration for Vidigal Residents' Association member Rodrigo Ferreira, 34.
"They don't leave anything here for the community. They are exploiting the community, the image, and they aren't leaving anything, nothing that we could use in the future." But he goes on to say: "I don't see anything positive about it, but on the other hand, it's democratic. The space is here, people can move around at their discretion. And how are you going to keep people from coming through here? It's tricky. Even though they come up here and don't leave anything for us, they have the right to do that: that's progress. There's nothing that says they should leave something here. It's like if we went down to Leblon [a more affluent neighborhood next to Vidigal]. We don't necessarily have to leave something for Leblon. We simply go to Leblon, just like people come to Vidigal. They simply come to Vidigal. That's how it works with the right to come and go; people just come. It's complicated. Full of contradictions."
Rodrigo believes Vidigal is for anyone who likes Vidigal, not only for those who were born and raised there. He recognizes that some people do go there wanting to help, but says there are also a lot of opportunists at this moment of higher visibility. "Vidigal is one of those communities where people with a little more education realize they can make a good investment. You don't have that potential in very many places in Rio."
Rodrigo says there are people in Vidigal with ideas for local development, but who lack the capital to invest in it. "There's a lot of talent in Vidigal, and we have a vision of what we'd like to see, but we don't have a way to make it happen. We have the ideas, but we don't have the ability to engage, to invest in our ideas. The businessperson [from outside] has what it takes: the same vision plus the capital. The idea is not the hard part. The hard part is the capital."
Whose party is this?
The foreign or Brazilian tourist who comes up to Vidigal is not necessarily interested in a favela tour such as those offered in neighboring Rocinha. Although these tours do exist in Vidigal, most tourists are more interested in hiking the Dois Irmãos summit trail, and in the so-called alternative parties that take place at the top of the favela, at prices well out of reach for favela residents.
"The community events are not meant for those who live here, and that's the truth; it's a fact! It's all designed for people to come up here—expensive event, super-expensive drinks. It's a thing that divides people," says resident Hiran Lima. "If you go to one of those events you'll see one or two locals, and everybody else is from down there."
Vidigal resident Orlando Souza notes that there are several expensive commercial establishments at the top of the favela. "There's Belmonte, Laje do Vidigal… People who wouldn't come up here before are now coming without thinking twice. Locals don't go because it's too chic. It's way too expensive; not meant for everybody."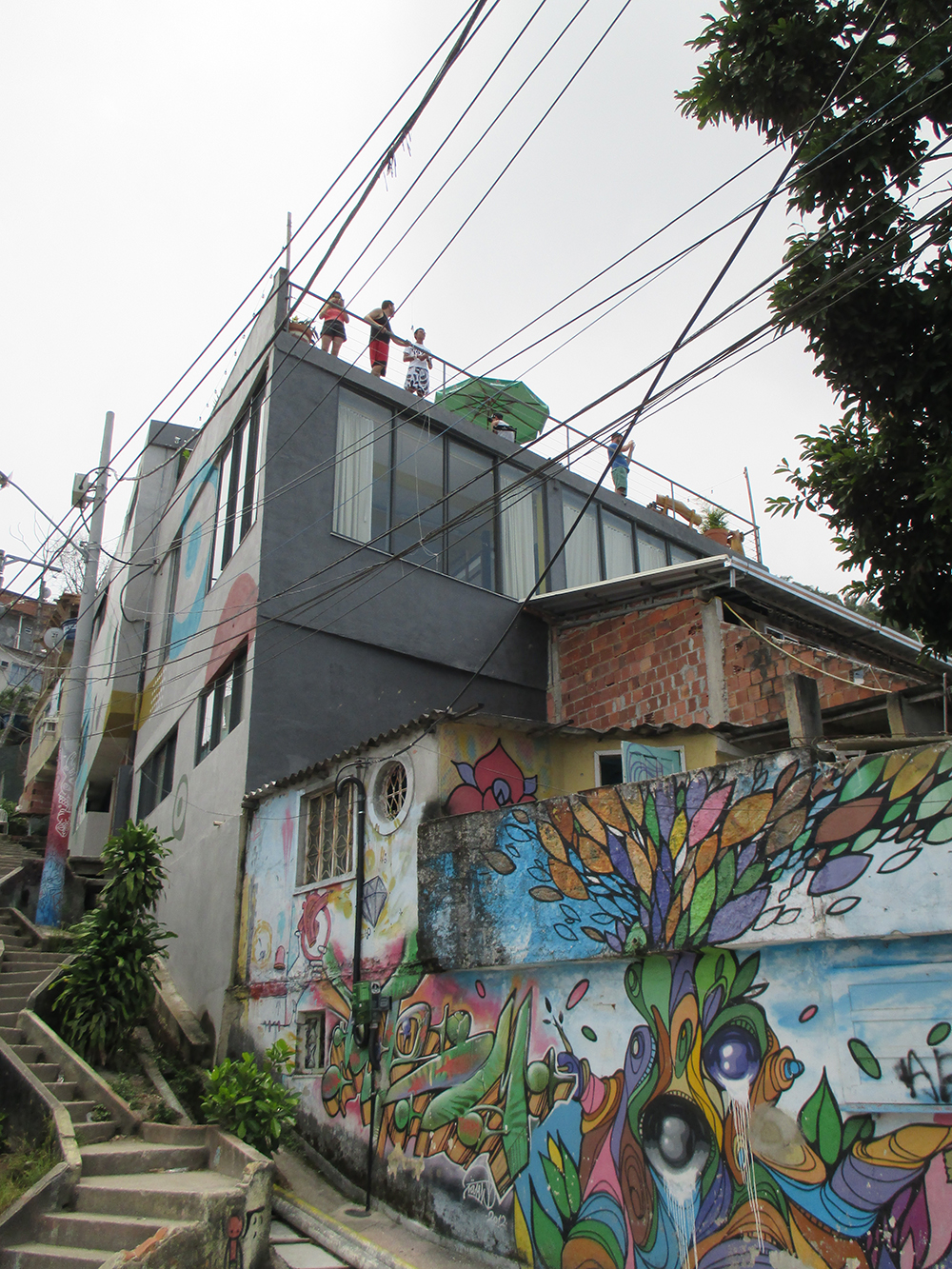 "The people who live here don't have access to the parties because they're so expensive. Locals have no way of going: it's only for people from down there," says resident and moto-taxi driver Bianor, who also questions the visitors' lack of interaction with the community. "They're over there, and we're here. There's no interaction at all, you know? They come up in their cars, and then they go back down… that's all they see." German resident of Vidigal, 41-year old André Koller recalls, "There used to be a van at the entrance to the favela that would take you to the top. Now the van leaves directly from Leblon. It costs R$200 (US$65) to get into the party. It's a different crowd; they don't have much to do with the community."
Vidigal residents point out other inconveniences related to the parties at the top of the favela hill. As well as not being accessible to long-time residents, the parties last all night, blasting loud music. Meanwhile, typical favela parties with funk or pagode are prohibited or regularly denied permits by the UPP.
"There are parties that go on for days, and the UPP doesn't do anything. It's a nightmare for people who live near those parties. Vidigal is jammed with cars. We almost never have an event designed for the community. Those [at the top of the hill] are really designed to keep the locals out," says Hiran Lima. "At the expensive parties they can do whatever they want, and they go on for days. But if a local wants to have a little party at his house, on his rooftop patio, somebody complains and the UPP shuts it down. The young people aren't allowed to have funk parties anymore, and that was part of the community's identity. We're not allowed to stay out late in our part of Vidigal. This is our home, but we don't have the right to enjoy it anymore."
Rodrigo Ferreira says the UPP requires a series of formalities from local event organizers, but does not require the same procedure for events put on within the favela by outside organizers.
"There's a ton of bureaucracy for us if we want to put on an event here. They ask us to file with the fire department, the municipal government, and we have to provide a stack of documents—which might be necessary sometimes, but maybe not for a street party. And they want it for some places, for some people, but not for others," says Rodrigo. "For example: a street party. If we put on an event in the street, they want documents from the fire department, the municipal government, and a lot of other places. And so we take care of all that, and then they hit us with the noise ordinance (Lei do Silêncio). As far as I understand, the noise ordinance goes into effect when someone is bothered by the noise. Okay, but the law says you can go up to 80 decibels. How do you measure that? With a thing called a decibel meter. But what it if the policeman doesn't have one of those on him? How does he know if you're within the limits or not? But he shuts down your event anyway, saying you're breaking the noise ordinance. He shuts down your event, and says that neighbors are complaining and that you're breaking the law. Meanwhile at those hotels, those hostels, the event starts at 4pm, at 2pm, or at 10pm, and goes until 6 in the morning. And it bothers people, it's a huge hassle for the community, but they get to keep going. Why? Isn't the community complaining? It's a double standard. So if you have a lot of money you can do whatever you want, but if you're poor, you can't do anything? If the poor man can't have a party, he can't do anything."
Rodrigo thinks the state should provide the police with the decibel meter. "The state has to provide it. He [the officer] can't just listen and tell me I'm over the limit. And they don't even go up to the hostels' parties that last until 6 am. The community's parties are restricted, but not the rich boys'. And those parties at the top of the favela are not for the community. They're inside the community, but they're for rich boys. With R$200 or R$400 tickets (US$65-130), people from the community don't go. I'm not judging the cost. It's like I said—they come and exploit the community and don't leave anything behind. It's because it's Vidigal, and Vidigal is a peaceful community."
The situations described in these interviews are evidence of segregation along economic lines, with long-time residents on one side, and new visitors and favela property owners on the other. Bianor also complains about the posture of political leaders toward the parties in Vidigal: "[Up there] they have parties that last all night long. It bothers people, but they have the power, you know?"
I live, you live, and they…
Vidigal has for years attracted people from 'the asphalt' (as the 'formal' city that receives greater public investment is known): Brazilians and foreigners who can't—or prefer not to—pay the exorbitant rents in Leblon and other affluent neighborhoods in the city. But the influx has undeniably intensified since the installation of the UPP in 2012. We spoke with 50-year-old Rio native Raff Giglio, and German André Koller, 41, who were part of the first wave of new arrivals—those who came to Vidigal before the UPP.
Originally from Leblon, Raff Giglio has worked in physical education in Vidigal for 22 years. He moved to the favela 18 years ago when his first marriage ended. He built a new life in Vidigal. He married a local woman and created an organization called Instituto Todos Na Luta (All in the Fight Institute). "I was an NGI for many years–a non-governmental individual. In 2010 we became an NGO."
For a long time Raff worked without a sponsor. He managed to sustain his Vidigal youth project with the help of a gym near the entrance to the favela. "During the war between Rocinha and Vidigal in 2004," he explained, "the gym almost went bankrupt. It had been surviving thanks to students from 'the asphalt' who paid monthly fees. And with what I saved from the proceeds of the gym, I kept my program going with the Vidigal kids. I financed it. Then when the war was on, I couldn't pay rent anymore. But the condominium's owners lent it to me and I kept using it that way for a few years."
Raff Giglio says his program has been affected by real estate speculation in Vidigal. "So this pacification thing came in, property values went up, and the building's management changed hands. They didn't appreciate the social work I was doing for the community, they didn't even want my rent money. I fought and fought, and I even found someone to cover the rent for me, but they didn't want it. And they put up a sign: 'For rent.'"
For a while Giglio borrowed a space from the Vidigal Residents' Association, and more recently he has rented a new space for his institute. "The major sponsors of the NGO are ex-students, individuals, and businesses. The government has never helped with the project."
Regarding the post-UPP influx of tourists and new residents, Raff Giglio says Vidigal has opened up to outsiders, and that it has attracted "gringo backpackers." "With the increased property values and glamorous image, the playboy crowd has come up the hill. People who never knew Vidigal before have come to live here; they're getting to know it. There's a house at the top of the hill where 15 PUC [Pontifical Catholic University] students live—one Brazilian and 14 gringos. Where did they decide to live? Where it's cheapest."
André Koller says he used to visit Brazil on school vacations because his brother lives in São Paulo. When he finished school, he moved here and married a Brazilian woman. After their separation, he came to live in the Leblon neighborhood of Rio de Janeiro. "Leblon was expensive. I lived in a studio apartment. It wasn't a great way to live. I had a view of the garage across the street and it was extremely noisy." Despite the conditions, Koller says his landlord told him she was going to raise the rent. "I asked her, 'Could you throw a coat of paint on the walls? The closet door is broken, there's a broken window, a leak in the bathroom, the kitchen is disgusting. Could you do something about it?' [She said] 'No.' So I asked her why she was raising the rent so much, and she said, 'Oh, because property values have gone up.'"
Koller got to know Vidigal after he and his business partner, a Portuguese man also named André, bought a Volkswagen Beetle for work. Whenever the car had a problem, they brought it to an auto mechanic in Vidigal. One day while Koller was complaining about rent hikes in Leblon, the mechanic offered him an apartment he had just bought in Cantão, a section of Vidigal. The place was uninhabitable, but Koller had experience in building houses and did the renovation himself. He moved in before pacification.
"I was a little afraid when I first got here—a gringo in the favela… But after a while I saw it wasn't like that. Everyone treated me with a lot of respect. It was always, 'Good morning,' 'Good afternoon.' I wasn't used to that down in Leblon! I only met my neighbor in Leblon when I was moving out—my table knocked into his door and he came out to see what was going on. But after three months here, I already knew everybody on my street," André says.
Asked about the increased number of foreigners living in the favela, André points out that the landlords are often former Vidigal residents. "It didn't used to be very common to rent out a place; people didn't do that here. A woman put up a sign saying she would only rent to foreigners, and it was very controversial. There was a meeting about it, and she said that foreigners pay more. So they blamed the gringos for raising the rent in the favelas to such an extent that some locals can't find a place to live, and wind up moving far away to the Baixada Fluminense. On the one hand, the gringo is being forced to pay more, and on the other hand he's criticized for paying more. But the landlords are local residents, born and raised here. So it's old residents renting to new residents. It's easy to blame the gringos because they stand out, right?"
André also points out that local residents who manage to rent out their properties are making more money for their families. "I think a lot of people are doing well, earning money off the extra little room they're renting. Before, they had to go work in somebody's house, and come home at the end of the day. That's a positive thing: making extra money from these rentals."
Even so, the new residents have much more purchasing power than those that came before—especially compared to those who didn't own their own homes and paid lower rents. With the demand created by the new residents, and the growing real estate speculation, a new phenomenon has taken hold in Vidigal: long-time residents and property owners who have houses to rent in the favela have begun to favor tenants who can pay more, in the name of economic development. And so it's the end of the line for long-time residents whose financial situations are vulnerable and who have no way to pay the higher rents. They find themselves with no choice but to move to distant parts of the city such as Xerém or Nova Iguaçu.
To local resident Luis Otávio, 55, the tourists and newcomers who live in the favela temporarily "come to Vidigal, Rocinha, or other favelas in the city's South Zone to kick out the community, to kick out the locals. They pay R$3000 (US$960)… especially the Europeans—one Euro is four reais! So the guy comes in, pays the rent like it's nothing, and on top of that he brings in five friends and they split the rent, so it winds up being even cheaper. And the people from the community, who work nearby, have to move way out to Xerém, or Nova Iguaçu." He adds: "I'm building a studio apartment and I want to rent it for R$1500."
Hiran Lima says the favela is suffering from gentrification: "Every now and then some group would come up here wanting to evict all the residents. They wanted to come up here and make a New Leblon, an Upper Leblon. We see now that things aren't happening that way. Now we're dealing with remoção branca (literally 'white eviction,' the local term for gentrification). It used to be that the state evicted people; now it's people evicting people. It's expensive to live in Vidigal. The local market is insane—exorbitant prices on everything from food to lodging."
Whereas in the 20th century in Vidigal the government was the primary villain making threats and evictions, as it created housing and eviction policies and carried out direct action, in the 21st century that role is split between not only foreigners who come to live in the favela, but also some property owners, along with the government, and it's done indirectly, without the need for forced evictions. But in both centuries, it's the economic interest of a few that motivates the expulsion of many others.
"I think the city of Rio de Janeiro is run like a business with investors and shareholders. Vidigal is interesting to investors because it's so close to the South Zone. It's not a question of gringos. It's a global phenomenon," says André Koller.
The hill where Vidigal stands, between São Conrado and Leblon, has always been a source of dispute. Although prior to the so-called "pacification" it was possible to find some residents originally from Leblon, such as Rio native Raff Giglio, and foreigners such as André Koller, it's undeniable that the installation of the UPP in 2012 has dramatically accelerated the occupation of the hill by the "asphalt," and that a process of economically-based expulsion of long-time residents is underway. But the State no longer directly drives the evictions in Vidigal. The current tactics are more subtle and perverse: pit worker against worker, and promote the silent evictions of the most economically fragile; restrict the local culture, make excessively harsh regulations and even prohibit popular parties, while creating spaces of cultural and economic segregation with events such as the parties at the top of the hill.