In Santa Marta in Rio's South Zone, Vila Autódromo near the Olympic Park in the West Zone, and Favela do Metrô in the North Zone, a series of "lightning evictions"–forced evictions with little or no warning and tenuous court approval–took place in favelas across Rio last week in a climate of confusion and tension in what appears to be a new shift in policy.
Just 14 months prior to the 2016 Rio Olympic Games, the land grab that has come to characterize pre-Olympic Rio appears to have taken a turn for the worse. From January 2009 to December 2013 over 20,000 families, or 67,000 people, were removed from their homes. The victims continue to pile up.
Here is a chronological sequence of last week's happenings:
Morro da Providência
On May 28, residents of Morro da Providência, Rio's oldest favela, located in the city's center close to the Port redevelopment, posted photos on social media showing evicted residents having their belongings taken away while the Military Police watched at the nearby Rego Barros Tunnel.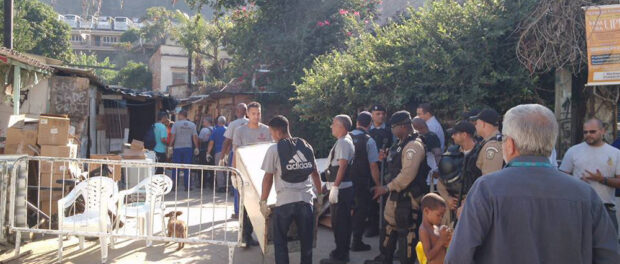 Though the community has been successful in halting widespread demolitions (one-third of the historic community was initially targeted) through a court victory based on lack of popular participation, some homes continue to be targeted on the grounds that their houses are in "areas of risk."
Favela do Metrô
On May 29, workers and shopkeepers were evicted by the City without prior warning in Favela do Metrô, situated near the Maracanã soccer stadium in Rio's North Zone. The community was first victim of a long, drawn-out eviction lasting from 2010-2013 purportedly for the World Cup (but on which construction never materialized), followed by a series of repeated evictions since then, as homes became occupied by people in need of housing. Last week's evictions took place among the automotive workshops and shops of the commercial strip in the community, which the Mayor had pledged to compensate with a new automotive hub, the "Parque Linear Automotivo Metrô-Mangueira," on the site, which was never built.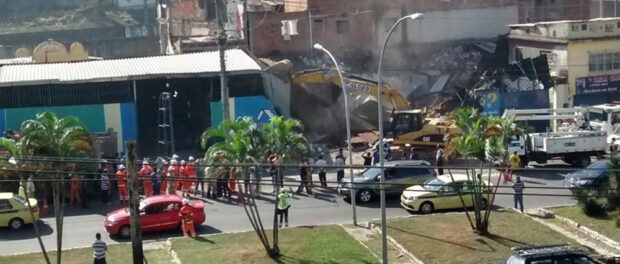 Students from Rio State University (UERJ), whose main campus neighbors Favela do Metrô, joined protests in support of evictees. The protest moved into the UERJ campus building after violence broke out.
A court injunction was issued on May 29 forbidding the City from continuing with demolitions in Favela do Metrô, with fines of R$20,000 (US$6,300) for every home destroyed. But the injunction came too late for many workers and shopkeepers whose properties and belongings were destroyed.
In a video posted on YouTube, Alessandro, Favela do Metrô resident, said he had no time to save any of the material he kept for resale in his two-story property. "The government arrived at short notice, asking me to leave immediately. They didn't give me time to save even 10% of the material I had here," he said.
A debate with residents, business owners, public defenders, law professors and others is being planned for Wednesday June 10.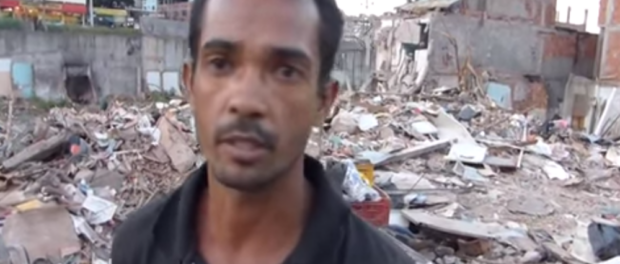 Tavares Bastos
On May 29, eviction notices were handed out to residents of Tavares Bastos, located just above Flamengo and Catete neighborhoods, in Rio's South Zone. Bob Nadkarni, long-term resident and owner of the world-famous jazz bar The MAZE, had been the first to receive such notices in the months prior and is fighting the accusations of risk in court. Fears that the threat of removing one of the most solid structures in the community–The MAZE–was just the first step in a wider campaign to remove the entire community, are now growing, and residents are organizing. A "lightning eviction" has not yet happened here, but given the developments in numerous other favelas over the same week, the risk cannot be discarded.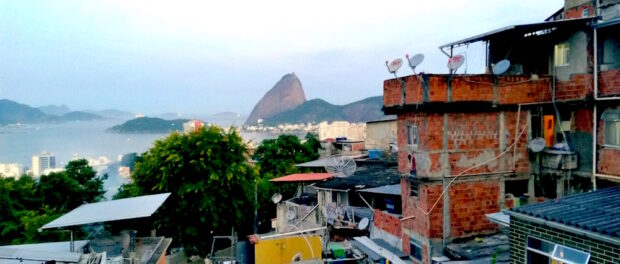 Santa Marta
On June 1, five houses were demolished at the summit of Santa Marta over Rio's South Zone neighborhood of Botafogo, with distressing scenes posted to YouTube and filmed by resident and guide Thiago Firmino. The families living at the peak of the community that has gained recognition as a positive example of government intervention in favelas had successfully fought attempts at eviction since 2011.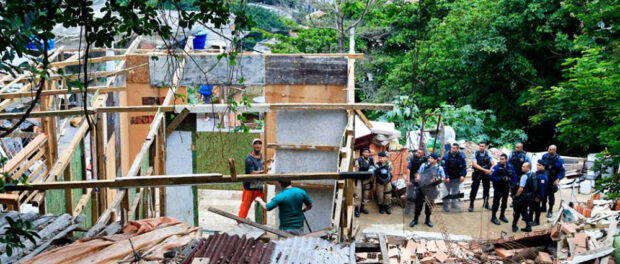 In the video, Santa Marta residents said they were given a month's warning of impending evictions on the basis of their houses being in an area of risk. However, no technical evaluation of the land took place in advance of the evictions.
One removed resident appeared visibly distressed in the video: "Where will I keep my things? Where will I sleep tonight?" She also said she didn't want to sleep in the public shelter offered by the government.
Another resident was filmed surveying the damage after the demolition of the house he built himself. "This was my life, now it's a garbage dump," he said, pointing out his sofa, TV, wardrobe and fridge standing among the rubble in the open air.
Vila Autódromo
On June 3, residents of Vila Autódromo, which neighbors the future Olympic Park in Rio's West Zone, were met with violence by the Municipal Guard as they resisted demolitions of two houses in the community. Video documentation posted on Facebook confirms police used rubber bullets, pepper spray and batons on the protesters, injuring several residents, some requiring surgery.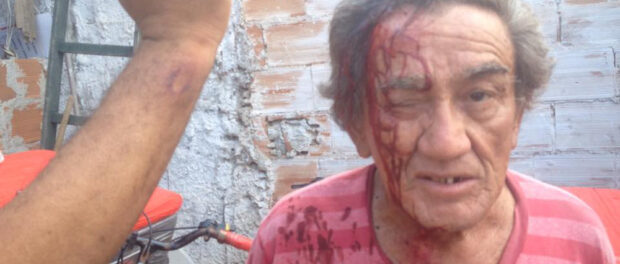 Vila Autódromo has become known for decades of determined and exemplary resistance which resulted in the community receiving land titles and serving as inspiration to others. However, in the face of five years of intimidation and uncertainty with City officials determined to clear the site due to its proximity to the Olympic Games and luxury housing to follow, around 90% of Vila Autódromo's 600 residents have now left the community, taking offers of compensation or public housing from the City. But a small group continue to resist eviction.
The community pronounced that the two property owners hadn't been given advance notice of the demolition and were still awaiting full compensation from the City. Public Defender Maria Lúcia de Pontes told newspaper O Dia: "Even if the City was acting within the law, it can't carry out a judicial decision with such violence when there are doubts about the decision itself."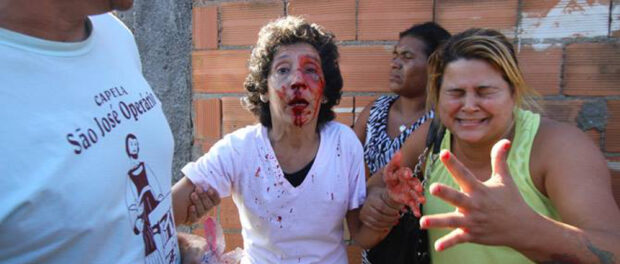 Photos of injured Vila Autódromo residents were shared widely on social media. Maria da Penha [featured on Swedish TV in March] was photographed with a black eye and bloody face. Her nose was broken by police. In an interview posted on YouTube, she described the situation: "[The City] didn't even give one week's notice for the family to leave. They came and said they had to leave today. All the residents in the community came together [to resist]." She added that the violence was completely unprovoked: "We didn't mess with [the police], we weren't aggressive… But I was beaten."
The eviction was suspended after judicial intervention. Globo News reported that a new demolition is likely to happen today, Monday June 8. Last night residents took to social media requesting support, and an all-night vigil took place, followed by strengthened numbers this morning awaiting demolition crews. Representatives of a number of well-known movements and organizations are present, including Brazil's historic Ibase, the National Movement for Housing Vindication (MNLM) and the Popular Committee on the World Cup and Olympics, among others.