On Monday February 22, police killed 19 year-old Igor Silva during an operation in the Parque União favela in Complexo da Maré in Rio's North Zone. The same day a graphic video shot by a resident was posted on social media showing officers from the Civil Police's Special Resources Coordination (CORE) shoving Silva's lifeless body in the back of a police vehicle. The video and subsequent press reports alleging pharmacy worker Silva was involved in the drug traffic–a common justification for fatal police violence–have caused disgust amongst residents and community organizations who have denounced the police and media's actions.
Monday was a day of intense police operations in Maré with shootouts reported starting at 6am on community Facebook pages. Maré Vive posted updates throughout the day with shootouts reported in Nova Holanda, Baixa do Sapateiro, Rubens Vaz and Parque União.
Schools, hospitals and daycare centers were closed and residents posted that they were terrified to leave their houses. One resident wrote: "My God!! They're going to kill everyone!"
Community journalist Thaís Cavalcante was caught in the middle of a shootout. She later tweeted: "The meaning of life changes when you see death up close. What a difficult day."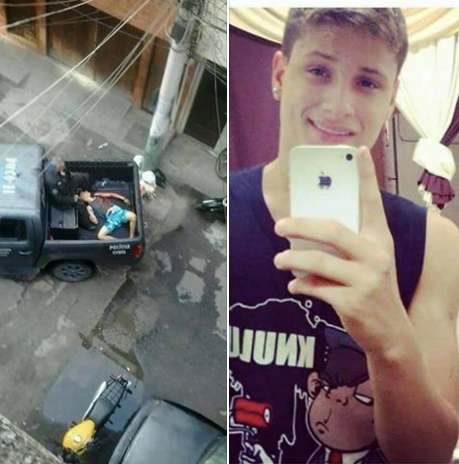 Igor Silva was shot in the chest by police during a shootout in the Parque União favela that morning. A resident filmed police mishandling his corpse, altering the crime scene and putting Silva's body in a CORE vehicle before driving off. The video has subsequently been shared widely on Facebook with residents and human rights defenders horrified at the treatment of the young man's body.
Residents were further outraged by the media's reporting of the incident. Globo's G1 and R7 published the video reporting that police were "providing help" to the victim.
News reports of Silva's death by G1 and O Dia emphasized the police statement that Silva had a pistol, radio and three bulletproof vests, quoting the chief police officer alleging he was a criminal: "These are people that have been used to engaging in shootouts since they were young. Today was no different. We had various conflicts and in one of them a police officer managed to react and hit this boy."
The G1 report and allegation was questioned in a post by Maré Vive which published the officer's quote and G1's featured image of bulletproof vests alongside an image of Silva at work at the pharmacy: "Tell me, who would be crazy enough to shoot with a pistol against the CORE armed with rifles, machine guns, helicopters and all the rest? And if he had three bulletproof vests why the hell didn't he use one?" The post, shared over 1,900 times, slammed the media's reporting and police statement concluding with the affirmation, "We want justice and won't be quiet."
Community organization Redes da Maré published a note denouncing the police operations and Silva's death: "The shot that hit Silva hit us too because it's a very serious violation of the most sacred right we have, the right to life. Our democracy cannot coexist with the idea that some lives are worth more than others. The assassination of young Brazilian favela residents cannot become natural."
The note called for an immediate response: "Society needs to mobilize and call for the State to fulfill their responsibility and call too for a radical change to this security policy based on war. Rio de Janeiro State Governor, Luiz Fernando Pezão, has an obligation to make a statement about what happened today in Maré and immediately stop actions like these that only result in violence and death."
Complexo da Maré comprises 16 communities and has a population of around 130,000. Located between the Avenida Brasil and Linha Vermelha highways, close to Rio's international airport, the favela complex was occupied by the army in March 2014 ahead of the World Cup with the installation of Pacifying Police Units (UPPs) projected for the following year. Two years later, and with the Olympics approaching, no UPPs have been installed and as Monday's events tragically evidence, violent conflicts and the State's aggressive war-based security policy continues.