Erik Martins has many fingers in many pies. I told him so, on the first of many nights that we spent together in Rocinha, Rio de Janeiro's largest favela, located in the city's South Zone. He was intrigued by the expression, eager as ever to improve his already rich English vocabulary, and I have not met anyone that personifies this turn of phrase quite like Erik does. Erik is involved on many fronts across the community, on both a social and professional level, and he admits that at times the juggling act is almost too much.
"Sometimes I feel like I don't have enough fingers to handle all the pies." Erik says.
Erik is cria, a colloquial term which describes those who were born and bred in the favela, and he wears the tag proudly. Accompanying him on a stroll through the streets of Rocinha, it becomes apparent just how popular a figure he is. Friends and family stop to catch up with him, students from the Fastz Language Institute greet him warmly and fellow tour guides introduce him to their foreign visitors.
"In all, I have five jobs," Erik tells me, with a wry grin.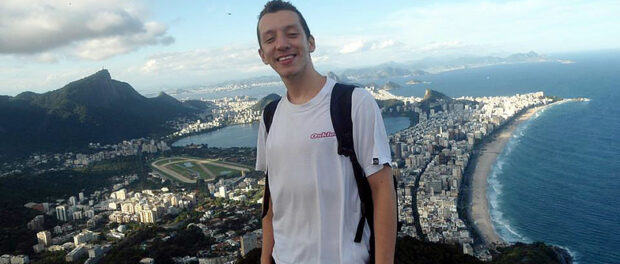 Erik gives private English lessons–both inside and outside of Rocinha. He is a secretary and a teacher at Fastz Idiomas, a language school in the community. He balances these jobs alongside tasks which he carries out for Rio's City government, such as providing support at the Family Health Clinic and acting as a guide for certain visitors to Rocinha, as well as his commitments to community organizations within the favela.
Each of these "pies" plays a part in Erik's dream of a better Rocinha, but it is the company he founded with friends that is his number one priority. Rocinha by Rocinha is a tourism company with a difference. By way of interactive and immersive tours, Rocinha by Rocinha aims to break down barriers.
"Rocinha by Rocinha is my way of showing my community to the world and, more importantly, the world to my community," he says.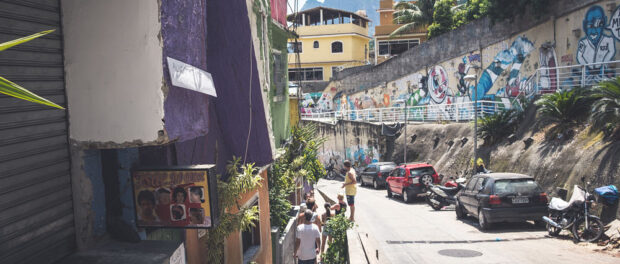 Erik is 27 years old, but his love affair with favela tourism started almost ten years ago when he was still a teenager. At the time, he was enchanted, as many are, by the revelry of Lapa–Rio's nocturnal heartbeat. Each night, between caipirinhas and samba circles, Erik would make a flock of friends and insist on showing them around Rocinha the following day.
"I never imagined that I would make a career out of it," he says of these impromptu tours. "I only wanted to show tourists the place that I find most special in the 'Marvellous City.'"
A decade later and Erik is still taking tourists through the winding alleyways of Rocinha, on an excursion that few travelers forget. The viewpoint from the Laboriaux–one of Rocinha's highest vantage points–is spectacular, as is the organized chaos of Via Apia, Rocinha's heart and soul. It is something else, however, that makes Erik's tours stand out from the crowd.
"At Rocinha by Rocinha our goal is not simply to take our guests around the favela, but to make them a part of the community for a day," he says.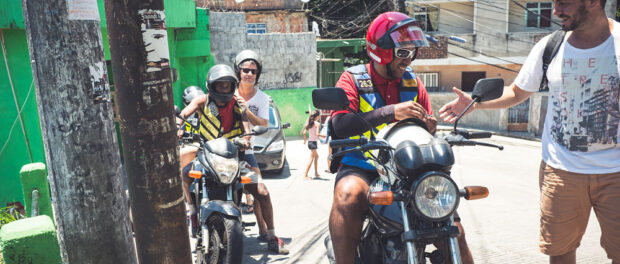 Erik and the rest of the team do this through an array of activities, all aimed at benefiting both the tourists and the community. A visit to Portal Joanas Brasil gives you a taste of a typical Brazilian family. Cesar and his most friendly of families make you feel right at home. Within no time you will be dancing around the living room to samba music, stopping only to fill your stomach with a large slice of homemade pie. Cesar and his family were all born and raised in Rocinha, and the way that they speak with such affection about the community illustrates the togetherness that exists in the favela. The visit often lasts over an hour, such is Cesar's enthusiasm to get to know his guests and impress upon them the beauty of Rocinha.
The inclusion on the tour of English students from the Fastz Language Institute allows the tourists to interact with Rocinha's residents, as well as providing an opportunity for students to practice their English.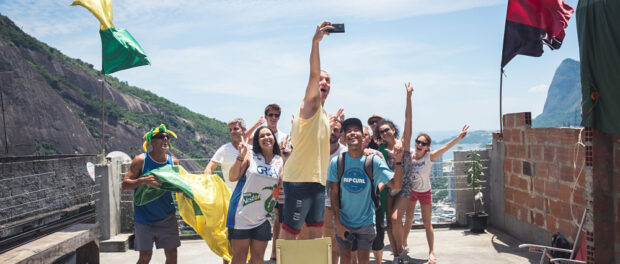 But the tour is more than a picture perfect postcard of a favela. Erik entertains his companions, but refuses to shy away from the challenges within the community. He praises projects that the government has introduced, such as the multipurpose sports complex, but bemoans the lack of investment in essential areas, such as education and sanitation. The shocking state of Rocinha's sanitation is highlighted on a detour through one of the community's poorest parts, where houses hug the edges of open sewers.
"When I decided to pursue this career path, I knew I had to do it in a way that would benefit my community, and help it to grow," Erik says. The favela tourism industry has the potential to do this when tours are carried out by resident-run companies such as Rocinha by Rocinha.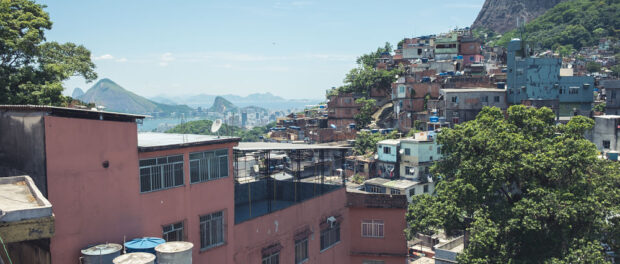 Erik's next goal is to be in a position in which he can dedicate all his time, effort and talent to the company. Winter is coming to Rio de Janeiro, and with it loom the months when Erik struggles most to make ends meet.
"Working in tourism is never consistent, and if it weren't for my other jobs, there would be months where things would be very difficult," he says. Erik still resists the lure of a fixed job with a regular monthly salary in order to focus his time on developing Rocinha by Rocinha, but admits that at times the temptation is strong. "When the end of the month comes and I can't afford the bus fare to pick up a group of tourists, I sometimes wonder if it's all worth it," he admits.
Erik is hoping that this winter will be different. The Olympics are approaching and flocks of tourists will soon touch down in the city. Erik believes the Olympics and all the exposure that comes with it could go a long way towards altering the uninformed opinion that many people have of Rio's favelas.
"The world's eyes are on Rio de Janeiro, and people are calling into question the city's readiness to host the games," says Erik, "but maybe we have a chance to show the world a different side to Rio, and to shed a positive light on our communities."
Erik is determined to raise the profile of his beloved community. "The one fact that always helps me to carry on is that I'm living my dream," he says. "I love Rocinha, and I believe that we will continue to grow as a community, as we have always done."
To find out more about Rocinha By Rocinha and to book a tour, visit their website here.
Daniel McGill is a writer and English teacher from London, UK. He has lived in Rio de Janeiro since 2014. After living in the favelas of Rocinha and Cantagalo, he began writing profiles and stories on life in the favelas which are published in English and Portuguese on his website Palavras Perdidas.