On Saturday, May 28, residents of Vidigal favela in Rio de Janeiro's South Zone gathered to bid farewell to local artist Wilson Alexandre. After ten years of transforming a 600 square meter overgrown abandoned site into a vibrant space full of recycled art, Wilson and his partner Sarah Milsom are scheduled to leave at the end of June as the landowner of their studio-gallery home has sold the land and is evicting them. Though a difficult battle, Vidigal has worked to resist pressures of real estate speculation and gentrification.
Wilson's farewell was reflective of his art in a number ways: interactive; community friendly; and colorful. The day commenced at 10am with a workshop on recycled material art for children, explaining the materials and techniques that transformed his home from top to bottom using wood, plastic containers, aluminum cans and old kitchen utilities.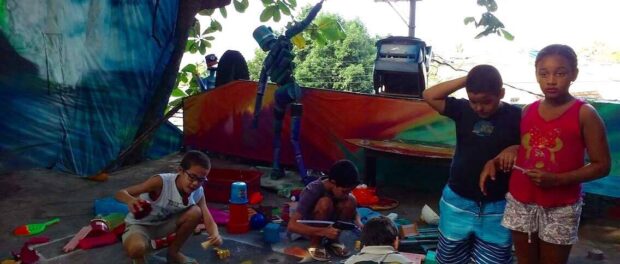 Following the workshop, members of the local theater group Nós do Morro performed a skit paying homage to Wilson and his work, telling the story of Wilson as a king who collected rubbish for his castle and transformed it into "a very powerful kingdom." Members of the theater group affirmed that Wilson's art is "invaluable," "absurdly creative" and "seriously incredible" and he will be missed by the community. "There will be a real emptiness to the place," one group member confirmed.
Wilson's work is very unique and he loves the way children engage and react to it. Residents told of how they go out of their way to pass his house just so they can see his art that day. Wilson affirms: "Art does amazing things for individuals."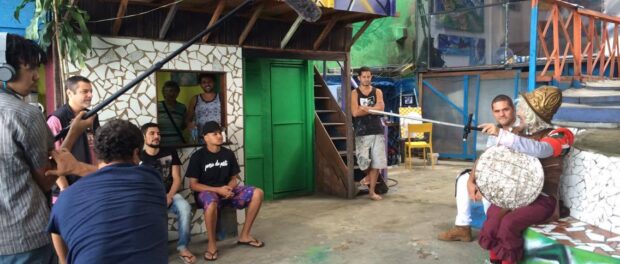 On Saturday, when the children were asked about Wilson's work, they smiled and shared their feelings of happiness and creativity. One 12-year-old girl said she would get so inspired she would run home to draw and paint. Another resident, a mother and employee at the community creche, said: "The children in the creche who pass by [Wilson's house] with their mothers will be affected a great deal by the loss." The local creche is expected to receive a number of Wilson's robot sculptures to continue serving the children's imaginations.
Wilson wants to ensure his work continues to benefit the children of the community. As well as donations to the creche, he plans to leave his tin robot sculptures and plastic container bottle spiders around Vidigal, in visible places to make it fun for the kids. He hopes some of the streets can maintain his work and uphold memories.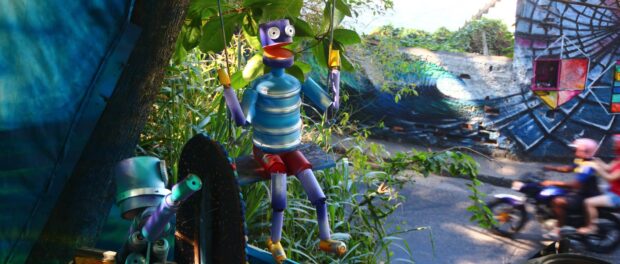 Wilson has lived in a number of places throughout Vidigal over the past 20 years, getting to know residents well. Before he moved to his most recent space ten years ago, which is built on top of 300 tires because it was more economical than concrete foundations, he worked with skimboards and gave classes to kids on the beach. He attached his artwork to the boards and started getting known around the area. This year the local samba school Acadêmicos do Vidigal used Wilson's spiders for their float in the carnival parade. Two months ago he did a project with the Caminhos Language Centre teaching 15 children how to use recyclable materials.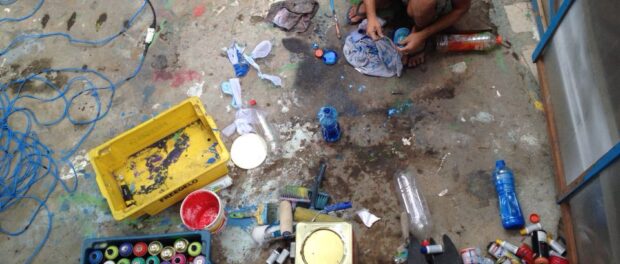 Gentrification in Vidigal
Wilson's departure from the community is due to a worrying trend of local residents being priced out of Vidigal, famous for its views over the Atlantic Ocean and next door to Leblon, Rio's most expensive beach neighborhood. In January 2012 the Pacifying Police Unit (UPP) was installed in Vidigal. Before the UPP, Wilson paid monthly rent of R$100 for his land. After the UPP was introduced he was asked to pay R$1,000 rent. With the presence of the UPP, outsiders became more comfortable entering the community and real estate values rose. Hotel developments have opened at the top the hill. Many residents are selling because of the rise in offers for houses, while renters are suffering with the soaring rents now charged for the foreign and middle class people coming into the community.
Moreover, as local artists are being forced out of the community, the international media has brought attention to a famous Brazilian artist, Vik Muniz's project to open an art school in Vidigal towards the end of the year. According to the Wall Street Journal this is a way Muniz can "reconnect with the poor boy that [he] left here."
However Vidigal residents report that Muniz has owned an empty two-building studio on top of the hill for over a year which is all closed up, having "no personality." Wilson protests the situation, saying: "[Local artists] can't just leave and there be one famous artist who enters the community and be the only one to have a space." Vidigal has a strong artistic history. Some artists have been working in the community for 40 years but don't have space to showcase their work due to the increasing real estate costs.
Wilson is critical of the way some art projects are conducted by outsiders in the community without recognition of local artists. He says: "People come into Vidigal to create a project and [it feels as though] they don't want to know that local artists exist. They just enter and do their own thing, without consulting residents or other artists."
Of the recent transformations in Vidigal due to gentrification, increasing tourism and new business, he says: "This change was very sudden. And now with the Olympics, a lot [more] foreigners are going to arrive. They're going to get to know Vidigal and want to return and live here."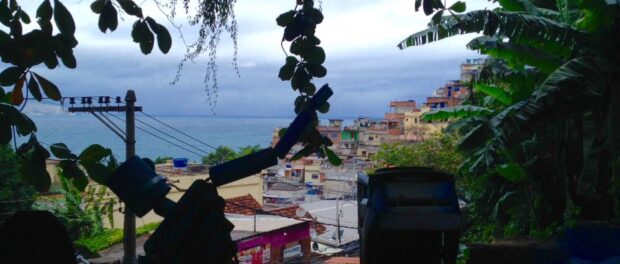 For now, the artist is busy using remaining materials to finish some final projects. He says with some sadness that he would have much more to offer the space and the community as a whole. For the most part Wilson is optimistic. After ten years living in a rented place, he hopes in the near future he can buy his own land or house and is looking for a place within the community but fears they will not be able to afford to stay.
Wilson's farewell event on Saturday evening concluded with performances from several rappers organized by Thiago Oliveira from the rap group Poesia da Pista and a DJ set, all residents of Vidigal.