Almost exactly one year after the Favela da Skol in Complexo de Alemão voiced their concerns to Rio de Janeiro's public defenders and state government about their precarious situation following evictions, the community is rallying again to bring attention to their situation after state government budget crises have left dwindling funds for the social rent residents were receiving.
The Skol community is so named for the factory that the residents once inhabited in Complexo de Alemão in the North Zone of Rio. The site of the Favela do Skol has been empty since the last residents left in September 2010 following evictions and pressure after the area was designated an "area of risk." They were originally promised housing in Minha Casa Minha Vida public housing apartment blocks, which were still unavailable to them one year ago in June 2015 when the community gathered together to raise awareness for their situation while calling on the government to fulfill their promises.
At that time, residents were receiving social rent, which was meant to expire after a one year deadline for relocation. However, residents say that today the situation is becoming urgent because of funds drying up that echo larger trends as Rio's state government goes through a financial crisis.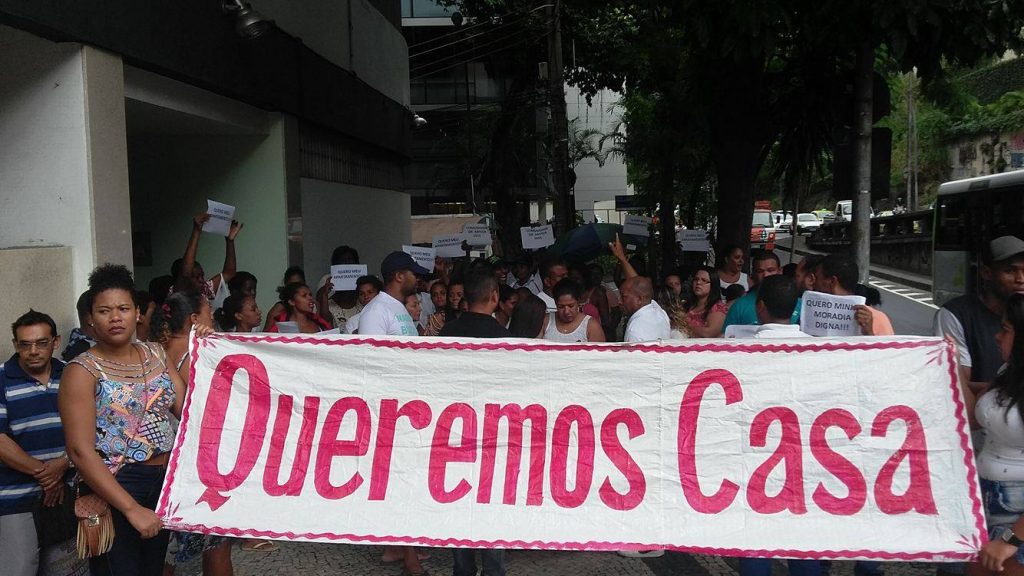 "The situation in this moment is desperate. We are without social rent and the chances of remaining homeless are only increasing," said Camila Santos, an active member in the fight for housing through the Coletivo Papo Reto media collective within Complexo de Alemão.
"The biggest challenge we have is that we are in the hands of the government, and they have failed. They have told us that the social rent has not been suspended. However, there isn't money to make the payments or to start the projects for housing. The rent wasn't suspended, only that there isn't money."
As of now, there are 523 families being affected by this situation. They have been working hard organizing to raise awareness and ensure the government acts on its promises. On Friday June 3 residents demonstrated in front of the Guanabara Palace where Rio's governor sits and were able to meet with the State Development Secretary Murilo Leal. Leal's response did not satisfy residents, when he vaguely said he would look into finding other ways to help them As of now, the community is awaiting a response.
Residents stress they did not choose to live in an area of risk, but were born into it. They expressed shame and anger at the unkept promises by the government.
"It is a shame that the Olympic city has invested so much in projects for the 'gringos' to see, but don't fulfill their promises to 12,000 people living with social rent," remarked Santos.
On Sunday June 12 residents called out via community media platforms for those affected to rally and create a video documentary to voice their struggle. Around 60-80 people attended this event to discuss possible actions that residents could take. From videos posted on the Coletivo Papo Reto Facebook page, it is possible to see police cars passing by the organizers, which residents in the video said happened at least twice and believe may have been an attempt to intimidate them.
The residents, who have been waiting five years for apartments promised by current Governor Luiz Pezão, are now left wondering what will happen to them without social rent, which was never supposed to be a long-term solution to begin with.