Rio de Janeiro's Popular Committee on the World Cup and Olympics has been marking the final 100 days before the Rio 2016 Olympics with a social media campaign to highlight 100 rights violations related to the Games. The campaign's name, #CemDiasSemDireitos, translates to "100 days without rights."
Beginning on April 27, the Popular Committee posted an example of a rights violation in pre-Olympics Rio each day on Facebook and Twitter. The 51 violations identified so far include the forced removals of whole or parts of communities, broken social and environmental legacy promises, and violence by police against protesters and other civilians. A number of the violations highlight concessions granted to business interests, ranging from the privatization of public land in general to "changes in the law to favor [the company] Cyrela in the Marapendi Reserve," where the Olympic golf course has been built on a protected environment. Others highlight the City and International Olympic Committee's apparent disregard for non-elites: spending on Olympic infrastructure as public education funds run dry, the restriction of informal traders' licenses, the end of the affordable standing sections in the Maracanã stadium.
Each Facebook post comes with an explanation of the highlighted issue and why the Popular Committee sees it as a "violation." The #52 post from Tuesday, for example, was the "rationalization of buses," referring to the City's move to cut and alter numerous existing bus lines in an effort to reduce inefficiencies and unnecessary bus traffic. The Popular Committee argues the implemented changes reflected a "corporate logic of increasing the lucrativeness of bus companies" rather than "the real needs of the city's population." The result is "[bus] lines that are more fragmented, forcing an increase in the number of transfers that are not totally covered by the Bilhete Único [Single Ticket]," and the "extinction of lines that offered direct links between peripheral neighborhoods and the South Zone beaches, strengthening spacial, financial, and police controls over 'protected areas' for tourism and for the city's affluent classes." In sum, the Facebook post argues, the result is an "Olympic City [that is] more and more segregated and unequal."
This latest digestible presentation of human rights violations builds on a number of extensive dossiers the Popular Committee has published ahead of the 2014 World Cup and 2016 Olympics. It represents another critical contribution to a growing body of evidence of the 'state of exception' brought about by sporting mega-events, in which 'inconveniences' required by law such as community participation and government transparency get swept aside to deliver a world-class event on time.
Read the Popular Committee's "100 Days Without Rights" list so far: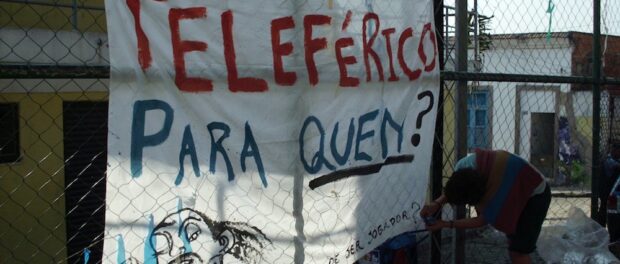 100. Closure of the Célio de Barros athletics stadium [Full post]
99. Removal of Vila Recreio II favela [Full post]
98. Failure to clean and prevent pollution in Guanabara Bay [Full post]
97. Deaths and lack of safety on the BRTs [Full post]
96. Lei Olímpica criminalizing protests [Full post]
95. Restriction of informal vendors' licenses in traditional locations of the city [Full post]
94. Violation of the right to participation in urban projects [Full post]
93. Removals in Providência favela [Full post]
92. Strikes in the Olympic Park [Full post]
91. Abandonment of the Indigenous Museum [Full post]
90. Removal of Vila das Torres favela [Full post]
89. Prohibition of Som das Artes in Largo da Prainha [Full post]
88. Destruction of the Velodrome [Full post]
87. Changes in the law to favor [the company] Cyrela in the Marapendi Reserve [Full post]
86. Removal of [65 families from] Largo do Campinho favela [Full post]
85. Detainment of youth from the periphery for wanting to go to the beach [Full post]
84. End of the [affordable] seating and standing sections in Maracanã [Full post]
83. Withholding of medicine intended for health centers [Full post]
82. Violations of the Access to Information law [Full post]
81. Overspending, delays and changes in the Metro Line 4 project [Full post]
80. Removal of the Casarão Azul occupation [Full post]
79. Abandonment of Maria Lenk aquatic park [Full post]
78. Absence of an environmental impact study for the Transcarioca [BRT] [Full post]
77. Removals in Asa Branca favela, Curicica [Full post]
76. Work accidents resulting in deaths and lack of safety on Olympic construction projects [Full post]
75. Removals in Rua Quáxima favela / Madureira [Full post]
74. Availability of funds for the Olympics but not for education [Full post]
73. Violation of the right to participation of the communities impacted by the Olympic construction projects [Full post]
72. Removals in Colônia Juliano Moreira [Full post]
71. Disrespect for human dignity [Full post]
70. Closure of the Jacarepaguá racetrack [Full post]
69. Removals in Notredame, Recreio [Full post]
68. Environmental destruction to construct the Olympic golf course [Full post]
67. Removal of the Flor do Asfalto occupation [Full post]
66. Privatization of the Lagoa rowing stadium [Full post]
65. Billionaires' construction projects in Barra while Supervia trains deteriorate [Full post]
64. Removal of Favela do Sambódromo [Full post]
63. Closure of the Julio Delamare aquatic park [Full post]
62. 2,500 people assassinated by the police [Full post]
61. Removals in Vila do Amoedo / Recreio [Full post]
60. Restriction of unofficial vendors during the Games [Full post]
59. Abuses in the use of "less lethal" weapons against protests [Full post]
58. Removal of the Quilombo das Guerreiras occupation [Full post]
57. Failure to deliver on the Affordable Housing Plan in the Marvelous Port [Full post]
56. Strong indications of cartel activity in Olympic construction sites [Full post]
55. Work accidents resulting in deaths and lack of safety on Olympic construction projects [Full post]
54. Removal of Vila Harmonia favela [Full post]
53. Construction of the "white elephant" cable car in Providência favela [Full post]
52. Rationalization of the buses: corporate logic and social segregation [Full post]
51. Neglect of the State University of Rio de Janeiro (UERJ) [Full post]
50. Criminalization and repression of prostitution [Full post]