For the original article by Mariá Martín in Portuguese published by El País click here.
Rio de Janeiro buries one police officer every other day. A report shows lack of training, corruption and precarious professional conditions are the source of this vulnerability.
It was raining in Rio and Pedro Araújo had just been shot in the head. He had answered a call about a case of domestic violence and was going to log the occurrence when he crossed paths with a gang of armed criminals in a supposedly pacified region. A shooting broke out and Pedro, 39, was shot. In uniform and still clutching his rifle, it was possible to see the corporal breathe in agony. He was alone, lying on his stomach on a dirty, wet floor. No one could help him. On the contrary. A nearly two-minute video shows how a group of residents, as well as a dozen drivers passing by, look indifferently at his body. He does not seem to be someone redeemable, but rather a "screwed up cop" with "the biggest hole" in his forehead, as they say in the recording. The only person who approaches Pedro is a boy in a striped sweater to steal his gun. "Grab the rifle!" shouts the gang referring to the 7.62 mm lightweight automatic rifle used by the Military Police. "It's R$20,000!"
Pedro, who earns a salary of R$2,900, seven times less than the price of the rifle, has been struggling between life and death since March 28. He was seen by these residents as just another member of Brazil's most deadly police. But Rio's police are also those that die the most, according to the Brazilian Annual Public Safety Report. The video of his agony was another blow to a troop that buried one police officer every other day this year. Four of the 50 victims were even savagely tortured and then burnt to death by their drug trafficking executioners. In Rio, drying the uniform in the oven, behind the refrigerator, or hiding identification in the spare tire compartment in the trunk have become survival protocol for many of the corporation's approximately 47,000 men.
Last Thursday, on the lawn of the Jardim da Saudade cemetery in the West Zone of Rio, two rows of Military Police officers saluted, teary-eyed, in front of yet another coffin. It was the day two officers were spotted executing two bandits who surrendered on the ground after a clash that also killed a 13-year-old girl in a school. But it was also the day of the funeral of soldier Fernando Santos, 25.
Fernando was killed the day before, trying to prevent an assault in the neighborhood of Recreio. He was shot in the chest. Jefferson Cruz mourned the loss of his childhood friend among the cries of despair of his relatives: "It was a heroic act, but I lost a brother for an ungrateful profession that does not enable its police. There are no weapons, no vest, no social assistance for the family. We are at the mercy of marginality, armed better than our police officers."
Rio Military Police officer Anselmo Alves, agent in a Zero Tolerance blitz in Queimados, in Greater Rio's Baixada Fluminense, was shot and killed during a routine review of a driver
At this rate, the number of victims this year will reach levels only seen in 1994 and 1995, when agent deaths began to be recorded, and 227 and 189 policemen were lost respectively, according to data from the Military Police that also included in that count deaths of officers by traffic accidents, suicide or natural causes. The numbers, although smaller in recent years, always border on the annual three digits.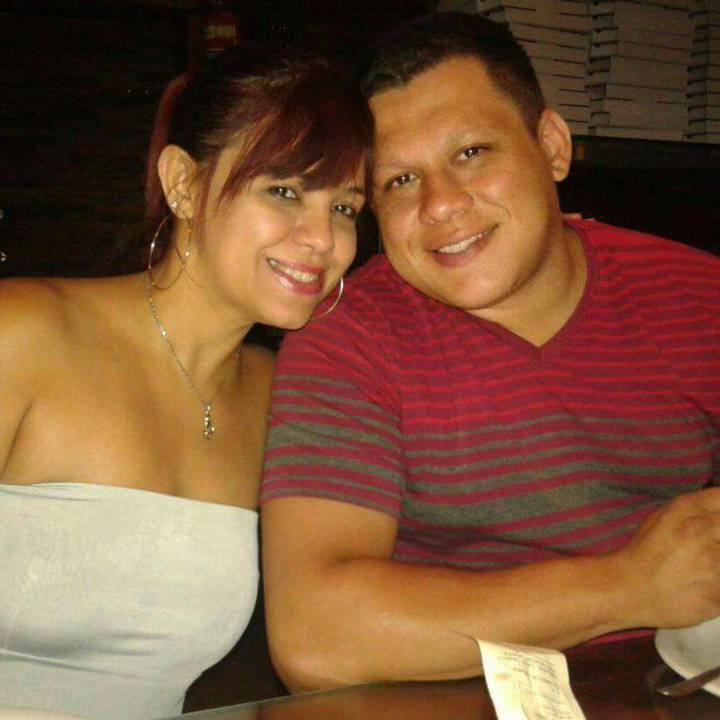 Thiago Machado Costa, 31, who was a kickboxing champion and led a social project for children, was one of the 121 active Military Police officers killed in 2016, according to figures from the Institute for Public Safety. He loved being a cop but began to feel afraid of dying. His widow, Fabiana Da Cunha, 44, who receives her pension with constant delays due to the state's financial incapacity, laments every day that her husband's decision to change his profession came too late. "He started to say that he wanted to leave the Military Police the day he helped rescue a friend who was shot a year before he died. He said he was afraid the same thing would happen to him. He started to study for other public service exams, he wanted to be a firefighter," Fabiana remembers, in tears. "Dragging him, he managed to get his friend from from the top of the morro (favela on a hill) and take him to the hospital, but he didn't make it. Thiago's uniform was full of blood, he cried like a child and he was forced, nevertheless, to maintain his work schedule until the end."
The soldier was communicating on WhatsApp with his wife when he was alerted by radio of a car robbery in Niterói, the area where he patrolled, in Rio's metropolitan region. He started a pursuit and a gun fight and Fabiana waited for a message that never arrived. Thiago was shot in the head and died a week later. "I was blindsided, our marriage was a fairy tale. He was important to the people who knew him, he was a good cop, an honest man, but today he's just a number. And what for?" asks the widow. "The owner of the stolen car even complained about not being able to get it back."
Low salaries and obsolete guns
Undoing the causes of police deaths has become a priority for the corporation, discredited by excesses, but also punished by the state crisis–there was a shortage of food in the battalions–and an increase in violence. A Military Police commission studies the phenomenon today and has just presented its conclusions in an internal document that exposes the open wounds of the Rio State Military Police. According to the report, to which El País had access, the causes of agent deaths are due to bad training that has little to do with the reality of the streets–the police do not train with moving targets, for example–including guns and obsolete vests and non-bulletproof vehicles. There are also protocols missing that would allow the soldier to react or escape from ambushes. The same document points to the low salaries that compel officers to live in risky areas and to take on additional jobs, illegal "bicos," as well as corruption in the corporation–there are police officers who die from involvement in criminal activity. The list also includes demands for stricter laws ending progression of sentences, although in 2015 convictions for crimes against security agents were toughened.
Although more than two-thirds of the police die while they're off-duty, when they are more exposed, distracted and unprotected, the number of agents that die while killing–more and more–reveals the levels of violence that Rio has reached in a war that justifies victims on both sides. There were 4,212 clashes in the State of Rio in 2016, an increase of 300% in just five years, according to the Military Police report. With the shootings, the death of police officers grew (275%), but also those of "marginals" (66%), as they are denominated generically by the corporation as victims in the confrontations. For each policeman killed, 23 "marginals" die, according to Military Police intelligence. That is: for the 30 officers that died in confrontations in 2016, 701 alleged bandits died. "The sense of vulnerability that the policeman experiences increases our need to react. For you to imagine that a Military Police officer in Rio, who lives with confrontation every day, who lives in a war zone, is a balanced guy, is impossible. You are immersed in the war," said Colonel Viviane Duarte, one of the six members of the Military Police commission on police victimization.
"When a soldier joins the police he is already the living dead, because he ends up being a victim and hostage of the prejudices of the wrong public policy. There is a whole structure set up to make them believe they are heroes, who must die for duty," says Jaqueline Muniz, a graduate professor of public safety at the Federal Fluminense University. "They need to believe that they will die on our behalf so they can accept the culture of war against crime, a kind of smokescreen to cover up relations between the state sectors and the criminal factions of Rio," she added. For her, the police must be public, but in Rio it is private "and it serves the criminal interests of the powerful. Political corruption sells and silences police authority, leaving the agent on the corner insecure in his job. So we have a strong police against the weak and weak against the strong," concludes Muniz.
"When a soldier joins the police he is already the living dead. There is a whole structure set up to make them believe they are heroes, who must die for duty," says Jaqueline Muniz, a graduate professor of public safety at the Federal Fluminense University.
Retired sergeant Milton Pinto, 50, survived his own execution. After doing some shopping at the request of his wife, Pinto's car had a temperature problem that forced him to stop at a gas station in Campo Grande, in the western part of the city. Then three armed men appeared. "I had my gun, I tried to react, but I didn't have time. They got into my car, asked me if I was a cop, and I said yes. I was very proud to be a Military Police officer," he reports on the phone from Magé, 60km from downtown Rio. "I was taken inside a favela to be executed. 'Let me kill him now!' They shouted. I took the first gunshot in the car, but I put my hand on the driver's door and managed to get out. I took two more shots. Only God knows how I managed to run, jump over two walls and be rescued," he recalls. Ten years later, due to fear for his family, Pinto doesn't even go to the mall. "I was traumatized."
The lieutenant is clear about who is to blame for so much death: the State. "The State prepares us badly and throws a kid on the street after five training shots. The State also pays poorly, so officers don't earn enough to avoid working on their days off, and on top of all that they have to live in a risky area," he criticizes. "The State would have to provide decent working conditions, housing, help in the education of children… but lost its hand." Pinto says that if he could go back to that day, he would try to be quicker to get his gun, and recognizes that he can't leave the pistol at home, although he knows it is a risk.
The use of armament by police officers is one of the most controversial issues in the debate on the lethality and vulnerability of agents. The issue was a source of controversy weeks ago when Homicide Division director Rivaldo Barbosa said that "if the assaulted police officers did not use guns, 80% of them would not have died." Barbosa intended to explain that the weapon often exposes the officer and ends up being a direct passport to death rather than protection. His analysis infuriated part of the troops, which saw in the speech an invitation to disarm police officers, but it also has support in the Military Police. Even if it means recognizing that they are fighting a losing battle. Colonel Viviane Duarte agrees. "It's a fact that Rio de Janeiro has become so dangerous that carrying a gun ends up exposing the police officer. He thinks he is safer when armed, but if he were without a gun and not identified as a police officer, we would not have the proportion of victims we have today," Duarte says. "Now, the police officer hearing that he has to hide leaves him very awkward. It's embarassing. It's recognition that you are losing the war."