Maré Residents Take to the Streets After Deadly Start to the Year
Maré means 'the tide.' The name comes from when the favela community was first started in a wetland area with many of the houses built on stilts to withstand the waters. In Portuguese, maré can also be used in a figurative sense meaning the force behind human actions that sometimes advances, and other times retracts. Residents of Maré have long faced adversity starting first with the tide, but have always persevered, flourished, and fought for better lives for future generations.
Around 4,000 people took to the streets Wednesday, May 24, to protest violence and stand in solidarity with the residents of Maré, in the North Zone of Rio de Janeiro. During the event, March Against Violence – A Different Maré is Possible, two large groups of protesters made their way through the community and joined together in a location known for rival gang fighting, for performances, motivational talks by family members of victims, and a space to discuss and heal. All of this to protest extreme violence that has already claimed 18 lives and injured at least 16 this year; one of whom was 7-year-old resident Fernanda Adriana Caparica Pinheiro who was killed by a stray bullet playing with Barbie dolls outside of her friend's house near Parque União.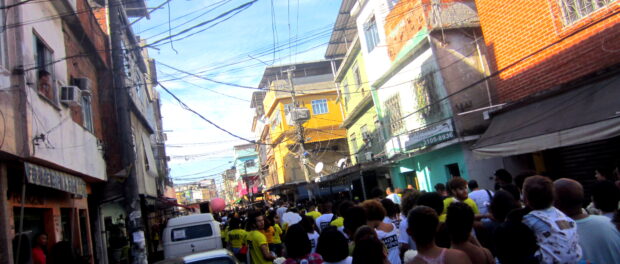 Maré residents are no strangers to dealing with violence. Drug trafficking gangs have long fought over territory in the community, and the police have taken to committing quick and lethal one-day operations before completely leaving the favela. This was before the military occupied the community in preparation for the World Cup and Olympic Games. However, once the Games ended, residents were left with the old one-day operation tactics which saw 33 completed operations in 2016 and 14 already completed this year alone.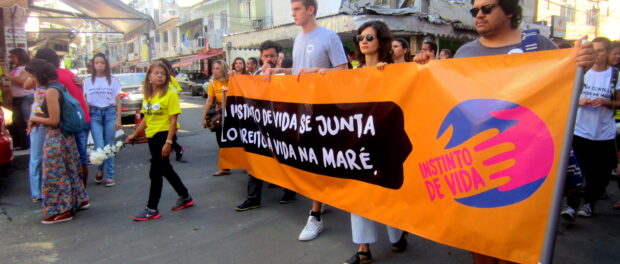 "When the police enter the community, it is really difficult because you have two concrete axes of violence: the traffickers and the police, both. Because when the police come, the trafficking doesn't stop, it just adds one more problem," remarked local activist and actor Gabriel Horsth. This is what Maré residents live with daily. A local health clinic worker said that it was hard to live in the community. "We are going through various difficult situations, we even had to close the health clinic because of violence. The clinic closes, the schools close, everything closes. Today you don't have privacy, even at your front door, you no longer have the right to come and go, which I think is basic for every person. We no longer let our children play here, a shootout could start at any moment," she commented.
Police operations are regularly announced the day they are scheduled to take place which has caused the community to cancel classes 28 days since the beginning of the school year and close the public health clinics for 20 days, well on the way to beating last year's numbers.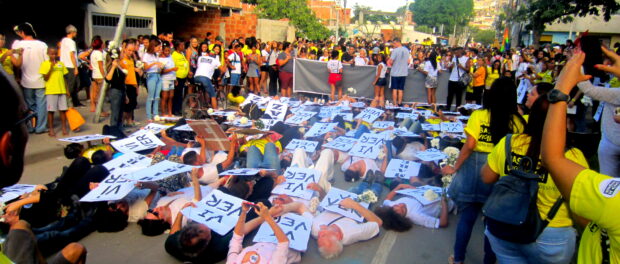 Policing in Rio de Janeiro, and Maré specifically, has come in waves, with different governors and mayors trying different things. Maré residents have seen it all, and the historical distrust runs deep and for good reason. "When the Military Police come, they kill, and this is totally against what it was really made to do constitutionally in this country," said Horsth. Maré resident Simone had this to add: "The police come just to visit, and when they come, they bring a lot of violence." While it is impossible to know every policy decision made about policing and important to note how the complex history of each community plays into the situation, the reality for residents on the ground is simple. As Gabriel put it, "This population has always suffered violence that is legitimized by a State that actually kills us, everyday."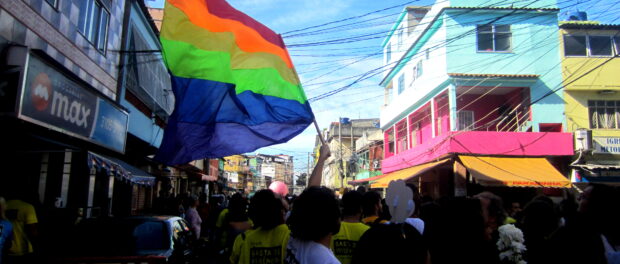 However, during the event one could notice that despite the difficulty of life in Maré, residents had hope and a love for their community and one another. "I love this place. It's a way of life that supports me, but at the same time kills; and at the same time it's my only refuge when the sadness comes, when my brothers left us…" Gabriel said. And at the end of the day one thing was clear, residents' main hope for their community was peace. "I want to live. I want my friends to live too. I want this place to keep on living."