It's 3pm on a cloudy Saturday and, as more people file through the entrance of Instituto Raízes em Movimento (Roots in Movement Institute) in Complexo do Alemão, what initially seemed like a spacious room grows cozier by the second. Greetings are exchanged; questions about the well-being of someone's daughter or uncle intermingle with invitations to cultural events and debates around the city. An excited, buzzing energy fills the air.
The group gathered spans a wide cross section of Rio's favela-based human rights collectives—from Mães de Manguinhos to the Network of Communities and Movements Against Violence, from the Campaign for Freedom for Rafael Braga to Coletivo Papo Reto from Alemão—all fighting to bring visibility to State abuses and racist violence in their communities. Although certainly not a lighthearted theme, what brings them here today is a more hopeful topic: they're coming together to organize Rio de Janeiro's third annual Black July.
Recent Years
For the past two years, Julho Negro (Black July) has brought together activists and movements from around the world with the objective of denouncing state violence against black communities and exchanging strategies in the fight against racism and militarization.
In 2016, a delegation of activists from the Black Lives Matter (BLM) movement spent four days in Rio, learning about the struggles of Brazilian activists and trading notes on organizing around the fight to value black lives. The events included talks about police brutality and the war on drugs, two issues that heavily impact favelas and black communities in the US and Brazil, and their relation to racism and state violence. Activists also emphasized the resilience of—and the need to support—black women, who are the carriers of the movement, and the emotional trauma caused by state violence in black communities.
The week strengthened ties between black activists on the two continents, forging links that continue serving both communities. In the words of Daunasia Yancey, from BLM Boston, "It is important that we stand with each other because we know that this violence is connected. Anti-black violence is global and our resistance is global."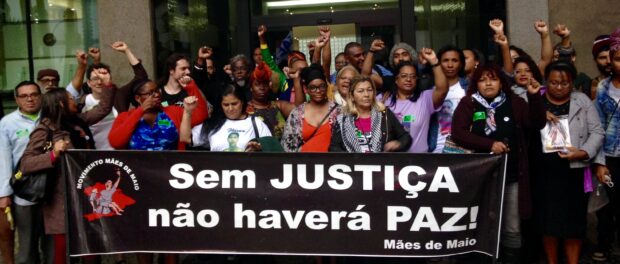 The following year, organizers widened the scope of conversation and connected the struggles in Haiti and Palestine to those in Brazil. Soraya Misleh, a second-generation Palestinian refugee to Brazil and author of Al Nakba – A study about the Palestinian tragedy, talked about the similarities of the apartheid state in Israel and the militarization of Palestinians' everyday lives to the realities of those who live in favelas and deal with police violence and military presence on a daily basis.
Clarence Therry, a Haitian immigrant to Brazil and leader of the Haitian Immigrant Social Union (USIH), spoke about how one can draw inspiration from Haiti's revolution, a slave revolt that overthrew colonial powers, to reimagine Brazil.
Another big theme was mass incarceration and the criminalization of favela residents, especially black youth. Participants in the exchanges framed these phenomena as continuations of the same systems of domination, especially racism and white privilege, that constantly put black youth at the end of a gun barrel. In 2016, 62% of Brazil's prison population was black (compared to just over 50% of the country's population); between 2005 and 2015, the number of homicides of black people increased by 18.2%, while the homicides of non-blacks decreased by 12.2%. One of the intentions of the events was to build the webs of solidarity that will help communities fight the policies that perpetuate these realities.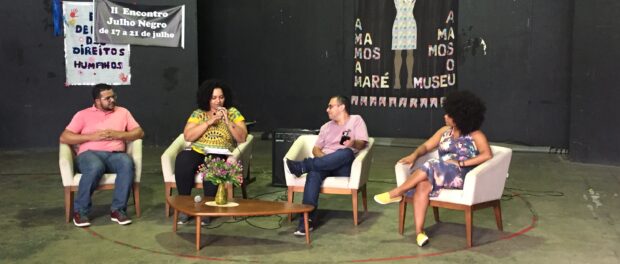 This Year's Plans
This year, organizers are gearing up for a Julho Negro that promises to be more wide-reaching than before. Although plans and programming are not yet finalized, the events will range in style from talks and roundtable discussions, to film showings and debates, to public hearings and cultural celebrations. The theme, similar to that in past years, will be racism and militarization, and the state violence that disproportionately affects young black men in favela communities.
The events will be distributed throughout the city, with each location relating, often intimately, to the subject broached. Some of the topics to be covered are religion and militarization, to be discussed at Terreiro Omijuaro, a place of worship and gathering for the Afro-Brazilian Candomblé faith; militarization in the city and in rural areas, a conversation occurring in a Landless Workers' Movement (MST) occupation in Nova Iguaçu; and the criminalization of social movements and human rights defenders, at Museu da Maré in Complexo da Maré, home of city councillor and human rights defender Marielle Franco who was executed in March. One of the central events will be a panel discussion in Complexo do Alemão on the Brazilian penal system and the socio-educational system for minors, and on the genocide being waged on Brazil's poor, black, favela residents.
The week will bring together movements from ten different countries across three continents—from Honduras, Argentina, Colombia, India, and South Africa, among others. It will also be organized in conjunction with the Palestinian BDS National Committee, and will lend its presence to the commemoration of the 25th anniversary of the Candelária Massacre, when eight homeless youth were killed and many more injured by a group of men that included police officers.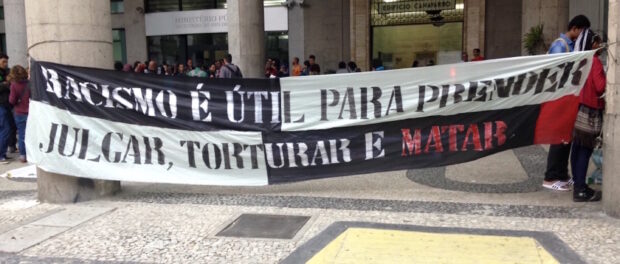 Fransérgio Goulart, one of the Julho Negro organizers and a member of the Manguinhos Social Forum, shares the terrifying lens through which he has grown to perceive this trend: "Today, we need to think as if the world is building a global police force whose purpose is to control and wage genocide on the population." The trend toward militarization accompanying racialized violence is a global one, from the United States to Colombia and from Palestine to Brazil. For Julho Negro organizers, that is why the battle against it must also be waged on the global stage, and why events like this one, which bring together movements fighting many of the same forces, are not only important but necessary.
Julho Negro will occur between July 23 and 27 this year, in locations throughout the city. Organizers are crowdfunding to cover travel and lodging costs of activists invited from around the world. Click here to donate. For more details and updates on the event, follow Julho Negro on Facebook.