Initiative: 6 de Maio, Sonhar e Realizar ("May 6, Dream and Achieve")
Contact: Facebook | Email
Year Founded: 2000
Community: Cascadura (North Zone)
Mission: Social inclusion, integration, and education about citizenship through sports
Public Events: Commemoration of the initiative's anniversary on May 6 and other frequent events
How to Contribute: Financially support the initiative, volunteer, and support policies that promote the community's development
"I believe that sustainability is when you have continuity," says José Fernando Silva, founder of socio-educational project 6 de Maio, Sonhar e Realizar. Since its founding on May 6, 2000, 6 de Maio has supported youth development through sports in Cascadura, in Rio de Janeiro's North Zone. Overcoming the numerous challenges involved in keeping a nonprofit project run by volunteers operational over the years, Silva's humble yet bold youth sports initiative proudly celebrates its 19th anniversary this year.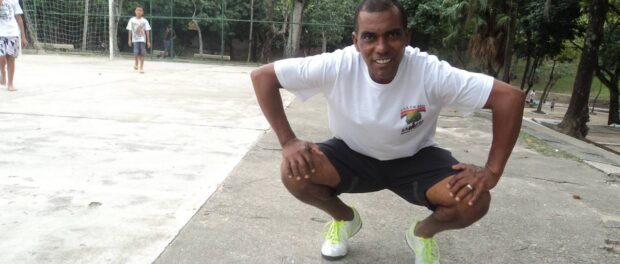 "We don't have any great infrastructure, but we have a ball." Through sports education, primarily soccer, 6 de Maio allows local youth to positively channel energy and emotion into athletics on the playing field. The volunteer initiative also helps youth find alternative recreational opportunities and "escape violence, criminality, and drugs."
"Sports," Silva says, "are an excellent outlet for reducing our [mental and physical] pains. We use sport to reduce the pains [of violence]. If we get a ball and start kicking it around on the court, dozens of kids—even hundreds—will show up to play."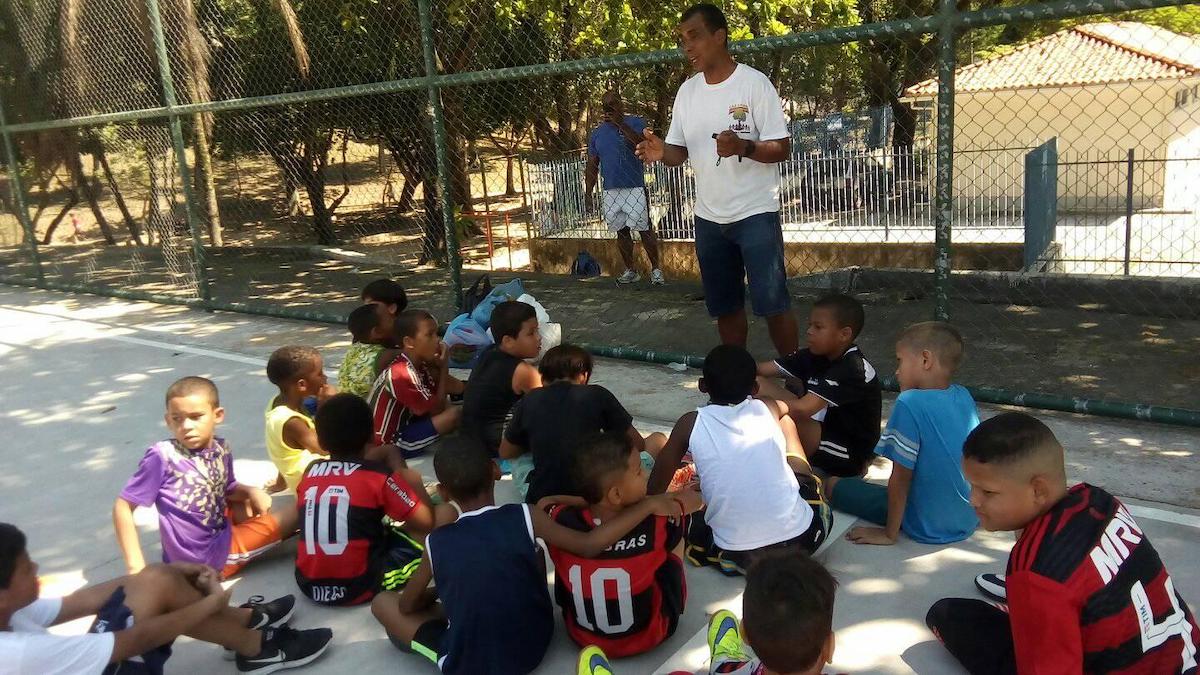 Every day, Silva uses sports to positively shape the lives of 120 youth ages six to eighteen at Orlando Leite Park. On weekends, Silva's teachings start in the morning: "First with a lecture, and then a group discussion about how everyone's week went—school, family, events. All of this is context," says Silva. Then it's soccer time, and eventually, "there is a snack that we put together with our meager resources," Silva states with a smile. "Our work begins like this."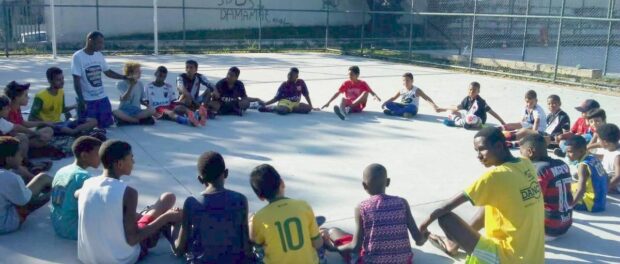 The education that local youth in Cascadura receive from the initiative reaches much further into their lives. The initiative teaches "discipline, respect for rules, people, spaces, the public sphere as a whole… It is proper citizenship that we teach," Silva clarifies. Through his training, he has been able to transform his community. "Bit by bit," he says. As with many favelas and other low-income communities in Rio, garbage removal and litter are major issues. "Because we are marginalized, it is important to be very conscious of where our trash is going and that it is brought to places where it can be removed. Teaching this consciousness is very important in our training," Silva says.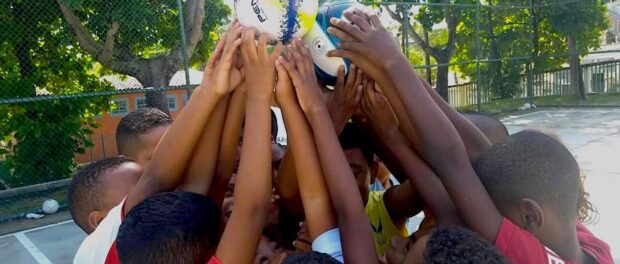 6 de Maio continues to empower the community of Cascadura by making change from within the community in the face of government neglect. "The tendency is to wait for help from the government—those who have financial means—and let them make change. But even with few resources, we believe that we can help our community… We work with the idea that we can. We can change the environment in which we live for the better," Silva explains.
Gabriel, a 19-year-old who now regularly helps Silva with lessons at Orlando Leite Park, joined the initiative program five years ago in an effort to find a positive outlet in his community. Silva says that as a young participant in 6 de Maio, "[Gabriel] followed my teachings. Now he is a central part of our work." Over the course of the past nineteen years, Silva has positively altered the lives of countless youth such as Gabriel. To close, Silva states, "We don't know where we will end up, but we know we will arrive at a very positive place."
*6 de Maio, Sonhar e Realizar is one of over 100 community projects mapped by Catalytic Communities (CatComm), the organization that publishes RioOnWatch, as part of our parallel 'Sustainable Favela Network' program launched in 2017 to recognize, support, strengthen, and expand on the sustainable qualities and community movements inherent to Rio de Janeiro's favela communities. Check out all the profiles of mapped projects here.