This is our latest article on the new coronavirus as it impacts Rio de Janeiro's favelas.
On Monday, March 30, Rocinha, Rio de Janeiro's largest favela, located next to the upscale Sāo Conrado neighborhood, registered its second death believed to be caused by the novel coronavirus. If the causes of death are confirmed, they will be Rocinha's first. Both victims, Maria Luiza Santana do Nascimento and Antônio Edson Mesquita Mariano, had arrived at Rocinha's Emergency Care Unit presenting Covid-19 symptoms—coughing, high fevers, difficulty breathing—both were sent home. As of Monday, April 6, the favela had registered four confirmed cases of Covid-19; neither Nascimento nor Mariano are included in this number.
During a tense week of mixed messages from several levels of government, many Rocinha residents tentatively returned to work. Following President Jair Bolsonaro's anti-science comments regarding the virus during a public statement on March 24, in which he referred to the virus as nothing more than a "little flu," circulation of residents ticked up. After initially closing on recommendations from the State government, around half the commercial stores in Rocinha's busiest commercial areas, Via Ápia and Largo do Boiadeiro, re-opened, with some "half-opening" for delivery-only services.
Across the city—with Rocinha no exception—health clinics find themselves in no condition to deal with a surge in Covid-19 cases. Under Mayor Marcello Crivella's administration, funds destined for public health have been diverted to other areas, and it is the community clinics that have been most affected. In Rocinha, primary health care services have suffered, chiefly owing to negligence by City authorities, and budget cuts leading to reductions in staff, paralyzed and late salaries. Rocinha's main family clinic, the Maria do Socorro Silva e Souza Clinic, has been particularly hard hit: over the last year, the clinic has lost 11 post staff. It now faces a chronic lack of medicine and medical supplies.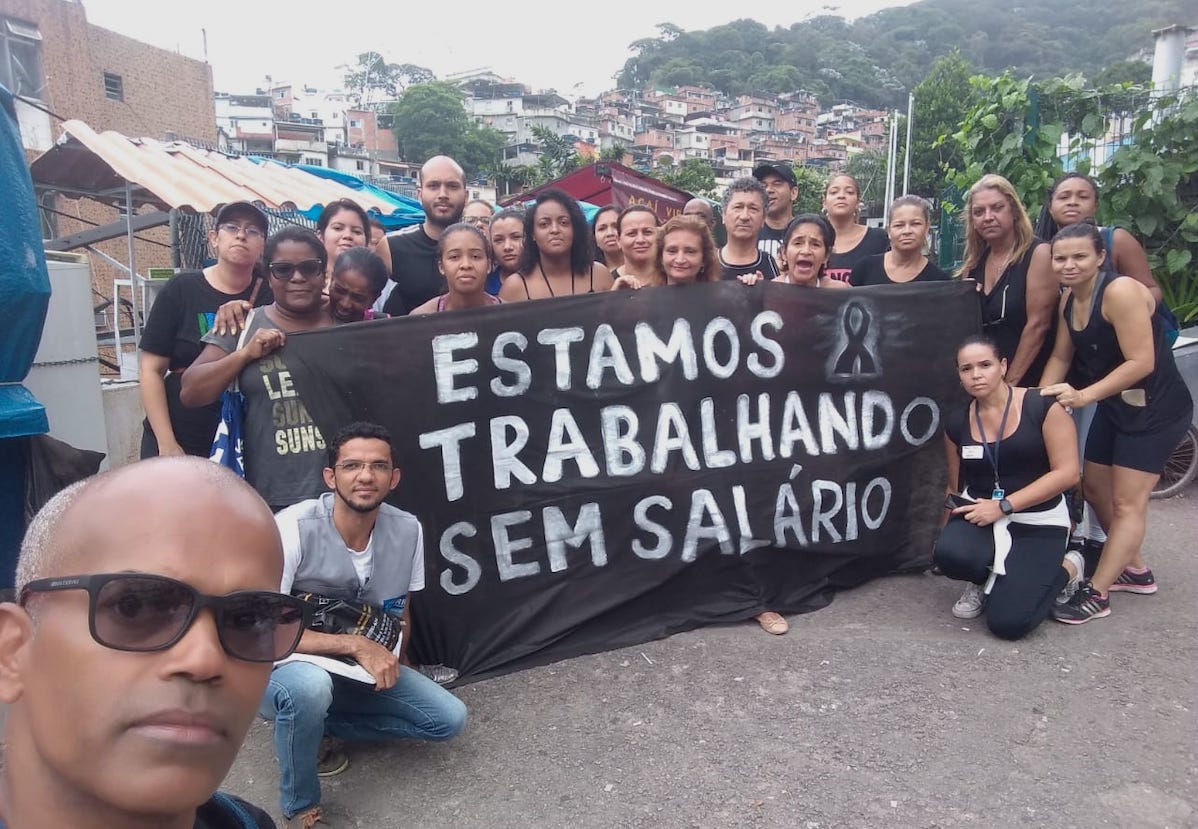 According to the City of Rio's website, "Family Clinics are a milestone that represents the reform of Primary Care in the city of Rio de Janeiro. The model aims to focus on prevention, health promotion, and early disease diagnosis." At the beginning of March, the Rinaldo de Lamare Family Clinic was without doctors, however. Teams have now been recomposed and tents set up outside.
Such clinics may soon find themselves overloaded as the favela's physical characteristics combined with State neglect make it especially vulnerable to coronavirus transmission. Rocinha in comparison with other favelas and the city at large is particularly dense, at nine times the citywide average and five times that of the built-up South Zone, home to the city's wealthiest neighborhoods. Some parts of the community are thus already familiar with respiratory illness (in particular Tuberculosis) due to cramped conditions, without adequate ventilation or quality sanitation. Current water shortages in the community exacerbate the threat.
Community Mobilization, Community Solutions
Without serious preventative measures and adequate provision of supplies, a large-scale Covid-19 outbreak could devastate the community. Conscious of this threat, local organizations and collectives have sprung into action, launching advocacy and donation campaigns to strengthen preventative measures and support some of the community's most vulnerable residents.
One such organization is Vivendo um Sonho (Living a Dream), a community surf project initiated by resident and surfer Carlos Belo da Silva. The initiative uses surfing as a socio-educational tool, offering free lessons to youth from the community. Since early March, Vivendo um Sonho has partnered with the NGO Grupo Familia na Mesa and other local organizations to deliver food and hygiene packages to some of the community's most vulnerable. Respecting the State's decision to close Rio's beaches, da Silva has stopped instructing. He has instead decided to use his community networks to assist with preventative action in Rocinha. For da Silva, "it's important to help the community because there are a lot of people without work, elderly people, families with disabled relatives and who are unable to buy food. Seeing as we have a reference, we have knowledge [of the community], we go after it, and people donate to us so we can pass [donations] along to others."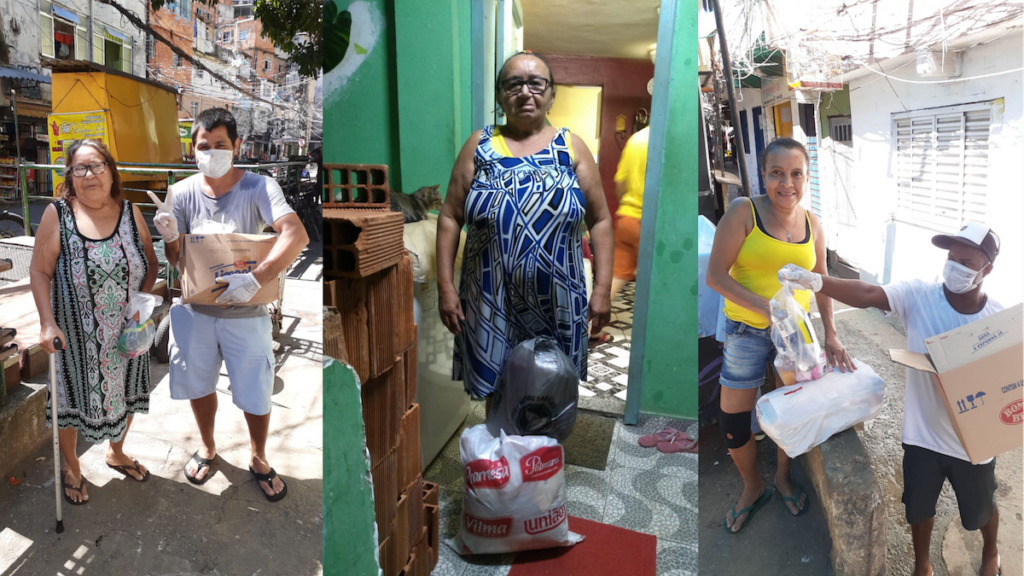 Another community initiative, A Rocinha Resiste (Rocinha Resists), launched in mid-March using the hashtag #ARocinhaContraCorona (#RocinhaAgainstCorona) in order to raise awareness of the community's fight against Covid-19. The group aims to mobilize its community network, using donations received and data collected to work with prevention and treatment for cases of Covid-19. These are services the government should be providing, but as one of the network's founders, Magda Gomes, explained: "The favelas of Rio de Janeiro are different from each other, but they share common historical deficiencies in basic urban infrastructure and provision of public services, which should be everyone's rights, but are restricted to the wealthiest areas of the city."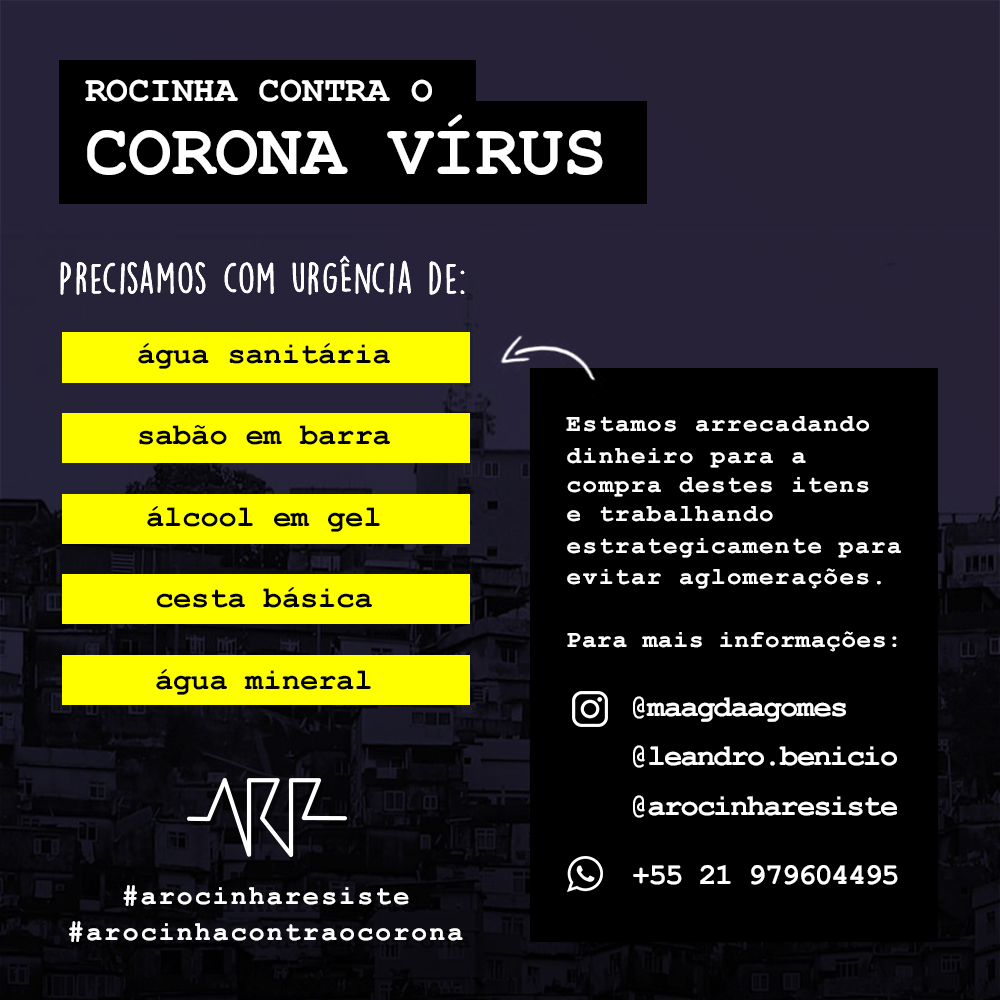 As Brazil's president continues to lead the country towards a health catastrophe, the nation's favelas are most vulnerable. Facing a public health crisis of unprecedented proportions, Rocinha continues to work together—as it has always done—in the absence of adequate healthcare and access to State services.
---
If you wish to make a donation or reach out to either of the organizations mentioned in this article, you can contact them using the following information: 
Vivendo Um Sonho (and partner organizations)
Instagram: @vussurfrocinha @grupofamilianamesa
A Rocinha Resiste
Instagram: @arocinharesiste @maagdaagomes
WhatsApp: +55 21 99006-3901
Email: arocinharesiste@gmail.com
If you are in the US and would like to make a tax-deductible to either group through Catalytic Communities, the Brazilian NGO and US 501[c][3] nonprofit that publishes RioOnWatch, click here, and 90% of your contribution will be passed on to the community group of your choice, with 10% remaining to support RioOnWatch's Covid-19 communications efforts (such as this article). Please write the name of the community group you'd like to support in the "earmark" category.