On Monday evening, July 8, residents of Santa Marta added their voices to the ever-growing chorus of favela communities taking to the streets to demand social justice. Their concerns, however, are by no means new. Real estate speculation, rising commodity and food prices, invasive tourism, eviction threats and lack of infrastructure have concerned the community for years. Local organizer Vitor Lira stated that whilst the protest had taken 3 weeks to arrange, this particular battle began 3 years ago. "We are taking advantage of the current favorable environment for our demonstration, but these issues have been a problem for a long time."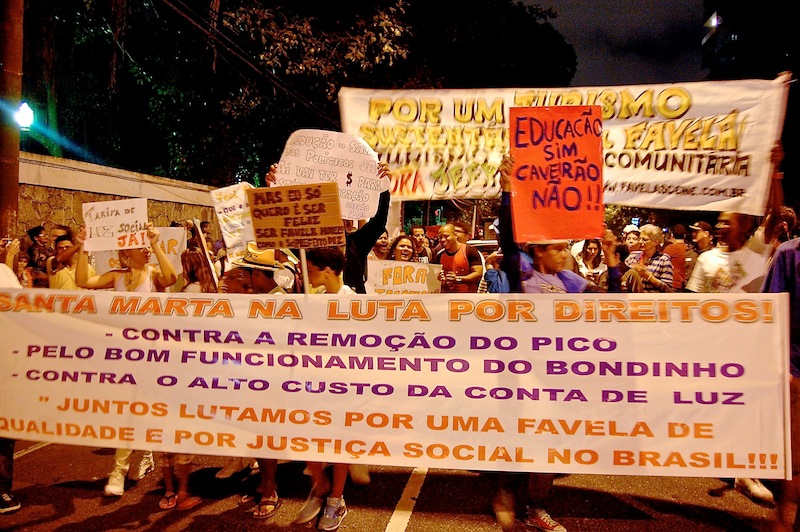 Starting in Praça Corumbá at the foot of Santa Marta's steep hill, around 300 protesters marched to the Palácio da Cidade, a nearby city government building on Botafogo's Rua São Clemente, before marching back to Santa Marta. Undeterred by the rain, demonstrators marched between 6:30 and 8pm demanding better services and criticizing the image promoted by public authorities that the community serves as a "model" for the Pacifying Police Unit (UPP) program, having been the first favela to receive a UPP in December 2008. Since basic sanitation and other infrastructure continue woefully insufficient, residents argue that government interventions of recent years are superficial–"make-up"–and enacted to maintain an image rather than serve the needs of the community.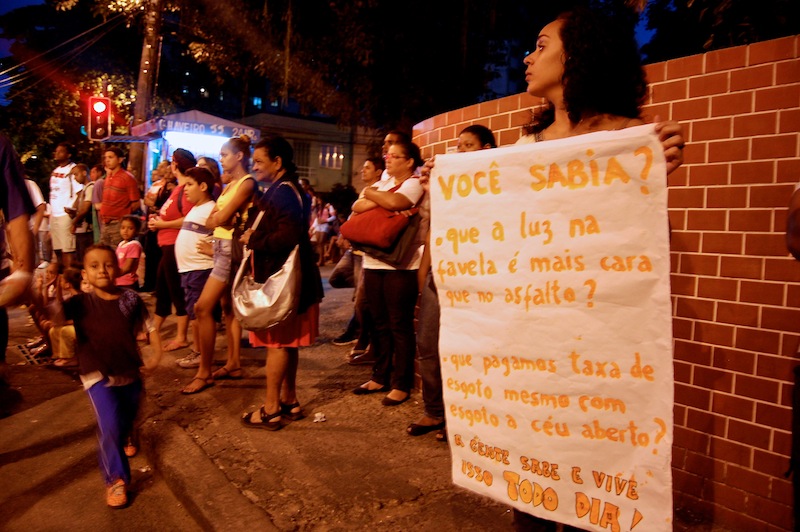 Santa Marta's demonstration follows a number of successful demonstrations from other communities. The union of Rocinha and Vidigal a fortnight ago was peaceful and well received, resulting in a meeting between Rocinha and Vidigal leaders and government representatives and the inclusion of an additional part of Rocinha, Laboriaux, in the federal Growth Acceleration Program's (PAC) second phase (PAC 2) upgrading plan. This was followed by a peaceful protest in Horto against removals and the unfair treatment of favela communities by the mainstream media. At the Santa Marta demonstration there were movements represented from other parts of the city, such as a member of the Assurini tribe representing the Aldeia Maracanã to show his support for residents of Santa Marta, asserting that these issues cross community boundaries. The theme of solidarity between favelas was recurrent, with many chanting the names of other communities as they marched down the main roads of Botafogo.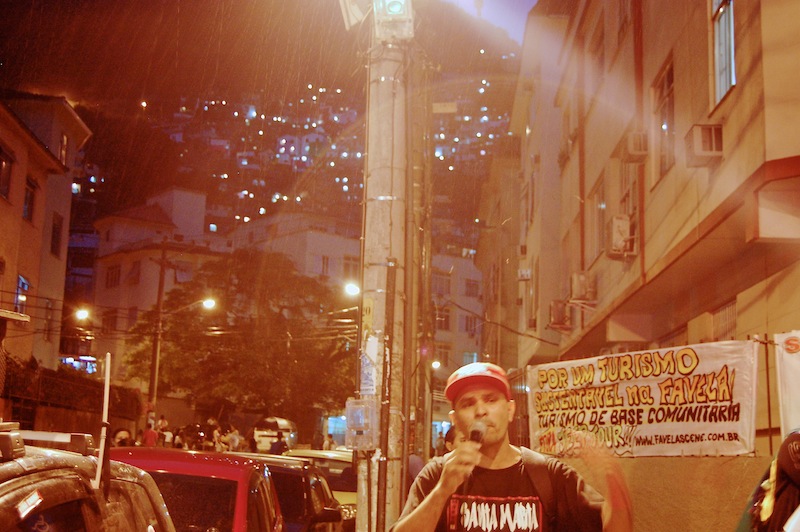 A principle concern of Santa Marta residents is that of real estate speculation. According to Lira, the Pico do Morro (the highest area of the favela) has been marked for removal since January 2011. Originally 50 homes were marked for removal, this has since grown to 150 although no evictions have yet taken place. Whilst the state claims that these evictions are needed due to geographical risk, Lira suspects other motivations. "It has a beautiful panorama which is attractive to tourists," he said, "and so private businesses have their eye on the area for development." Indeed, engineers familiar with Santa Marta and other communities targeted for eviction due to 'risk' have frequently reported that it would be less expensive to build proper slope stabilization and infrastructure than to evict residents.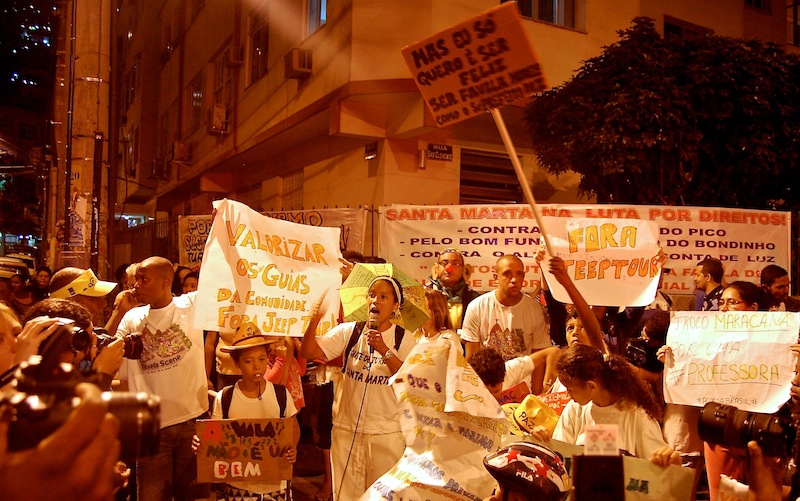 Even those who are not facing eviction are at risk of being priced out of the area due to rising commodity and food prices. Local resident Andrea Miranda, 32, stated that the extortionate rise in energy costs–with bills as high as R$200 per month cited–means that "today we have arrived at the point where we have to take our problems to the streets." This sentiment was echoed by local Pastor Valdeci Pereira, who argued that high commodity prices are not reflected in services received. He said: "Santa Marta has been fighting for water and electricity since before pacification." Food prices have also risen sharply in Rio. "A kilo of beans costing R$10?" exclaimed the representative of Aldeia Maracanã, "now that is vandalism."
Another demand made by residents is for sustainable tourism. Hand painted signs had messages such as "Value community guides and not jeep tours." Lira, himself a local guide, stated that visitors touring the communities in jeeps and taking photos of residents and their homes is an invasion of privacy. "We are not going into their communities and doing the same!" speakers exclaimed over the microphone. "We are not a circus. This is not an equal exchange." Santa Marta has a committee for the promotion of sustainable tourism and would like visitors to the area to be educated about their community in an honest and meaningful way. Santa Marta is upheld as a "model community" being the first favela to receive a UPP, but residents argue that tourists should also learn about the problems that residents face.
Residents of Santa Marta are angry and demanding change. Monday night's protest, however, was both positive and peaceful. Lights in neighboring buildings flashed in support of those marching, as residents demanded, "We want Santa Marta to be a model of quality, not make-up."