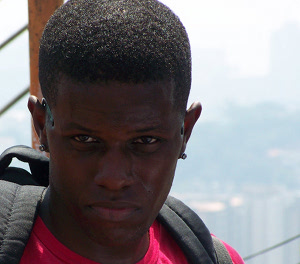 A portrait of Valnei Succo by Samuel Lima, both of whom are participants in the RioOnWatch project being trained in CatComm's community journalism course.
A Graffiti artist and MC in pursuit of a Catalan course, MC Succo is a 23-year-old Flamengo fan, born and raised in the favela Faz Quem Quer, Rocha Miranda in the North Zone of Rio de Janeiro. His given name is Valnei, by his mother's own creation, joining his father's name, Valdir, with his uncle's, Lucinei. "My sister also got a similar, mixed name: my mother's name, which is Lucilene, with her father's name, Josemir. So her name is Josilene," he says.
The history of his nickname begins with his friend, the auto mechanic who first called him "Tire Juice" more than ten years ago, because of the color of his skin. "Since people like to abbreviate everything, it became just Juice," he says, before lamenting that friend's death, murdered for liking to "mess with other men's wives." The loss makes him think of what he calls Rio's urban Western, complete with burned tires and all. Four days later, his friend's killer would die in front of his house. "Because [my friend] had credit, so the guy shouldn't have done that to him."
Despite having a historic connection to Faz Quem Quer, the first houses of which were built by his grandparents about 40 years ago, Valnei only goes to his community now to collect the rent for the house he inherited from his parents. "At this moment I am living with my grandmother on the asphalt [as opposed to in the favela] in Rocha Miranda."
The favela Faz Quem Quer was occupied by the Military Police about a month ago, after an intense firefight during a funk party that ran beyond its scheduled time and bothered residents. "The police came in striking everyone, including residents and even those who had called them. Then, the police began to walk around with the 'snitches' to pinpoint residents who worked in the drug trade."
Succo is used to gunfire between criminals and the police. It's no coincidence that his brother wrote a track called "Sad News," based on a massacre that took place at the end of 2002. "Fourteen youngsters, aged 16 to 27," remembers Succo, who remained locked in school for hours that day. "And the bodies just stayed there for two weeks. One even got to the point where it split down the middle." Those kids were friends of Succo's and his brother: "They were involved in the drug trade, yes, but there was no firefight or even an attempt to subdue them." The victims of the 2002 massacre were not the only people linked to the drug trade among Succo's relations, he has relatives still involved in organized crime. "One of my cousins is a manager and another is a boss. And I have a cousin in prison."
The MC attributes the strong presence of drug trafficking in the community his grandparents named to the almost complete absence of the State, reduced to one municipal school, one preschool and one space for kids from five to ten to play sports. Since the arrival of the police, the 'pagofunk' dance and some popular street parties organized by one of his uncles have been banned. One of the rare actions by public authorities he celebrates are the recently paved roads. "For seven years the bus didn't come all the way up to the top of the hill, but now it's cool."
An admirer of Marechal's and Os Inumanos' rap and Arlindo Cruz's and Bezerra da Silva's samba, MC Succo is adding the two rhythms to funk music in a project that he is writing for the State Bureau of Culture. "The name of the project is 'Two Elements' and it will be a songwriting and deejaying (with software) class," says the young Rocha Miranda resident who started to rap thanks to a battle of sound crews at his community.