On Sunday March 30, Military Police forces officially occupied Complexo da Maré, Rio's largest favela complex with 16 communities and over 130,000 residents. According to Google News the event was reported over 270 times in the international press, with agency reports published widely by media outlets all over the world. AFP's coverage, published by by Al Jazeera, Yahoo!, Australia's news.com.au, China Post and many more, reads: "The swiftly conducted dawn operation was the latest attempt to drive drug gangs out of the notorious Maré shanty town, a haven for organized crime and one of the city's most dangerous places." The report describes the police operation, drugs seized, World Cup security fears and the state's Pacifying Police Units (UPPs). On Yahoo!, of 624 words, just 71 were spent acknowledging the people who call Maré home, largely stating how residents seemed irritated by the security forces and journalists' presence: "Few wanted to speak with reporters."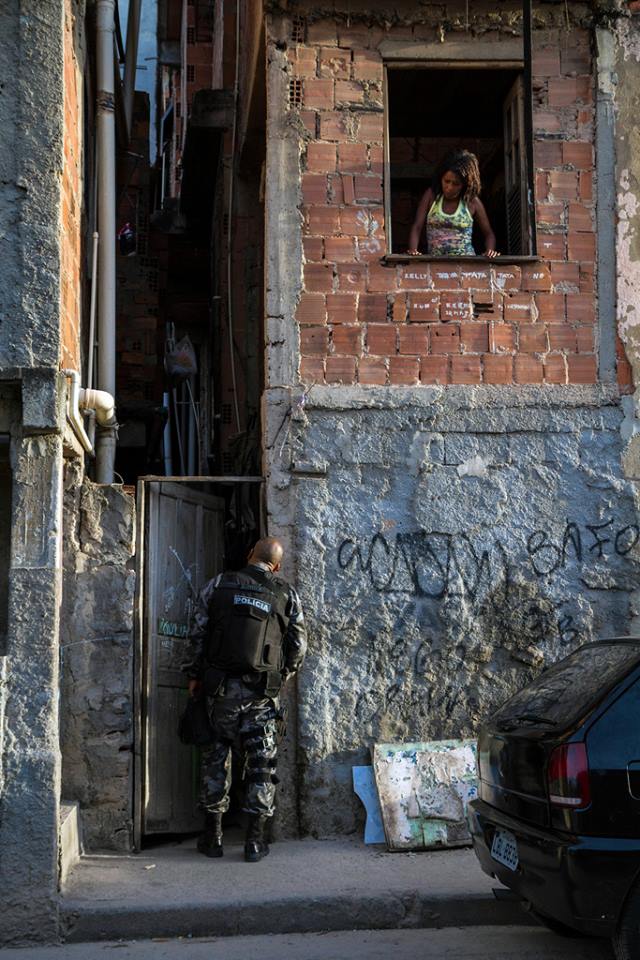 Though they refrained from giving interviews to foreign reporters, Maré residents were not quiet. A storm of comments, observations, denouncements and hopes were shared on social networks using the hashtags #OqueaMarétem, #dedentrodaMaré and #MaréVive. Posts were aggregated by community Facebook pages Maré Vive and Favela Fiscal, the former created on March 28 specifically to share residents' comments on the occupation.
Anticipated for over a year, the police operation in Maré was initiated on March 21. In the week leading up to the official occupation and media spectacle of Sunday, various abuses and several deaths were reported including that of an 18-year-old taken to an alley and killed by the Special Operations Battalion (BOPE) on March 27. Local NGO Redes de Desenvolvimento da Maré (Maré Development Networks) published a report on March 28 outlining the violations, including reports of police officers beating and locking up a group of boys in a room, threatening to blow it up, and BOPE invading houses to sleep and take a shower.
One of the most controversial aspects of the Maré operation has been the collective warrant authorized by the courts on Saturday, March 29. Legally questionable, the warrant meant any home could be broken into by police. The move outraged Maré residents with one posting on Facebook, "the collective warrant is a joke, a prejudiced and irresponsible invention by those who don't respect the community." Another wrote, "STATE OF EXCEPTION: Favela residents don't have rights. In Maré, the Constitution and the inviolability of the domicile doesn't count!"
Despite this and the military operation looming, Saturday night was typically festive in Maré with a forró event on the Vila do João community's main road, and samba at the Museu da Maré. One community photographer posted, "Maré couldn't care less about the occupation. Its residents are partying, not because of the occupation but because these parties are always commonplace in our communities."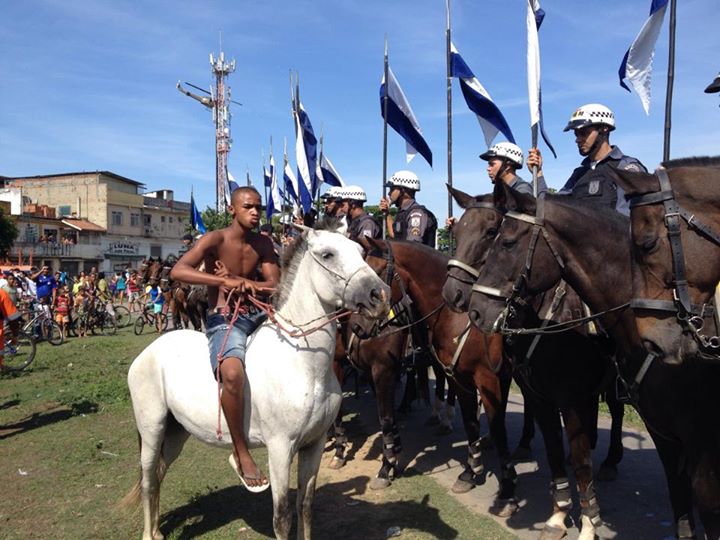 The military operation began in the early hours of Sunday morning. Community Facebook and Twitter pages posted regular updates on the movements of the operation including shock troop incursions in Vila do João, armored vehicles in Timbau, house invasions in Nova Holanda and army helicopters flying very close to houses. Maré Vive reported that an 81 year old man was arrested in Timbau. Favela Fiscal reported a denouncement that police assaulted a group of children in Baixa do Sapateiro. Later that afternoon, one fifteen-year-old was shot and killed, and two other teenagers injured in a shootout between the Baixo do Sapateiro and Nova Holanda communities. Another death, further casualties and unlawful arrests were reported by community pages.
The majority of residents, understandably, didn't venture out, instead watching the operation happening outside their front doors on television. Many were critical of Globo's sensationalist coverage. One resident viewing wrote "I feel like a character in a soap opera that has never gone out on Globo." Another commented, "This is too much.. Plim plim [reference to the Globo jingle] is saying that Maré residents can leave the house to 'interact with the police horse.'"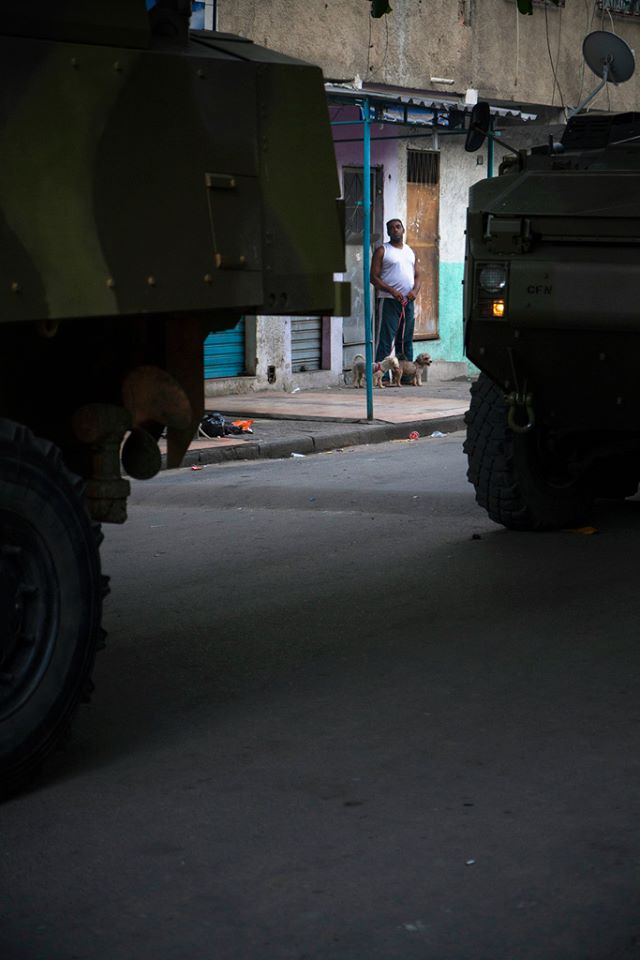 By Sunday afternoon the situation had apparently calmed and, as in other favela occupations, the first companies to enter were telecommunications operators. Maré Vive posted: "Sky and Claro TV stands have already been set up in Vila do Pinheiro. This is the tone of 'pacification' and our entrance into the State of Rights–summarized for us as just the right to consume."
Many online comments pointed out that the greatest demand in Maré is for improved basic services. One resident wrote: "What are these war tanks in Maré here for? Our taxes being used for the spectacularization of the State, for commercial media/politics and the criminalization of the poor. These soldiers could improve the streetpaving […] instead of showing off and wasting gas with these tanks. They could bring building materials to renovate houses instead of showing off these rifles and psychopathic expressions. They could set up well-equipped community hospitals with fast, effective healthcare instead of a killing command center. But thinking of this is a tremendous utopia."
Marking much of the commentary was an affirmation of Maré's local identity and history of struggle and conquests. Reporting on police occupations largely fails to represent the wide-ranging differences and unique cultural identities of the favelas occupied, focusing heavily on the official state-sponsored narrative and favela stereotypes. Online commentary by residents counters this, particularly in Maré with its vibrant civil society and culture scene.
One resident wrote: "We don't clamor for peace because we've never lived at war! We've always lived under the negligence of the authorities and public sector and even with all this we have electricity, water, sewerage, trash collection and other basic services all because of the united, resistant and strong community's struggle, beautiful people who've occupied this space since the 1940s.. It's screwed up to hear that only now we will have dignity. To these I say: you know nothing!"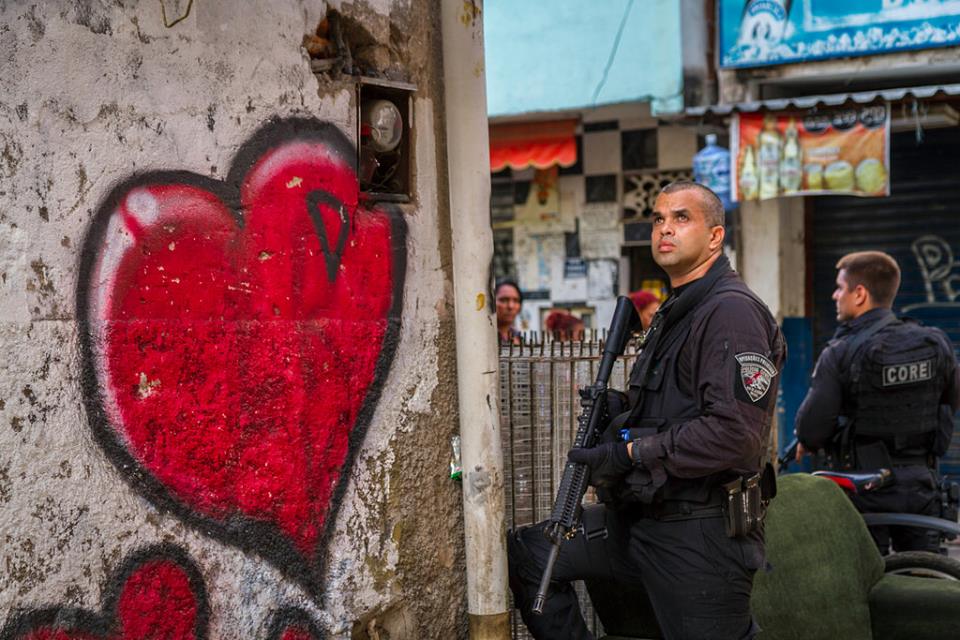 Others were tentatively hopeful, with one writing: "We hope that all the basic services be offered, that we have the right to come and go as we always have, that police act within the law and have patience until they're accepted, if they are, because it won't be a cavalry and war tank filled with children that will change the thinking of a community that's been massacred for decades."
Since Sunday, there have been reports that police presence is low and even that drug sale points have been set up in certain parts of the complex. On Monday, the Estadão news site reported that there is no police presence in the militia-controlled communities of Praia de Ramos and Parque Roquette Pinto and that militia activities continue undisturbed.
Community activists fear police repression in the coming months, especially with the announcement that the army is to be deployed there, and are uniting in a range of resistance efforts. Maré Vive released a note on Wednesday April 2 signed by 17 community and human rights organizations calling for unity: "We know that this is just the start of a whole wave of oppression via a policy of extermination and militarization in the favelas. The strengthening of resistance is imperative." The internationally-renowned Favelas Observatory (Observatório de Favelas) and other civil society organizations have called a public hearing with State Security Secretary, José Mariano Beltrame on Thursday, April 3 in Maré.  Residents are also organizing a day of cultural occupation of the Parque União community in Maré combining music, art and protest for this Saturday, April 5. Titled "It's Times to Mobilize: Maré Resists," the description on the event's Facebook page is a call to action: "We need to mobilize and protest against new forms of dictatorship in strategic spaces in our city. Peace isn't a donation, it's a conquest!"