The World Cup in Brazil has brought unprecedented criticism of the ways in which sporting mega-events are organized and scrutiny over who actually benefits. Though distinct in context and scale, the upcoming Commonwealth Games 2014 to be hosted in Scotland draws a comparison with the World Cup in Brazil and the way such events are politically charged. The Commonwealth Games 2014 (G2014), to be hosted by the city of Glasgow in Scotland has been described by Shona Robison, Scotland's Minister for Sport and Equality, as having the "core value of equality, aiming to engage individuals from all backgrounds." The event will begin on July 23, just ten days after the World Cup final in Brazil.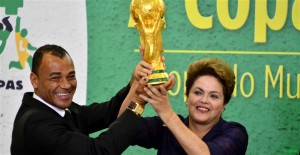 Just a few days before the World Cup kicked off in São Paulo last week, President Dilma Rousseff hosted an exclusive dinner for journalists and other critics of the World Cup to promote the investment on infrastructure projects in Brazil and to dissolve uncertainty of FIFA's presence in the twelve host cities. Despite the show of confidence, protests and intense international media coverage over the last year have exposed Brazil's inequalities, corruption, misplaced public priorities and human rights violations to the world. Commonwealth Games host city Glasgow, the largest city in Scotland and third largest city in the UK, is also widely known for its political and social problems, with high crime, poverty, mortality, unemployment and overall deprivation rates. It was recently announced the UK's sickest city. With evident social problems and increasing emphasis on the "legacy" as a justifying tool for mega-events, there is pressure for both Brazil and Scotland to achieve a sustainable legacy, but host "goals" extend beyond successfully realizing the events and legacy plans.
Political Tactics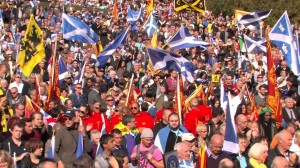 The Commonwealth Games will be held just weeks before the vote on Scottish referendum for independence, on September 18, led by the Scottish National Party (SNP). This is a once-in-a-generation opportunity for people in Scotland to have their say about the country's future: whether they stay a part of the United Kingdom and under the authority of the UK coalition government, or to branch off and make the Scottish Parliament responsible for all laws, taxes and duties. Those in favor argue that independence would allow for a modern constitution to protect the rights of Scotland's citizens and reflecting the values of its people. Those against argue Scotland could dive into a financial crisis. The SNP are expected to use the Commonwealth Games to create a wave of feel-good patriotism and establish a pro-independence rally. They hope the showcasing of Scotland through the Games will be enough to "win" people and win a "yes" in September. Sports and Equality Minister, Shona Robison, is also an elected member of the SNP. The political investment in the event has parallels in Brazil. President Rousseff and all federal and state politicians across Brazil are facing general and state-level elections on October 5 of this year. Rousseff's recent high-spirited press appearances with the World Cup trophy and her public praise for the people's activism are clearly attempts to rescue her wounded reputation. It is not just sporting victory riding on the smooth-running of the Cup and the Brazilian team's performance.
Policing and Security
Scotland is testing the capabilities of its new centralized policing system, Police Scotland, one of the Scottish National Party's biggest policies to save costs by merging Scotland's eight police forces. The new police service, established in April 2013, has not been without criticism over the past year, with research criticizing stop-and-search tactics which target children as young as six. Lone working has also been condemned as officers were found to be stopping people as a single officer intervention, with reports from victims of aggression and intimidation. Although promoting the best intentions to reduce crime across Scotland, the developments have left the population feeling insecure and doubtful as to whether Police Scotland can build on its community relations. Police Scotland has been preparing for the Commonwealth Games and mass securitization has been promoted by the media. It has been reported that 2,000 military personnel will provide security during the event and 440 specialist officers have received the approval to carry weapons while on duty. This decision was made without any consultation of the Scottish parliament beforehand, which has brought the police force under further scrutiny.
In Brazil, increased militarization, deployment of troops and controversial repressive tactics in police handling of protests and violent clashes in favelas, particularly those with Pacifying Police Units (UPPs) in Rio, are all dominant features of the current mega-event security operation.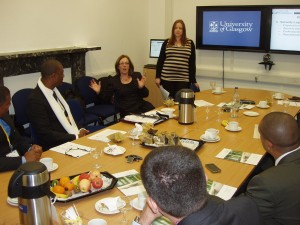 Knowledge exchange has indeed already occurred between the two countries' security forces. In February 2013, the Glasgow 2014 research team of academics from the Scottish Institute for Policing Research and the Scottish Centre for Crime & Justice Research hosted a research and knowledge exchange meeting with a visiting group of seven senior police officers from the Rio de Janeiro State Military Police. The officers were visiting Scotland as part of a "fact-finding mission" in order to inform their preparations for the FIFA World Cup 2014 and 2016 Olympic Games' security operations. The purpose was to learn more about Scottish experiences of community policing and the policing plans for the Commonwealth Games.
Yet as the World Cup is underway and on the eve of the Commonwealth Games, both Police Scotland and Rio's Military Police are lacking in public confidence. Such mega sporting events are international showcases of the world's best sports players and provide enjoyment to sports fans around world. The urban regeneration, security and legacy considerations are now so often conflated with the economics and justification of mega sporting events that sport and its enjoyment are increasingly shadowed by political motivations, repression, social injustice and human rights violations. Politics and controversial tactics are now globally seen as going hand-in-hand with mega sports events.
Janine Ewen is a Scotland-based researcher studying the impacts of the World Cup 2014 on Brazil's sex workers and the wider population of Rio de Janeiro, and the impacts the Commonwealth Games 2014 in Glasgow, Scotland. In 2013 she conducted primary research in a Rio favela running a health clinic, teaching English and playing sport.