On Saturday August 23 over 4000 revelers gathered at the top of Morro da Babilônia in Rio's South Zone for the Hanging Garden festival, an annual celebration which aims to promote the dissemination of inclusive arts and culture. This year's edition included poetry, political debates, a forró band, funk DJs and singers, passinho dancers, rap MCs and a diverse range of art installations.
The event took place in over four different areas of the Babilônia community, each with its own roster of musical acts and artistic interventions.
The Hanging Garden events are produced collaboratively by Babilônia residents and young artists from other parts of Rio de Janeiro and was idealized and produced by the young artist Dandara Catete, 22, and her partner and cultural producer, Álvaro Maciel, 28. The first event was held in a house in Cosme Velho in 2011 as an opportunity for artists to promote their work outside the confines of gallery walls by integrating art into the bucolic scenery of one of the city's most beautiful communities. As of last year it came to occupy Morro da Babilônia, under Álvaro's suggestion, who was born and raised in this favela.
This year's event centered on the theme of coexistence and integration of arts and culture between the favela and the asfalto (formal city).
It began with a debate about how different ideologies and models of integration/segregation manifest themselves in Rio de Janeiro. Speakers included Cavi Borges, who directed City Of God – 10 Years Later, Adair Rocha, lecturer at Rio's Pontifical Catholic University specializing in resistance and heritage in Afro-Brazilian history, and André Constantine from favela activism group Favela Não Se Cala. The objective was to find new ways to integrate favela communities into the social fabric of the city through arts and culture initiatives–whilst protecting community heritage from the threat of gentrification.
Different from public sector or even NGO programs often felt to be imposed on communities without their consent or participation, the Hanging Gardens festival had inclusivity and community woven into its production.
One of the art installations was a collaborative piece between Exímia Design—which use non-conventional materials to create jewelry and accessories–and the Warrior Women of Babilônia, a community group that promotes female empowerment through vocational arts. The two groups worked together to create an installation that encapsulates the history of the community in order to inspire future generations. 
The diversity of the event was exemplified in its musical roster. The acts included Babilônia-born rappers, funk and passinho acts from other carioca communities alongside Brazilian poets, live bands from all over the city and DJs playing international dance music.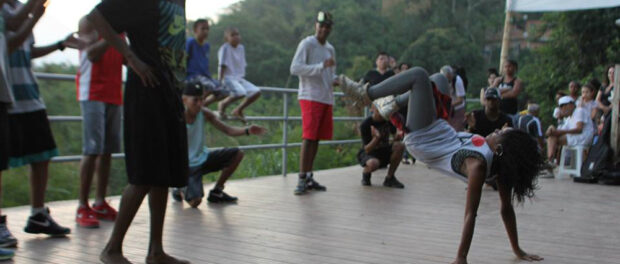 Entry to the not-for-profit event was free for all of guests, and food and drink vendors were all from Morro da Babilônia.
The interaction between favela residents, asfalto residents and foreigners at the Hanging Garden event could serve as inspiration for sustainable integration of historically neglected communities with the formal city. Such an event facilitates access to the favela in a manner that promotes respect, discovery and community, boosts the local economy and avoids the voyeurism and exploitation associated with many events in South Zone favelas.
Babilônia residents, non-resident Brazilians and foreigners were interviewed on whether the event achieved its objective of promoting integration and coexistence:
Seejay Beats, rapper from Babilônia
"This is one of the best cultural events in Rio de Janeiro. This is the most authentic type of event you'll see. Many other favela events are really artificial. As you can see, there are loads of foreigners here and I think it's really achieving its objective, which is to make sure that outsiders can get to understand what favela life is like and we can showcase our culture and our reality."
Tatika BBking, rapper from Babilônia
"I've lived in this community for about eight years. This is the best event in South Zone. This mix of people is perfect. We're getting to experience bits of their culture and they are experiencing bits of ours. It's really important because we are boys from the favela and we have things we want to say. It's important that Rio de Janeiro, and the world, gets to know about our movement."
Fabiana, 33, retail assistant from Babilônia

"This event is great. It's the best party in the community. People here get to meet different types of people, we get to experience different types of events, different types of music. Usually here all people listen to is funk, funk, funk, so it's good to have different types of music, dance and culture."
Marie, 22, student from France
"This place is cool. I like that the event is in a favela because beforehand I was scared to come. But it's pretty calm. Before I came I had a really negative image of favelas. I thought it would be dangerous and poor. That's what we see and hear about favelas, that negative idea. In Europe, the negative image is everywhere. It's an event so obviously there are loads of tourists. I would want to go to a favela in the daytime to see what it's actually like."
Marcelo, 40, and Cristiano, 15, father and son from Morro da Babilônia
Marcelo: "I'm from Bahia but I moved to this community years and years ago. This event is nice. The mix of people is really good. All these outsiders are welcome here in Chapéu Mangueira and Babilônia, all of you! We are all nice, humble people and it's great to host foreigners here. Everyone is calm and respectful."
Cristiano: "The event is amazing, really cool. We don't have any problems with the gringos here. Everyone here is respectful and just having a good time."
Farrouk, 23, Franco-Algerian student living in a Babilônia hostel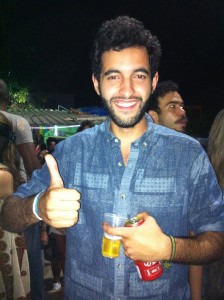 "I live here because of the amazing view and because it's cheap. I'm not really enjoying the event to be honest. I'm not really liking the atmosphere. I think it's better for foreigners to get to know the culture by living with a family rather than coming to an event like this. Parties can isolate people and they don't really allow interactions. I wouldn't say I feel integrated."
Marcelo, 39, Babilônia resident
"I was born here. This event is awesome. Loads of new people from different cultures. The mix of people from the community, all the gringos and people from outside is excellent. It all adds up to make a quality event. Come here, all of you, we welcome you with open arms! Don't stay down there, come up here for the best culture."
Aline, 21, student from Leblon
"I'm really enjoying it here. It's the first time I've been here but I really like its objectives. It's a cultural showcase. There's art and music but I think it's lacking a bit of spectator participation. I want to find out a little bit more about the works of art here."
Maria, 22, student from Engenhão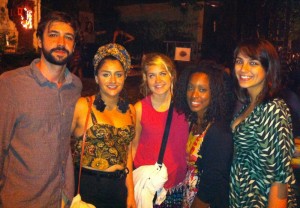 "I think the mix of different people is really interesting… It's really cool to turn the community into something like this. Even outside the event, it's good to have diversity in the culture, the food, and everything else."
Hugo, 23, student from Copacabana
"My only reservation is that there are collateral effects of events in favelas, especially here in Babilônia and Vidigal, which cause gentrification in the favela. It's like outsiders come in to enjoy other people's space, but they end up occupying it because their presence causes the cost of rent to rise. They can sometimes push people out of their own neighborhoods. It's a bit complicated because this city is really unequal so people are getting pushed out to the periphery."
Larissa, 22, student from Botafogo
"I think that with favela events, not just this one in particular, there is always a lack of integration of outsiders and the favela residents. This one has quite a few local people taking part, but the majority of similar events you don't really see much interest from locals. Usually people just come to the event, then leave the favela, and that's it. They don't interact or speak to the people who live there."
Hugo, 36, street vendor from Rocinha
"I don't speak their language but it's nice to chat with new and different people from other places. It's a positive thing. They bring benefits to the communities here. I think they get a bit exploited here actually. They come and spend a lot of money. Here in Babilônia, or in any other community in Rio, we don't have problems with anyone. We respect other people and they respect us. Outsiders are welcome."