Mothers in Complexo da Maré worry about their children's idle time after they are released from school at midday. Sent home before lunch, and with a whole afternoon lacking structured activities, kids are in danger of being introduced to counter-productive activities.
To compensate for the state's absence, civil society organizations offer activities and clubs in the afternoon in an effort to present new vocations to young people in the favela or simply offering a hobby to occupy the attention of otherwise idle kids.
In the maelstrom of music coming out of the favelas, after-school activities focused on Brazilian genres like funk, samba and forró are often showcased as attractive alternatives to life on the streets. Classical music is usually dismissed as unattractive, inaccessible or elitist.
It is in this context that Carlos Eduardo Prazeres and the Projeto Estrada Cultural set up the Orquestra Maré do Amanhã (Maré of Tomorrow Orchestra) in an effort to train professional musicians. The project's philosophy is that anyone, whatever their background or skin color, can become a lawyer or a doctor–or a classical violinist.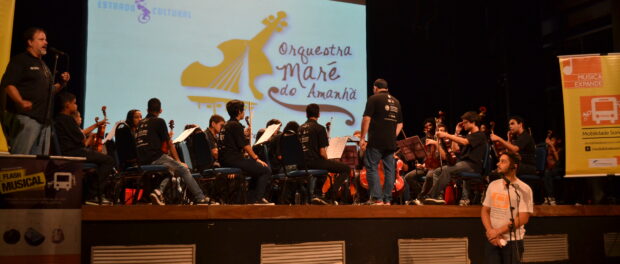 The first orchestra rehearses three times a week in a public school in Vila da Maré and performs live on a weekly basis. There are also beginners' classes and recreational activities to introduce classical music to the new kids. Luan, a 16 year old student at the Operário Vicente Mariano school in Maré was first introduced to classical music by the orchestra.
"I started playing viola two years ago at the beginning of the project," he said. "Why did I get involved? I signed up for the project because I thought it was sort of new, and I became passionate about the instrument. Of course I want to go professional later."
Favela Grota de Surucucu, in Niterói, has a similar program founded by residents Leonora and Marcio Mendes. The couple are responsible for the Orquestras de Cordas e de Flautas da Grota (String and Flute Orchestras of Grota).
"We hear gunshots almost every day here," says Leonora, when asked about violence in her community.
The Grota program looks to professionalize young musicians. The first orchestra (out of four) can be hired to play in weddings, churches, and other events. The group has a manager and charges R$2,700 (US$1200) per gig. All of the kids in the first orchestra teach music for the organization, either voluntarily or as paid work. The motto of the project is "multiplying talents."
Orquestras da Grota has come a long way since its inception in 1995 as a school for remedial tutoring. Boasting 12 groups throughout Niteroi, the project has expanded "due to sheer demand," according to Leonora. The only requirement to join is attendance in a public school.
The first and second orchestras demand mandatory participation in the weekly music theory lessons. This emphasis on professionalism is enforced in the hope to break the circle of social repetition and to open new doors for teenagers from low-income backgrounds. The work of the orchestra also gives kids the opportunity to travel to several destinations on tour. They have been to São Paulo, Central America and as far as Portugal and England. Leonora feels that the the benefits of such travels are immeasurable.
She said: "Discovering places where the question of knowing whether the Red Command or the Pure Third Command controls the favela is irrelevant is incredibly liberating for the kids."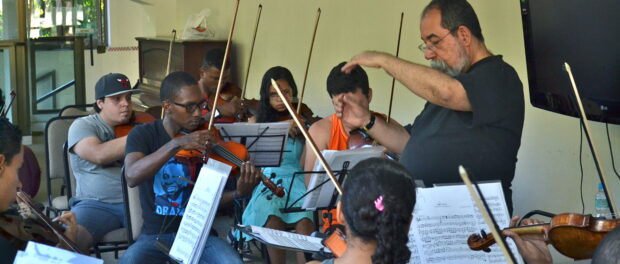 Neuroscience is fast proving what so many musicians have felt: playing an instrument is to the brain what sport is to the body. Learning music creates connections between different regions of the brain and engages with virtually all functions of the central organ. Not only does such an activity strengthen our cognitive capabilities but also allows us to use those acquired capacities in all situations.
In addition to this, youth involved in such ambitious programs discover a bigger world, new sensibilities and set no boundaries for themselves. Peter, the lead violinist in the Orquestra Maré do Amanhã, has got no doubt about what he wants to do in life.
"I've been playing violin for five years now. I want to be a musician, a classical musician," he said.
Maestro Prazeres says classical music opens up a whole new world of culture for the kids, who start looking for art elsewhere.
"There is a social aspect to music. The kids start interacting with each other differently, because an orchestra is an interaction," he explains. "The kids start to visit museums, to attend theaters and go to concerts. You start to be in contact with a new range of information that makes you more whole."
The kids play Beethoven and John Williams with talent, showmanship, virtuosity, and discipline. These programs provide an escape to the young people in the favelas and can offer an unexpected career as a professional musician. Classical music is not dead–in fact here it is breathing new life into communities.