Nearly 100 residents crowded onto a third floor veranda in Vila União de Curicica on Wednesday night to discuss their plan to resist eviction in the face of the TransOlímpica highway and bus corridor slated to pass through their community. The community has been portrayed in the local press as entirely passive and quite delighted with the City's decision to remove the neighborhood, and is calling for local and worldwide attention in supporting those residents who have not been consulted and who are not being fairly compensated.
The neighborhood, originally marked to receive upgrading and improved infrastructure via the Morar Carioca program, now faces demolition and many residents feel the City has bailed on their original promises.
The BRT TransOlímpica aims to connect the Olympic hub of Deodoro with the Olympic Village, Barra da Tijuca and Recreio, and will allegedly transport 70,000 people per day. The City government plans to rehouse families in Colônia Juliano Moreira, a complex of five-story apartment buildings not far from Vila União. While some residents jumped at the opportunity to relocate and gain formal home ownership, hundreds of others are determined to stay.
The local government's rhetoric paints a picture of near-idyllic, formally-planned apartment blocks, but questions remain about whether they will be ready in time. These modest apartments are also much smaller than the homes many residents in Vila União have built over the years and create serious crises for the owners of small businesses who may not be compensated, and can't simply pick up and move an enterprise developed and embedded in the local community.
The community meeting last Wednesday, September 10, was an open discussion about how residents determined to stay or achieve just outcomes will resist eviction. It was also attended by residents of communities that have been threatened by or experienced evictions, along with a State Representative, offering guidance on resistance strategies.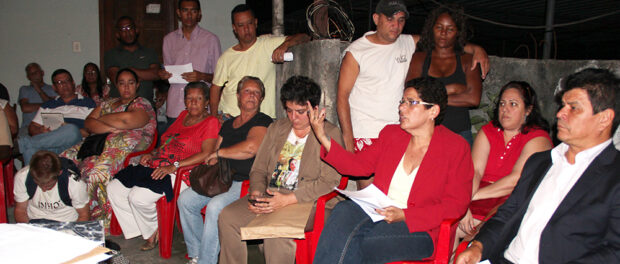 State Representative Janira Rocha brought forms for residents to submit formal inquiries as to what happened to the Morar Carioca funds which were originally allocated to the community in 2011 and whether what was done with them was legal. She announced the Federal Public Ministry, State Public Ministry and Ministry of Cities have all been sent official notice requesting information as to "what was effectively done with the resources of Morar Carioca in 2011, which were allocated for the community in order to bring these benefits and to continue the process of land regularization."
Meeting organizers shared news that the head of Rio State's Housing Public Defenders Office, Dr. Bernardo Horta, has been contacted requesting his office take effective legal action on behalf of the community and that the Municipal Secretary of Housing (SMH) has also been contacted requesting information about the specifics of the road project. With this type of information residents hope they will be able to mitigate the effects of construction on the community.
While it may be easy to draw parallels and optimism from the successes of Vila Autodromo, Rocha was quick to remind residents this didn't happen on its own. Without serious mobilization, Vila União can't expect similar outcomes.
Jorge Santos came to speak of his experience in Vila Recreio II, where he fought eviction–for a planned road widening that never materialized–with other residents until only 12 families remained. Despite ultimately having to relocate, he spoke optimistically and encouraged those in Vila União to fight for the right to stay.
The principal theme of the evening, echoed by residents and outside attendees, was not only the need to organize but also the importance of solidarity within the community between those who are eager to leave and those who wish to stay. All agreed that conflict between community members only weakens the collective fight against eviction or fair compensation.
Residents are planning a march through the community to show their solidarity and their desire to remain in Vila União–where many have lived for nearly thirty years. The march will be held on Saturday September 27 at 10am departing from the front of Hospital Raphael de Paula Souza on Estrada da Curicica and culminating at the BRT. All who support the residents' fight against eviction are encouraged to participate.
View video posted by the Popular Committee on the World Cup and Olympics about eviction of Vila União de Curicica (Portuguese):