Residents of Complexo da Maré, graffiti artists and visitors painted the community's walls with vibrant colors and graffiti art on Saturday October 11. The event "Tudo de cor pra Maré" (All colors for Maré) is part of the annual art festival Travessias, now in its third edition. Paint donated by Coral Paints was used to color the walls of the community with graffiti art, in an event that has previously taken place three times in Santa Marta.
The art festival Travessias celebrates the encounter between visual contemporary art and public spaces. Organized by artist Daniel Senise, the festival has brought photographers from Maré and artists from all over Brazil together to integrate artistic creations of multiple media–audio-visual, painting, installations, photography and artefacts.
Art on the streets of Maré
All Colors for Maré was carefully planned by Geisa Lino, 30, resident of Morro do Timbau and coordinator of Lona Cultural Municipal Herbert Vianna, who reached out to home and store owners, asking for permission to paint and negotiating colors and drawings.
At midday on Saturday, October 11, artists gathered in front of Galpão Bela Maré, the building hosting the festival, and set off to paint walls in the community, to the wonder and excitement of residents who observed. Some houses were painted by their owners, but their efforts were helped by food, drinks or additional painting hands, like often happens in the traditional mutirão (collective action events) in favelas.
After the paint had dried, the creative work of Nata Família crew, Bruno Zagri, Rafo Castro, Robson Rdoisó and Chico21 started and only ended late in the afternoon.
Residents' appreciation
Debora de Souza Pereira, 20, born and raised in Maré's favela Nova Holanda was enthusiastic about her house being painted.
"[This event is] something more cultured, different, many people aren't used to it," she said. "I've been living here 20 years but I've never seen anything like this happening."
Jiai Rinaldo, 34, a bar owner who's lived in Maré for three years, was thrilled and explained the myriad benefits the event brought to the community: "This kind of project is great. It promotes [the artist's] work, it makes my business look nicer, and strengthens the community. People here need more art and culture, like theater, more education and schools for the young."
Shopkeeper Andreia Marques do Nascimento, 22, was born in Vidigal and works in Complexo da Maré. She said the event was a way for the community to express itself.
"[It's] a way of showcasing arts, and graffiti art is a way of expressing ourselves–expressing it in the streets. Projects like this are very important, because nowadays people don't have that much contact with the arts and people should be more in touch with art."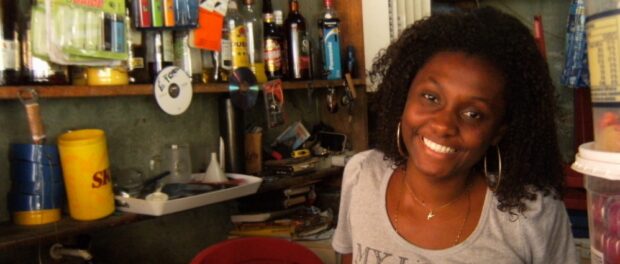 Thrilled organizers, artists and supporters
Event organizer Geisa Lino told how pulling off events like All Colors for Maré is very difficult.
"Usually it's so difficult to articulate events which look to bring Maré residents to contemporary art and other community happenings," she said. "It's difficult for the ones who don't have that access, knowledge or formal education."
Geisa explained how Coletivo Maré and other favela projects have the same aim to empower the community to claim their own public spaces.
"What we do is empower, we just provide organizational support. This kind of project brings people together, saying 'look, this is your space! Appropriate it! It's for you!' Pontilhão Cultural, for example, was a garbage dump, but now it's a skate park with space for graffiti. We installed our own lighting, we pay for it, so everyone can go at all times."
She was also very enthusiastic about Maré's artistic force.
"Maré is a place rich in culture and arts," she said. "We have painters, urban artists, people who cover the whole city including Maré. There are different trends, it's not just funk, there are different [artistic] languages. Maré is a hub of creation, something living. There's a corps of photographers which is the most unbelievable thing, Imagens de Povo, of paramount abilities, working all around the world. There's the theater company, Companhia Marginal, that has been active for ten years and is comprised of young people who have already achieved many awards and national tours."
Despite all this artistic production already in Maré, Geisa wants more.
"Of course we're still lacking incentives, but things already got much better. There are more opportunities, things like Travessias. We'd like to have this space always active, not just once or twice a year, but more and more projects happening."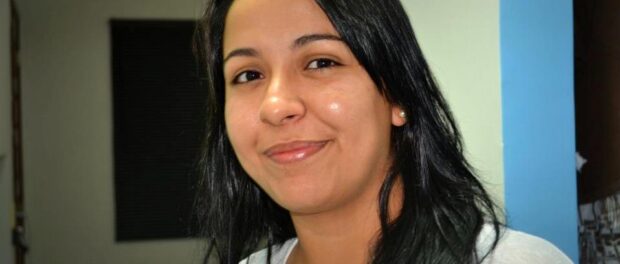 Alberto Aleixo de Souza, 46, organizer of the movement "A Maré que queremos" (The Maré We Want) and resident of Nova Holanda for 34 years, applauded the event.
"It brings a little bit of color, a little bit of life to the streets, and closes the distance between people and art, and leaves the community even prettier than before. There's too much stigma around favelas, people only think about favelas as a place of violence and shootings."
Alberto believes the arts can be used as means to end favela stigma as well as avoiding their ghettoization.
"We have to bring people in and show them: 'Look, there are other things happenings here!' And also people from here, who are too fixed inside the same favela daily life, to be taken outside and exercise a new way of looking at and understanding things."
Alberto promotes the communication and mutual benefits of the morro (hill, or favela) meeting asfalto (asphalt, or formal city). He concluded: "It doesn't have to be like a ghetto here: we have to make exchanges!"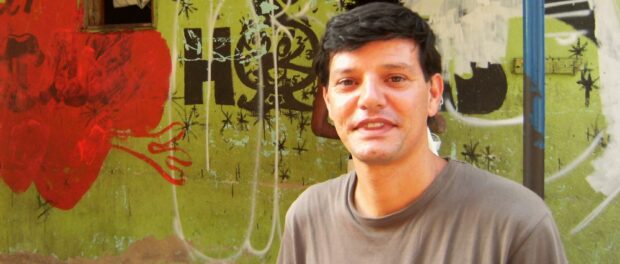 Leonardo Rack, 25, graffiti artist and resident of Baixa do Sapateiro in Maré, was excited to contribute to the event because he loves his community.
"I was contacted by Geiza and she asked me whether I wanted to participate [in All Colors for Maré], so I replied: 'C'mon, for my community? Of course I want to!' [This project] makes this favela more beautiful, and brings another culture in, more knowledge for the young."
Leonardo spoke about the graffiti workshops that are part of the Travessias art festival.
"At times when you go to paint in different favelas, young people come at you with a thirst for tasting a different culture. There are a lot of artists here, of all different kinds. There are many migrants from the Northeast, for example, so artistry is already inserted in our local culture. This happens very often: connecting cultures."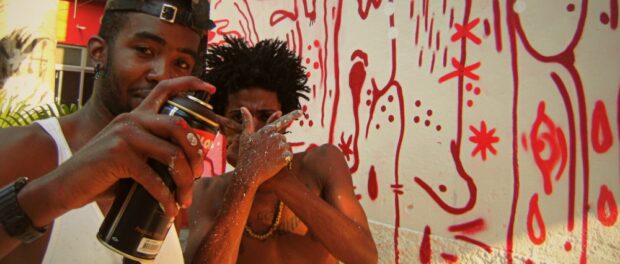 Travessias 1, 2, 3 and counting
A project by the Observatório de Favelas, Travessias has reached its third edition with many successes along the way. The second edition starred the works of Vik Muniz and was well reviewed by the press. The third edition, which opened on August 23 and will run through November 16, features an exhibition of works by contemporary Brazilian artists and the favela-based photographers of Imagens do Povo.
Besides ongoing workshops and projects in architecture, graphic design, stencil and graffiti, Travessias 3 is also promoting debates like "When are cities ready?" on Saturday, November 1, in which the subject of urban models in the context of the social and economic transformations in Rio will be discussed. Another notable event is the debate "Are urban aesthetics central for contemporary culture?" on Saturday, November 15, that will question the place of Black and 'alternative' cultures in contemporary art aesthetics.
Travessias 3 is more than an art festival: it is a space for dialogue, democratic circulation of information and new ways of thinking in Complexo da Maré. Without territorial or social barriers Travessias treats the favela as an artistic reference where the mobilization of creation is possible.
Travessias 3 runs until Sunday November 16. For more information and the full program visit the Travessias 3 website.
To view full album see below, or click here to see on Flickr with captions:

Created with Admarket's flickrSLiDR.