When he was a kid, William Reis looked at himself in the mirror and wished his skin was lighter, his nose thinner, his hair straighter and his eyes blue. In his teenage years, he relaxed his hair and planned on getting plastic surgery for his nose when he was older. He was against affirmative action policies and started antagonizing his black friends.
All of this changed once he started reading Malcolm X.
"I got a Malcolm X book and I was astonished to learn of a black man who was intelligent, a black man who was good looking, that black men could have power, that black people have built civilizations," William said. "I was astonished at how we were submissive to whites. He talked about racial segregation at the time–why is the white man born free and the black man has to go to court to be free? I found myself. And I thought–I will tell other young people who are going through the same thing I did. I want transformation and to work with AfroReggae."
This is the experience William, AfroReggae collaborator on ethnic and racial issues, told an audience in Vila Kennedy, a favela in the West Zone of Rio de Janeiro. His talk was part of a week-long event, from November 12 to 16, to celebrate Black Awareness Month organized by Teatro Mário Lago and the community group Pé na Raiz.
The event included movie screenings, dance workshops, debates, performances and traditional food to celebrate Afro-Brazilian culture. It was also an effort to stimulate the community's interest in performing arts after the local theater, Teatro Mário Lago, was closed down in 2012 and is now struggling to re-open and garner local interest.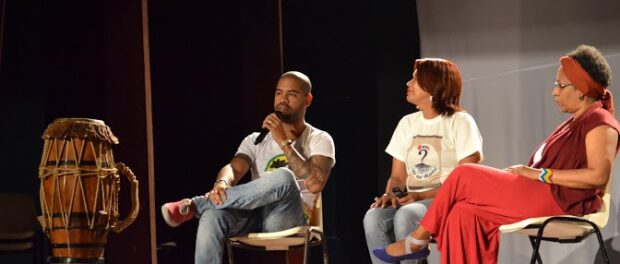 Pé na Raiz
Vera Duma, from Campo Grande, Veronica Marcílio, from Bangu, and Rene Silva, from Complexo do Alemão make up the cultural group Pé na Raiz. Instead of being rooted in one specific community, the group circulates different favelas that need their cultural services which range from theater performances, by actress Vera, to reading circles, with Portuguese teacher Veronica.
"Pé na Raiz works with whoever calls us. If someone calls us, we're there to articulate and work together. The group was born like that. I had some ideas about culture, Veronica had some ideas too, and we got together with Rene Silva," explains Vera.
For Vila Kennedy's Black Awareness Month celebration, Pé na Raiz organized performances and debates. Vera performed a monologue as the black author Carolina Maria de Jesus, a São Paulo favela resident who famously published her diary, Quarto de Despejo (Child of the Dark) in 1960.
Later in the week, Veronica coordinated a reading circle where the story of Esperança Garcia was told. Esperança was a slave who dared write a petition to the governor of Piauí in 1770 to report abuse by her master and plead to be taken back to her family. The reading circle included contributions from the audience about what their hopes (the direct translation of Esperança's name) for the future are.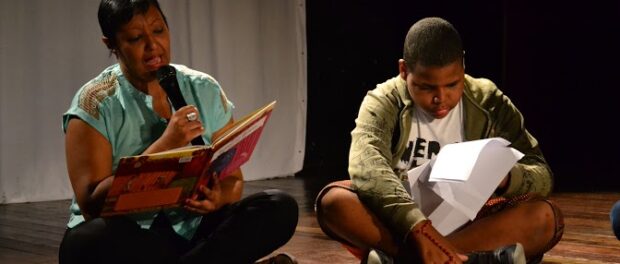 Hopes for Teatro Mário Lago
Vila Kennedy resident Guilherme Junior learned about theater and culture through Teatro Mário Lago, but in 2012 the venue was closed because of insufficient government funding.
"I practically had all contact with culture through Teatro Mário Lago, since my childhood. It played a huge part in my childhood and I always tried to come to events here," he said. "In 2012 it was closed down after years of the state and the city sharing the costs of funding–there was a time when neither wanted to fund the theater."
This year, Guilherme and some friends started working together to re-open the space. The group has been pushing to bring more events to the theater since August, counting the Black Awareness Month celebration as a big win for the community.
"Nowadays with the ease of communication through the Internet, through social media, we started getting known so partnerships flourished to bring events [to Vila Kennedy]," said Guilherme.
"And Black Awareness Month is something I am very interested in, it's a subject that includes Brazilians because a large portion of Brazilian culture is from Africa, so I thought it was really important to do something that honored Africa in Teatro Mário Lago."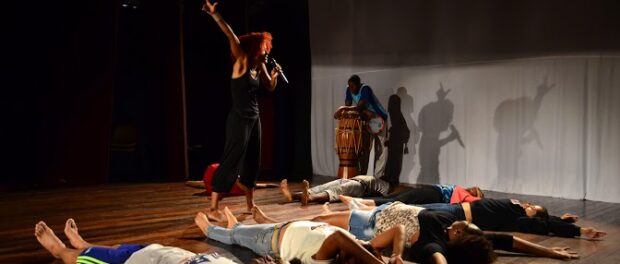 Guilherme hopes these events will "stir the community." He wants to bring a diversity of topics to the theater in the future.
The week-long celebration ended on Sunday November 16, with a serving of feijoada and a showing of films with black protagonists promoted by Circuito Cinegrada. The week also featured a showing of O Estopim, a film about Amarildo de Souza, a bricklayer from Rocinha who went missing and was tortured and killed by UPP police in 2013, a capoeira performance, dance workshops and evening funk parties to celebrate Afro-Brazilian heritage.
"It's a delicate, important subject that should be discussed and I hope the community embraces this cause," said resident Vinicius Souza. "There's so much happening here and it's so important for the community."