Check out the complete Series of community media profiles here.
"I never took courses in layout, design, branding or audiovisual presentation," Michel Silva will tell you. "I learned everything on the go."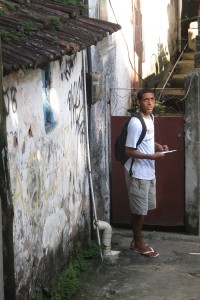 When Silva founded the online community media portal Viva Rocinha in 2011 he considered the project to be a hobby. Now, with over 17,000 Facebook likes and requests for information from international news outlets such as the BBC, The New York Times, Al Jazeera and Chile's Canal 13, the young journalist feels an enormous responsibility towards his work in his community.
The "hobby" emerged out of serious circumstances. It was in November 2011 that the Military Police entered Rocinha, initiating the neighborhood's 'pacification.' Silva observed that mainstream newspapers focused exclusively on the most negative aspects of the favela, with an emphasis on articles about drug trafficking, gangs and violence. He and his sister, Michele, teamed up to push back on this limited portrayal of their community by producing news that acknowledged the negative but also highlighted the positive features of the favela. They aimed, Michel explains, to "democratize access to information about topics related to Rocinha." Beginning on Blogspot they documented residents' stories, featured social projects aiming to serve the community, and reported on leisure events and activities. The goal was to create a platform for critical, non-partisan and diverse journalism.
Their coverage drew attention from within and beyond the favela. Just two months after its founding Michel Silva turned the platform into a fully functioning WordPress website, with support from "two virtual friends who had experience in computer programming." In its first month, the website welcomed over 15,000 visitors. Careful research led the Silvas to opt for a ".org" registration instead of ".com" in order to underline their commitment to credibility. On occasion, this decision has led people to believe the project is run by an established NGO with an extensive staff.
In fact, the project continues to be managed entirely by the two siblings. Many residents contact the portal by email, through social media or in person to suggest stories to cover, submit photos or videos, and comment on past reports. Those who want to write articles contact the Silvas through the portal and propose topics they would like to cover. Contributors have free reign over their content but are encouraged to write in formal journalistic style. This editorial decision is founded on Michel Silva's belief that "to use colloquial language is to keep the people ignorant."
Another strategic decision that has defined Viva Rocinha was the choice to focus on online platforms. When asked about the advantages of basing the portal online, Michel lists several: open communication, lower operational costs, unlimited space for information, and the potential to integrate multiple social media platforms. The journalist believes that Viva Rocinha is widely recognized among the portion of Rocinha's residents with access to the Internet.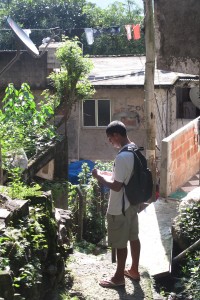 Indeed, the portal could be considered at the forefront of modern communication and technology. In addition to its website, Facebook page, Twitter, and YouTube channel, Viva Rocinha is the only community media outlet with a cellphone app. The QR code to download the app for Android and iOS is featured prominently on the website's homepage. The Silvas also use WhatsApp to receive instantaneous updates and news from residents. It is unsurprising, then, that Michel's bio states that he "does not live without his computer."
His innovation in community media has brought Michel deserved recognition. In 2014 he was invited by the American Consulate in Rio to travel to New York for an exchange event for leaders in community journalism. There, he was impressed by the support that private companies and the government appeared to lend to small community media initiatives. He cites the lack of such support as one of the biggest challenges facing his portal and other similar projects in Brazil. To begin Viva Rocinha he relied entirely on his own funds, sometimes even turning to his mother for support. It was a huge boom to the project, then, when one year after its founding it won a R$5,000 grant from Natura, a natural cosmetics company that offers technical and financial support to entrepreneurial socio-environmental initiatives in Brazil.
As for the positive name of the portal, Michel explains that it links back to the initial goal of the platform to show the good, along with the negative, aspects of his community: "The name 'Viva Rocinha' came from residents' happiness from living in Rocinha, and at the same time it is an affirmation of our territory-based identity."
Refusing to be painted as the unhappy and dangerous place often depicted in the mainstream media, the portal's name is a constant reminder to readers to take a more nuanced, open-minded approach to the community's news.
For more information visit Viva Rocinha's website and YouTube channel, or follow on Facebook and Twitter.
Check out the complete Series of community media profiles here.