The second Vidigalerativa festival took place Thursday March 5 in Vidigal's Cultural Center. The festival was organized and promoted by the Favela Criativa program with the objective of spreading culture and art throughout the community.
The event was divided in two parts: workshops, where children could learn new skills like graffiti and slackline, and performances, where local artists showcased their music, poetry and dancing.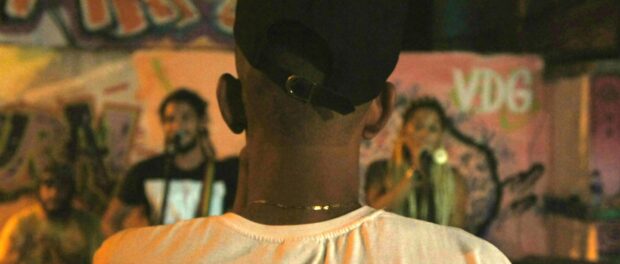 Favela Criativa is a public and private sector partnership with a budget of USD$4.5 million (R$14 million). The Vidigalerativa event was born out of the educational course offered by the program in 20 different favelas designed to train "young cultural agents." The training offers artistic education to young people, teaches them cultural management, and establishes communication between the young artists and potential partners or sponsors. The project works in a participatory fashion, combining local initiatives with outside funding.
During the festival in Vidigal, children of the community painted the walls of the favela, played percussion instruments and learned how to dance. At 8pm, a rap and hip hop concert began. Erre-D, one of the rappers invited to perform in Vidigalerativa, said: "Some years ago there weren't that many cultural events apart from the theater group Nós do Morro. For a few years, things have been changing and culture is beginning to be seen as a priority. Trust me, it's only the beginning."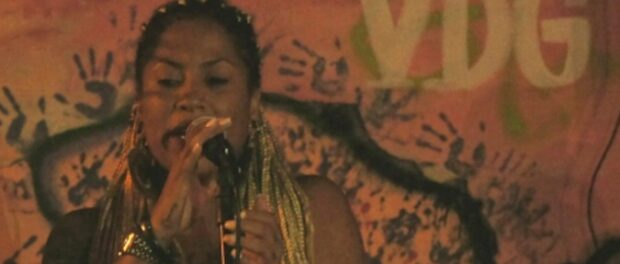 In Vidigal, 20 young people currently participate in training through Favela Criativa. They take classes twice a week at the Residents' Association headquarters and put their skills to test at the Vidigalerativa event. With only a budget of USD$130 (R$400), they put together an event that attracted children and adults, thanks to the diversity of artistic activities paired with shows of incredible quality.
Adriano Santos, one of the people responsible for the event, explained that each project has to follow sustainable development guidelines. For example, the organizers do not distribute paper advertisements but instead rely on social media or word of mouth promotion to get people to come to their events.
While Santos was speaking, a resident interrupted the interview to say "Caraca, this should happen more and more here in Vidigal!" Flattered, Santos explained that this is the ultimate aim of the project.
"We want it to be permanent," he said. "The third edition [of Vidigalerativa] is going to be in April."
On April 30, the group of students will graduate and present their own projects. Then, half of them will receive an award of USD$3,800 (R$12,000) to set up and develop their projects. Slackline, music, capoeira are only some of the proposals that will be considered.
Miguel, a graffiti artist and a student in the Favela Criativa program, puts on a graffiti program for children in Vidigal every Sunday. His project has been completely self-funded and he will need help with financing in the future, which is why he joined the program.
"After one year, my project is going to run out of money," he said. "If I want to continue it I need to be supported [financially]. That's why I participated in this training and I'll do my best to get the award."