A debate to discuss favela tourism as a tool for social inclusion took place on Tuesday March 11 in Tabajaras, Copacabana. The event was the twelfth in a series of debates organized by the newspaper O Dia under the project Rio Sem Fronteiras. Five panelists discussed the challenge of creating a positive form of favela tourism, in contrast to the negative tourism that has boomed since the introduction of the Pacifying Police Units (UPPs).
The panelists ranged from local tour guides to representatives of the Support Service for Small Businesses and Micro-companies (Sebrae), Rio+Social (formerly known as UPP Social), and other representatives of the municipal government.
Favela tourism has become a major business in the last few years. According to the panel, 60% of foreign tourists want to visit a favela, and most tours cost upwards of US$40 per person.
The focus of this debate was on how to move away from the style of tourism that turns the favela into a display, where tourists look at but do not engage with the community they visit. Instead, the participants' aim was to encourage a positive, productive and healthy form of tourism within the favelas.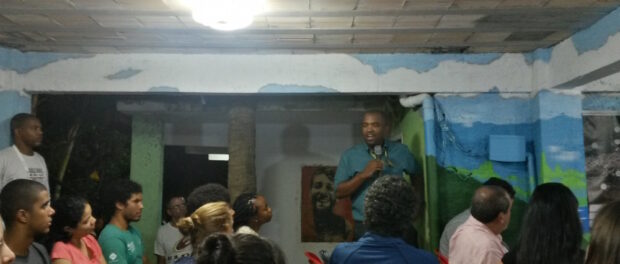 To encourage more positive tourism, panelists emphasized the importance of interaction between community residents and visitors to combat the negative stereotypes of favelas perpetuated by the mainstream media. Carmen Givoni, a tour guide in Morro dos Prazeres, said that responsible tourism has the potential to "demystify the favela population, take people up the hill and demystify what foreign people think of a community—only negative things."
Givoni stressed the value of the "human encounter" because this interaction is directly beneficial to the community residents. She explained: "What we try to encourage in the youngsters is the curiosity to meet, to speak with and to get to know where others come from and what they do. This is fundamental to knowing others, to opening up the world and for tolerance."
Panelists also discussed how tourism can bring prosperity in more than just an economic sense. Gilmar Lopes, the president of the Tabajaras tourism organization Tabritur, stressed that "we cannot just think about money, because tourism is money but tourism is also social inclusion."
Tabritur offers hiking opportunities that explain the history of the community in both Tabajaras and Morro dos Cabritos, so that residents as well as tourists become more aware of the favela's history. Lopes said he believes that "through tourism you discover culture, you discover knowledge, you have the opportunity to better your own life."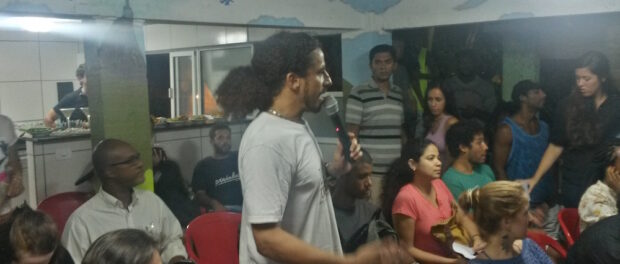 Representatives of Sebrae and Rio+Social discussed how to achieve this responsible, positive form of tourism. Fabianna Ramos, a Sebrae representative, referenced a study that "showed that a tourist spends on average US$1.50 (R$5) in the area on a visit, which is on a bottle of water." In other words, most tourists do not engage in economic transactions that significantly benefit the communities they visit. Therefore, she argued, businesses need to be developed so that tourists stay longer and spend more. "Tourism is the integration of the chain of production, of gastronomy, of handicrafts and of cultural production."
Members of the panel also mentioned the importance of encouraging Brazilian tourists, especially people from Rio de Janeiro, to visit favelas. The fact that most cariocas have never been to a favela reflects the distance and lack of communication between social groups, as well as the impact of negative stereotypes. Givoni believes that with greater tourism people will understand that "in the favela there is no poverty." He stated: "Poverty, to me, means a poverty of the spirit. In the favela, there is material difficulty."