On Friday March 20 the city of Rio de Janeiro marked 58 families for eviction from their homes in Vila Autódromo, a community that has been torn apart due to its location adjacent to the 2016 Olympic Park. The city government's use of eminent domain is a departure from the previous policy of promising to relocate only those who agreed and upgrading the community for those who remained, and offering market rate compensation or alternative housing in Parque Carioca (less than a mile away) to those who decided to leave willingly. There are growing fears among the remaining 150 families that they will now be forced to leave with inadequate compensation.
The apparent change of policy, in what was reported to be an "expropriation via decree," comes in the wake of an MIT report questioning the city's internationally lauded program offering residents market rate compensation. The report highlights that 12,275 people across 24 communities in Rio de Janeiro who have been directly displaced because of the World Cup and the Olympic Games and who did not receive market rate compensation.
For 20 years Vila Autódromo's population of 3,000 has resisted evictions. In 1994 Vila Autódromo residents were granted 99-year land titles, in 2005 the community was declared a special zone of social interest, and in 2013 Mayor Eduardo Paes publicly declared that no residents would be forced to leave. Despite all this, the population of the small community in Rio's West Zone currently stands at a mere 150 families, a number which is rapidly declining as the situation becomes unbearable and settlement offers are taken up.
On Wednesday March 11, Jane Nascimento, a long-term community activist resisting eviction, watched as the city demolished the surrounding houses. Her neighbors settled for the compensation offered by the city, reported to be over US$321,419 (R$1 million), leaving her house next in line. Barely audible above the roaring machinery destroying the houses, Jane explained that this is "another species of violence. I can, I can, I can, I can. I am the economic power. I can do this and I will buy since you [residents] do not want to leave. I will buy."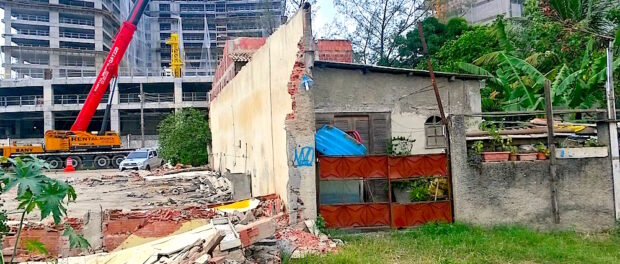 While some have applauded the city's new strategy of offering market rate compensation, there are some, like Altair Guimarães, president of the residents' association, who remain critical. He said: "When they started to offer money and the people began to accept, then the fight ended. Am I going to ask these guys to fight with me if the offer they are receiving is to become a millionaire?" Altair's sense of hopelessness grew when 43 families still residing in the community declared their commitment to stay to the state's Public Defenders, but then within a week some had already begun to negotiate.
Some residents allege that the city only negotiates with them individually so as to create confusion and speculation over the offers, resulting in tensions and fears within the community.
In an earlier report in 2013, MIT academics Lawrence Vale and AnneMarie Gray argued that the displacement and destruction of an entire community, with its history and stories, is a non-monetary loss that cannot be replaced. Maria da Penha, a resident of Vila Autódromo, expressed this feeling in her refusal to "give up her 22 year history for 15 days of Olympic Games" on Swedish national television last week.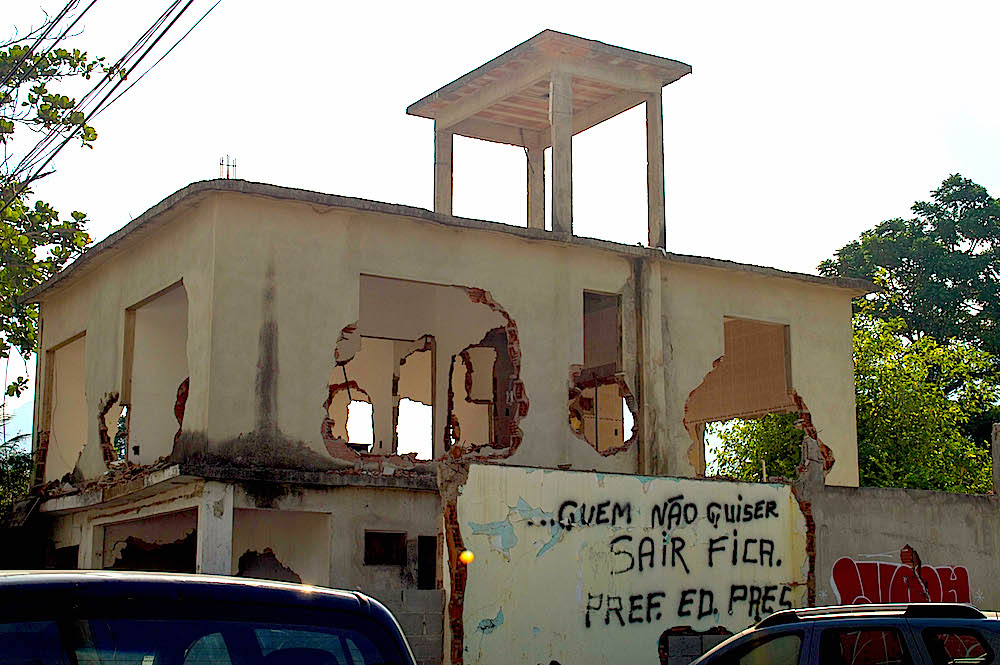 In numerous cases, hosting the Olympic Games has pushed up property prices in the host city. In Barcelona, housing prices rose by 250% from the announcement of the Games in 1986 to the actual event in 1992. This trend has continued in Rio, with rents increasing citywide, averaging 6.8% in favelas over the past two years. Vale and Gray's new report argues that given this track-record of inflated property prices in Olympic host cities, the current offered rate may prove to fall short of market value. Vila Autódromo is located in Barra da Tijuca, one of Rio's most expensive neighborhoods. The report argues that the city "appears to be [offering] reasonable compensation. However, considering that the land is slated to be converted into a luxury condominium development near a brand-new transportation hub after the Olympic Games, this still may be well below what could be considered market rate."
The MIT report states that the government's market rate compensation stands at US$88,400 (R$275,000) for a 40-square-meter two-bedroom apartment. However, O Globo reported in August 2014 that the market rate per square meter in Barra da Tijuca was valued at US$3,226 (R$10,037). This suggests that a 40-square-meter apartment should be valued as high as US$128,567 (R$400,000), almost 150% of the compensation being offered to Vila Autódromo residents.
Altair points out that the city's policy of buying the residents' houses to then destroy them is an extremely expensive tactic that is paid for by "money from public coffers." He argues that it would be cheaper for the city to keep and upgrade the community, as the original Olympic plans proposed to do and as Bill Hanway of AECOM, the designers of the Olympic Park site, said was "the right thing to do."
So why is this not the city's policy? Vale and Gray argue: "Almost always such aggressive displacement reveals the powerful undercurrents that have been influencing the growth politics of the host city for decades."
The government's subsequent policies and latest actions will only add to the list of more than two million people already displaced by the Olympic Games between 1998 and 2008.