April 2, 2015–At least four people were shot dead and two others injured in Complexo do Alemão on April 1 during intense shootouts that started in the afternoon and progressed into the night. A child was then killed on April 2.
Initial reports from community media on April 1 stated that four people had been shot around 3:30 to 4pm, adding shortly after that two were a mother and daughter shot at home.
The mother, Elizabeth Alves de Moura Francisco, died on the way to the hospital and her daughter Maynara de Moura Francisco, 15, was treated in hospital and is now staying with relatives. Disturbing images of the mother's last moments were filmed by a resident as three men carried her to a car so she could be taken to the hospital, leaving behind a path of blood.
Not far from Elizabeth's house, Rodrigo Farini, 24, was fatally shot in the head in the street. Images and videos of his body on the floor were widely shared across social media. Alemão's internationally known community media organization Voz da Comunidade reported that another man was shot dead in the same location around the same time, but he has not been identified and his death has not been confirmed.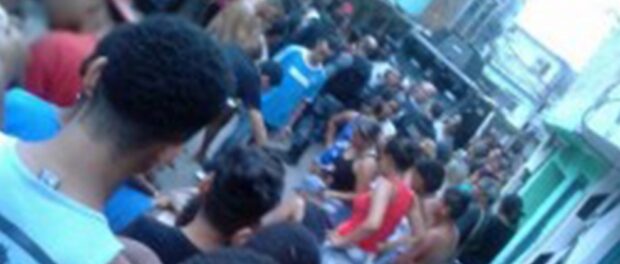 Coletivo Papo Reto took to Facebook to report: "Residents in the street yelled 'cowards!' because [Military Police] shot the boy as he came out of an alley. They started shooting up in the air so the residents wouldn't come close, dragged the boy to the alley and killed him. Cowards."
Hours later, residents reported two young men were executed by Military Police in Canitar Street. Photos of the crime scene with a lot of blood were widely shared across social media and it was reported that the bodies were loaded into a police car and taken away. Diverging versions of this incident have emerged, with O Globo reporting that at least one of the two men was hit during a shootout. According to O Globo, Mateus Gomes Lima, 18, was taken to hospital but died while the other victim, 16, is still in hospital after he was hit. 
According to posts on social media, some residents packed bags and left the favela because they are tired of the daily violence they have to face living there.
Coletivo Papo Reto posted on Facebook: "I am tired of this war, tired of every day having the news that another young person was killed! I am tired of being unable to stand in front of my house and not be shot! We are living in Complexo do Alemão at a time of numbers… number of deaths that increases every day."
A post on the website Alemão Notícias by Viviane Ribeiro revealed the sustained terror present in the community: "The younger ones and the children live with these scenes every day, and they grow up without hope of changing their quality of life because of the State and this society that close their eyes every day to the reality lived in the favelas."
Residents took to social media to question the concept of pacification and the effectiveness of the Pacifying Police Units (UPP) in Complexo do Alemão. "This is a nightmare," posted Alemão Morro. "A father holds his dead child's hand. One mother dies inside the house and her daughter is shot while trying to help her. Residents try to help and are tortured with pepper spray and bombs. Is this pacification?"
A mother in the community expressed her fear: "All we have is tragedy. If my kids go to the street corner, I am scared. I never send them to get bread because I am scared. They go to school because they have to but I keep calling them until they get home."
Voz da Comunidade summarized the situation: "With these deaths, we reach the number of 22 people hit by bullets just this year in Complexo do Alemão, with 10 dead and 12 injured. It has also been 90 days without truce, no peace at all for the residents of Complexo do Alemão. On March 19 another young woman was shot in front of her house. Vanessa dos Santos, 38, was fatally hit while she spoke to neighbors at the door of her house."
Then today, April 2, community media documented that a boy, Eduardo Jesus Ferreira, 10 years of age, was fatally shot in the head by police. Video and photos of the boy's body and the mother's desperation have gone viral across social media.
Residents also took to social media to complain about the media coverage of the conflicts, frustrated that mainstream media is not interested in interviewing residents live.
Organizer and entrepreneur Anderson França Dinho explained why the violence is worse than it was before the UPP program.
He wrote: "I can, taking Alemão as a reference, say the gravity of the situation reported by media collectives about violence (today) evokes imagery from 2006 and 2007. Only at that time the [gang] Comando Vermelho was visible. We knew who was attacking who. Now, besides the public having no knowledge as to who the police is attacking, there is a daily quota of residents who die. Understand the conflict: the victims are, almost exclusively, residents. Students, workers, men and women, heads of families. And this can be proved by their families at the police station, with documents."