For the original in Portuguese, by Melissa Cannabrava, published in Voz das Comunidades, click here.
The actors behind the characters '100g' and 'Jurubeba' aim for success and hope to show there is much more to their community than violence.
It was Sunday morning when the team met up at Palmeiras, a cable car station in Alemão, to record another episode of The Adventures of 100g and Jurubeba, the first YouTube comedy channel created by Complexo do Alemão residents. The idea is to portray the lives of young people in the community and show as much of normal everyday life as possible so viewers identify with the comedy.
To do this, Allexandre Ferreira, 20, created the character 100g and Samuel Silva, 19, plays Jurubeba. The two young men are studying theater with the Alma Não Tem Cor (Soul Has No Colour) project at the Alemão library by the cable car station. Allexandre, born and raised in Complexo do Alemão, works as a doorman and, despite always hearing he could do well in comedy, he is very shy and never thought about being an actor. His interest was piqued after learning about the theater school in the community from one of his neighbors.
"We learned how to act and what it's like to be in a show. After some lessons we had more courage to make videos. We were super shy, even if we didn't show it," he admits.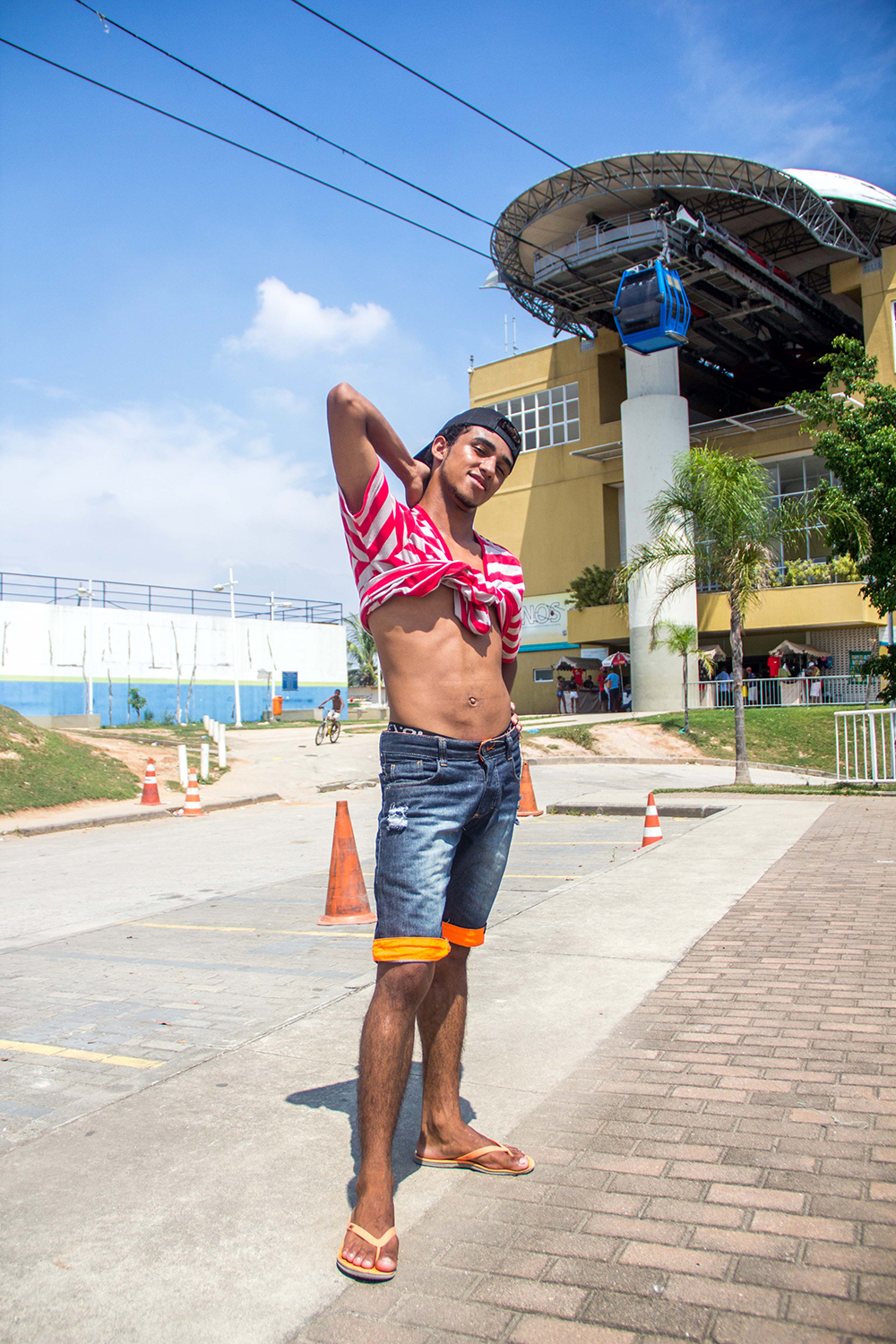 Born in João Pessoa, in the state of Paraíba, Samuel came to Rio de Janeiro as a young child and has hung out with Allexandre since the age of seven. Besides acting in the videos, he works as a delivery man in Tijuca, the same area where his long-time friend works. The teenager says that when he met Allexandre, the Rio-native greeted him with a light knuckle to the head called 'moca,' a kind of teasing that hadn't reached Paraíba at the time.
"The first time we met he gave me a welcome knuckle to the head," he recalls, chuckling.
Two weeks into their theater classes, the boys recorded their first video entitled 'Bread.' Since they are neighbors, Samuel goes to Allexandre's almost every morning for breakfast and it was over one breakfast that they came up with the idea of creating a sketch with that theme. Despite being very simple, the channel has generated a huge number of views on social media and has even caught the attention of two producers.
The director is Leonardo Franca, a 19-year-old marketing student, and the audiovisual production is the responsibility of cameraman and photographer Bruno Alcantara, 27. They are both residents of the group of favelas that make up Complexo do Alemão and already knew each other from other projects. Their interest in creating a comedy channel was born out of watching a video posted by the double-act.
"After talking it over a lot, we created the YouTube channel, the Facebook page, and the marketing images. The recordings don't have any external funding. The materials, cameras and everything else we use are funded solely by us. We trust their talent," comments Leonardo.
The scenes are all recorded outside, in the streets of the favela. Each video lasts around two to three minutes. Leonardo says the ideas for each episode are born out of inspiration from everyday life. Any situation from their daily lives can turn into a new idea for the channel and everyone who participates in the project is free to make suggestions.
"Someone has an idea, the whole group analyzes it and once everyone approves, we go out to film. We all write, we all have ideas," Bruno says.
The deal was that the actors would come up with nicknames before they started filming. After spending a day on the beach, Allexandre was nicknamed 100g by his friends because of his physique. Samuel's nickname was more random. It needed to be decided quickly and Jurubeba was one of those weird names that just came to mind.
"We came up with so many, each one worse than the last until we came up with Jurubeba and it just stuck and it's great," the actor says.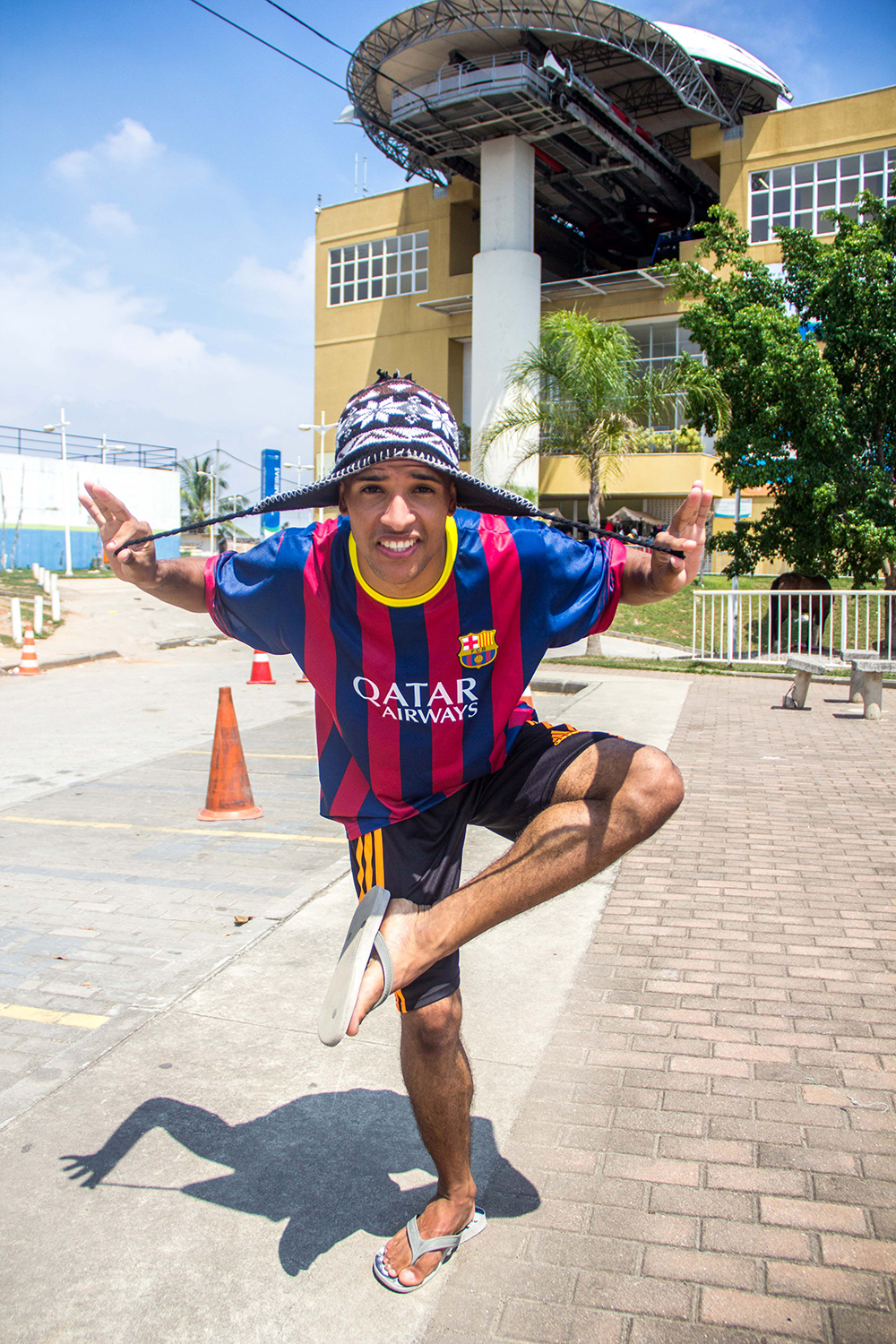 When asked whether they are recognized in the street, Allexandre smiles widely then says he gives out many autographs—they have fans and are famous even outside of Brazil. "Yes, many times already. I give autographs! In Tijuca, where I work, they already recognize me from the videos. There is a girl from France who is our number one fan! She even came here to Complexo do Alemão to see us!"
"I was at church and the pastor took my name down and introduced the visitors. When he got to my name, he exclaimed, 'Samuel, also known as Jurubeba!' The whole church turned to look at me. I sat down slowly and felt my face going red.  It was really awkward, you know?" recalls Samuel.
Despite their growing fame, 100g and Jurubeba have faced some difficult challenges in trying to film their adventures in the community.
"I was with a friend when the police arrived. They searched me and found my cap [the one he uses to play the character 100g]. Even though we hadn't done anything wrong, they took us down to the station. We spent almost two hours there until they let us go. There was another day as well when me and Samuel were waiting for a theater class to start in an open area of the station and we were asked to leave the area. They said we were blocking the view of the traffic."
Eduardo Silveira works as a truck driver; he takes theater classes in his spare time and says it is an honor to create sketches with the boys. It was he who, through a special cameo, gave life to the character of Bernadete, a neighbor who throws pots at the heads of anyone who tries to steal anything from her yard. "It is an honor to be part of a project where I have a chance to be able to contribute. It is important that young people see something else of our community," he says.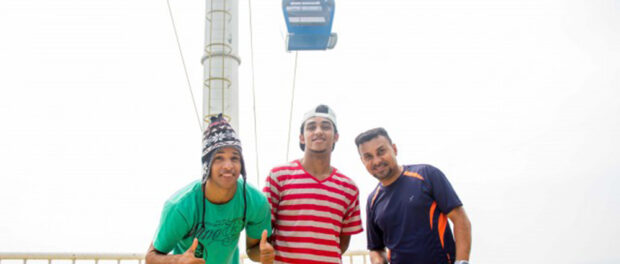 One of those present at the recording was Jason Scott, representative of the University of Colorado. The American, who lives in Alvorada in Complexo do Alemão, participated in one of the scenes. "I am living in the community and I like to be a part of everything. I watched the videos, I found them funny and I offered to help out."
Before closing the interview, Allexandre and Samuel asked us to mention that they are single and have an announcement for the residents of Complexo do Alemão: "They can expect new episodes. We want everyone to keep watching our videos, they get funnier with every episode. Subscribe to our channel, and ladies, add me on Facebook! It's Allexandre Ferreira, Allexandre with two Ls," he laughs.
"We ask for the help of the community to share our videos. People only see shootings and deaths in the papers. We are here to show that there are many talented people and we're not just criminals like many people think. Our humor is clean and light without swearing or pornography. We need a lot of help from residents to contribute. Please share our videos and subscribe to our channel," says Samuel.
The videos are published every Tuesday on the YouTube channel, As Aventuras de 100g e Jurubeba.
First teaser from The Adventures of 100g and Jurubeba: