Various waves of residents of Favela Metrô-Mangueira, in the North Zone of Rio de Janeiro, have been fighting forced evictions since November 2010. The most recent eviction episode began Wednesday May 27 when the City started demolishing shops and properties in the favela without notice.
This development is the latest in a series of never-ending evictions in the community, which has been caught by surprise with demolitions of properties before. Metrô is located near the Maracanã stadium, where the 2014 World Cup final took place and where the opening ceremony of the 2016 Olympics will be performed.
On Thursday May 28, a protest against the actions of the City broke out among residents who were joined by students from Rio de Janeiro State University (UERJ). Soon, violence broke out, forcing residents and students to hide in the university building as the police used tear gas to disperse the crowd. Students documented the violence on video and posted it on Facebook.
According to news website G1, three properties have been demolished so far with the City claiming they were abandoned and uninhabited. However, shopkeepers and residents in the area say around 100 jobs were lost and a few families were evicted from their homes due to these demolitions.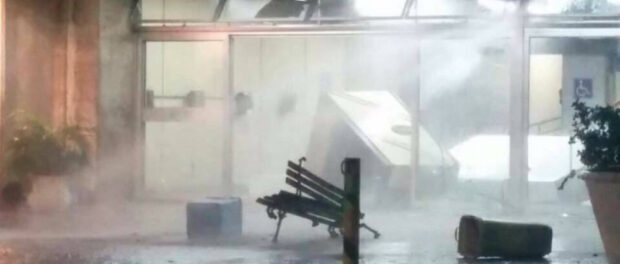 Shopkeeper Gustavo Duarte, 41, says the community is feeling shook up today, Friday May 29. He said that despite promises of new commercial spaces for shopkeepers in the area, they all received a notice of withdrawal of their permission to operate in that space. The notice "did not state a reason, but we were given ten days to fight back."
"People tried to fight the order but the answer they gave us was this demolition," he explained.
While 80% of the shops are still up and running, he says "the situation is tense, violence could erupt again, we are worried." The traffic in the area is chaotic and the street is being heavily patrolled by the police. If all shops were to be removed, it would result in the loss of 500 jobs.
Duarte added: "I would like to emphasize that in September of 2013, there was a meeting with Mayor Eduardo Paes in the Evangelical church of the community where he said that whoever lived here would get housing, which didn't happen in all cases, and that those who worked here would continue to earn their livelihoods in the new commercial strip, which did not happen. The answer we are getting from the authorities is demolition and it's a complete lack of respect towards the workers and residents in this community."
The Human Rights Commission of the Legislative Assembly of Rio de Janeiro (Alerj) has been to the area and is attempting to aid the shopkeepers and residents.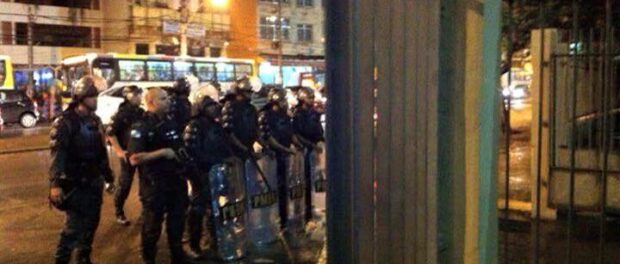 Among the original 700 families occupying Metrô and evicted two years ago from the community, Eomar Freitas nonetheless continues to operate his bar in the commercial strip there. He is now afraid of losing his source of income and says the City has been lying to the press by saying the demolished buildings were unoccupied.
"On May 8 the City came here and asked who was legally allowed to operate here," he said. "They gave us an intimation to legalize our business and asked us to go to City Hall to regulate our situation. Then, this week they started to demolish everything. They are telling the press they're demolishing properties that are empty, and that's a lie. And we have to pay our bills somehow. My bar has been here for five years. The Mayor is fooling us, telling us there will be a place for us to work but it's a lie."
Marcia, the sister of a worker who was forced out of his business so it could be demolished, described how the eviction happened.
"In a few minutes, they asked him to get out. They said 'You have so many minutes to get your stuff out,' and it's lucky that we are united and came together to get all the merchandise out. My brother lost his livelihood, he lost his job, he is a father and now he has no money to pay the pension. It's like everything they promised, they are doing the opposite."
She also added that they "had to get a junk yard owner out by force" to demolish another property the City has claimed was abandoned.
The promises made to people who work in shops in the area were big. The City pledged to build a new commercial strip in the area that would, according to municipal housing secretary Pierre Batista, "impact people very strongly, because commerce is currently carried out in a precarious way. Now, they will be regulated."
Bar owner Freitas, however, is worried that he won't be able to feed his one-year-old son if the City continues to forcibly evict people in the community.
"If only the Mayor paid our bills, but this is where I get my livelihood from," he said.