At the Piscinão de Ramos, part of Complexo da Maré's leisure park, Geise Freitas' routine is different to that of other homemakers.
She hosts about 50 children on her rooftop for music lessons. When she was on maternity leave, her nine year old daughter took advantage of having her mom at home, and invited some friends to come and sing. And, little by little, the group grew. Since then, Geise's commitment to this volunteer work has become a priority. Community residents are already familiar with the choir's work, which performs for different festivities at Praça da Alegria.
Almost a year ago, she taught Christmas carols during the first class. And she was surprised by the musical tastes. "They just sing funk because that is what they are exposed to, but they also absorb other songs. They like various styles," she says. These songs led to a series of concerts and musicals throughout the region.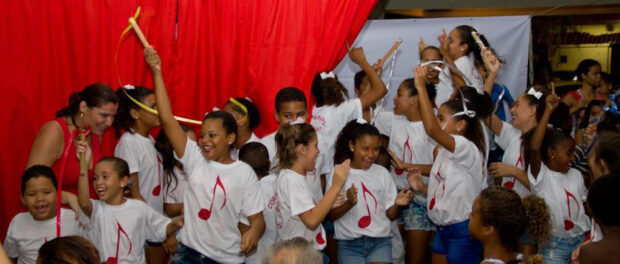 The ages of the boys and girls in the choir range from 3 to 13 years old. In spite of the age gap, strong friendships have formed. Geise says, "Music is a way to work on emotions. Family members have noticed behavioral changes and have reported that their children were calmer." On Mother's Day, for example, some children cried at the rehearsal, sensitive to daily life occurrences.
The children chose to leave the streets behind to learn music, but Geise wants to do more. "It started by accident. Now, not only do we have to worry about musical training but also the psychological well-being of these children, the hunger they may experience and other challenges they face." To contribute to this, her sister paid for a teacher training course so that Geise is able to teach children who need to learn to read and write. "After six months of choir, I saw there was a need for them to read so they could learn music verses," she says.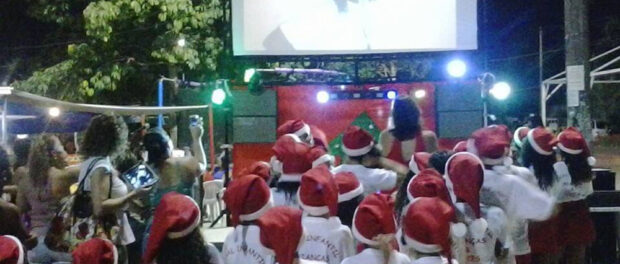 The weather sometimes doesn't help. When it rains, there is no rehearsal. The roof floods and leaks. Even so the kids ask for lessons in the rain. To participate in the "Children and Voices" choir, kids are not required to attend school as that would be a form of exclusion. Even with the lack of resources, students sit on the floor and sing excitedly. To resolve this issue, they are recycling PET plastic bottles, turning them into seats. After choir practice, few go home. Instead, they eat snacks and have dinner. They treat the place as a second home.
Geise, who is 30 years old, was first introduced to music at 7. Her musician father purchased piano lessons for her and the gift quickly paid off. Her knowledge expanded to include other instruments: she plays guitar, flute and also sings. In the evangelical church she attended, she won a scholarship to major in music. In return, she sang in worship and musicals. Now she realizes the importance of all she learned.
Goodwill alone is not enough to help these children. Donations help the choir grow and the children managed to collect R$1,500 (US$450) in one week by asking local businesses for support. The design company, next to Geise's house created the logo artwork. The Residents Association gave the choir a street block to use for classes for awhile. Institutions donated equipment such as a speaker, microphones and cables, and R$700 (US$210), to help Geise's professional training to further her volunteer work.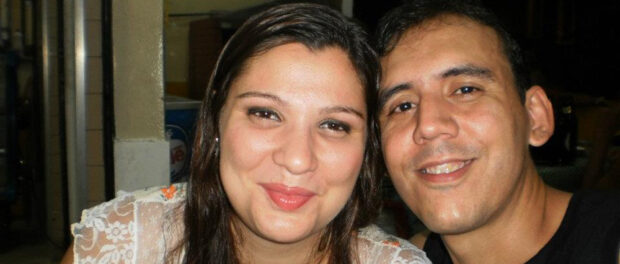 Two friends from the local volleyball team collaborate on presentations. They do all the event production, from storytelling to curtain close. Geise is proud to be able to count on many people including her husband who is also a supporter of the cause. He has already dressed up as a rabbit for Easter, and got the bus company where he works to donate 60 chocolate eggs. Many children received an Easter egg for the first time.
The classes do not stop: the next choir performance will be on August 8, in honor of Father's Day. Earlier in the month, there will be a caipira (country) party at Siri Boca square. Geise wants a permanent space for the music school, where they can rehearse and store equipment. She plans to apply for a Territories of Culture grant, which aims to benefit 15 projects across Maré. Meanwhile, she makes her rooftop a stage for dreams.
*Thaís Cavalcante is a 21-year-old community journalist, born and raised in Nova Holanda, one of the favelas in Complexo da Maré. Working as a community reporter over the past 4 years in her community, Thaís decided to study journalism at university and believes in the power of information to change our reality.