On Tuesday, July 21, the Caixa de Assistência dos Advogados do Estado do Rio de Janeiro (Rio de Janeiro State Lawyers' Assistance Treasury) hosted the first panel in a series of dialogues organized by Coletivo Justiça Negra-Luiz Gama (JNLG, or the Luiz Gama Black Justice Collective) that discussed racism, public security, and affirmative action in Brazil. Over 80 people attended the event, many of whom were young lawyers, as the collective offers job training and English classes to young black Brazilians entering the legal field.
The panel included former Human Rights Secretary for the State of Rio de Janeiro and current professor at the State University of Rio de Janeiro (UERJ) Jorge da Silva, activist public intellectual and journalist Carlos Alberto Medeiros, and lawyer and coordinator of the collective's judicial career training course Giovana Mariano de Jesus. Bruno Cândido Alves, lawyer and Director-General of JNLG, moderated the panel.
A representative of CAARJ, Renan Aguiar, opened the event and welcomed the young lawyers to the CAARJ auditorium. The collective's vice-director, Jamile Sepol, then introduced JNLG and its work. "The objective of our collective is to promote the economic and intellectual empowerment of black youth in particular. The goal of this panel project, dialogues, is to contribute to the intellectual emancipation of young black men and women through training in politics with an emphasis on racial issues, both historic and contemporary."
Sepol went on to draw parallels between the 1888 abolition of slavery and the adoption of the 1988 democratic Constitution by reading a well-known samba from the Mangueira Samba School: "100 Years of Freedom, Reality or Illusion." The samba questions whether the everyday social conditions of blacks in Brazil changed after emancipation, and Sepol contends that legal victories like the constitution and affirmative action have still not led to a racially equal Brazil.
After Cândido introduced the speakers, Mariano de Jesus gave the first talk on the collective's namesake, Luiz Gama. Gama was born in 1830 to Luísa Mahin, a free black woman and abolitionist, but was sold into slavery at the age of ten by his white father after his mother had fled to Rio de Janeiro following the Malê Revolt of 1935. Gama learned to read and write, secured his own freedom, joined the navy, and audited courses at São Paulo's law school. He became a rábula, a type of semi-professional practicing lawyer without a university degree, and eventually worked to free over 500 slaves.
Gama died in 1882, 6 years before the abolition of slavery, and Mariano de Jesus used his story to highlight both the need for more blacks to go into law and to emphasize that activists may not see the change that they work so hard for. She closed her talk with the final scene from the movie Selma, imploring the audience that "there is soil, and that soil has already been sown, and today we are reaping the fruits of that sowing, but there is still ground that needs to be seeded, and we can be the ones to spread those seeds. Some of us will harvest the fruits, and some won't, but others will, so don't stop sowing the seeds."
Following Mariano de Jesus's talk, moderator Cândido called for the collective to address the intersections between racism and sexism. He noted that the namesake of the collective is a man, but the symbol for the group is a black figure of Justice with her scales, and Afro.
Da Silva followed, drawing much of his talk from his book, 120 Years of Abolition. Da Silva, whose background is in public security, focused on structural racism: "One thing is individual racism, suffered by me, by her, by him, by someone, by someone Jewish, by an indigenous person, by a woman, by a homosexual. That is to say, one thing is individual discrimination. This is also important, but we should concern ourselves with something called institutional racism, structural racism, because structural racism is almost invisible, you almost don't perceive it." He jokingly used Brazil's numerous corruption scandals to underscore the pervasiveness of structural racism, since almost everyone involved in them is white.
Da Silva returned to a serious and motivational tone: "This issue [of structural racism] is a political issue, it is not a legal one. Why? Because laws and the legal system are human constructions, human constructions by people in power, and rarely is a black person in a position to design and implement laws."
Medeiros, the final speaker, also addressed the difference between law and practice by comparing the socio-racial histories of the US and Brazil. A central theme of Medeiros' talk was the false way in which Brazil sought to imagine itself a racial democracy in stark contrast to the "paradigm of discrimination" that described the US throughout the 20th century. While blacks were legally obligated to give up their bus seats to white passengers in the Jim Crow South, societal pressures throughout much of Brazil expected blacks to do much the same, since "laws are often merely state-sanctioned customs."
According to Medeiros, this idea of a racial democracy served to preserve Brazil's own form of white supremacy. "This idea was extremely harmful because in a certain way it guaranteed the continuation of discrimination. It's very simple, we don't have racial discrimination, so if I, a white racist, discriminate against a black man I'm not committing racial discrimination because that doesn't exist in Brazil. And once more, something that doesn't exist shouldn't be combatted."
Medeiros used the example of police killings to underscore this point. While the Black Lives Matter movement has emerged in the US to decry the racial biases of police and are exerting political pressure at the national level, Brazilian media and policymakers have largely ignored what Amnesty International, local groups, and a recent Congressional inquiry have called a genocide against young black Brazilians.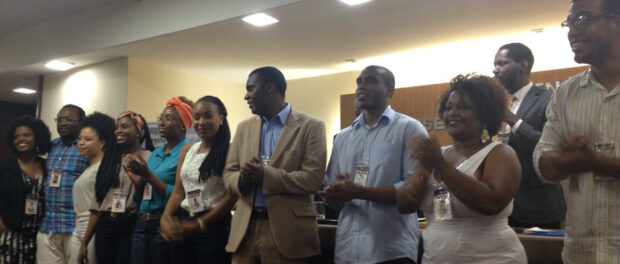 The panel ended with the members of the collective descending in front of the crowd for a round of applause. The young lawyers stood in front of their professors and mentors, who in turn seemed ready to guide the next generation of leaders combating racism in Brazil.