Vila Autódromo evictee, Heloisa Helena Costa Berto, shared the letter she wrote documenting her painful ordeal with the City of Rio, with RioOnWatch. Here it is published in its entirety.
Following is an urgent and important explanation–from both a personal and social standpoint–given the blasphemy, heresy, and general disruption caused by actions taken against the dogmas of the Afro-Brazilian religions resulting from the removal of the sacred space of "Yle Axe Ara Orun Yaba Jiri" from its current address at Av. Autódromo 144, Vila Autódromo, Jacarepaguá. I also describe the entire negotiation process that took place over the period of a year and a half, including the many humiliations and religious prejudices which I suffered.
I am Yalorixá Luizinha de Nanã, a spiritist in the Candomblé tradition. I began my journey in Candomblé in 1973. I was initiated on July 19, 1975 at the home of the late Elmira de Oxum, daughter of Elsa Rocha de Iemanjá and Tete de Inhasã, direct heirs of the Casa Branca do Engenho Velho da Bahia. Engenho Velho is considered the first Candomblé house opened in Salvador, Bahia and has been a public heritage site since May 31, 1981. It is around 300 years old, but was officially founded and registered at a notary office on July 25, 1943.
I am the daughter of Nanã. Nanã is responsible for my existence; she is the one who owns the small piece of land which I care for. Nanã, the Earth mother, the great matriarch! Nanã is a very old orixá, associated with still waters, with mud from the swamps, and with silt from the river bottoms. Nanã is the lady of death, the one who receives her children after death. She is stern, righteous, and is absolutely incapable of joking around.
Nanã is in charge of my Candomblé. This Candomblé was created by her, with her, for her. It emerged through a promise from my birth mother at the edge of a muddy lake, in which she delights and where we began to build our home 35 years ago.
There were years of struggle, building in the clay with our feet in the mud, raising room by room. Sadly, the physical construction of a Candomblé house is difficult, mainly because there is much going on, such as having to help people in need of spiritual work and of basic material necessities at the same time.
"Yle Axe Ara Orun Yaba Jiyi" provides spiritual assistance to people through a "cleansing" and "strengthening" cowrie-shell divination in various degrees and in various ways. I have clients of over 15 years not only throughout the state of Rio de Janeiro, but also in other states of Brazil and in other countries. We make Afro-Brazilian robes and ornaments. The physical space allows us to grow sacred trees and herbs that are indispensable for the rituals.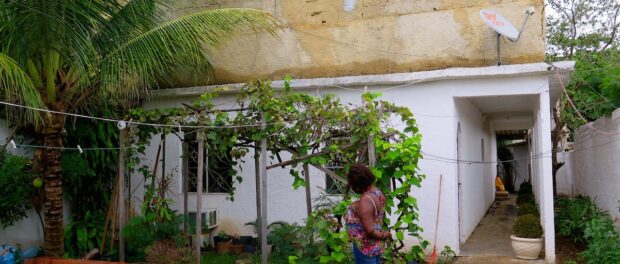 When I see my mother's promise become no more than dust, I feel a physical pain in my heart that flows from me as rivers of tears. I have been negotiating with the city for over a year. I have always been clear regarding my spiritist center, and always stated that my house is a spiritist center. The part that is mine is my room, but it is not my house. I am dispossessed of material goods, and live only for my religion. I am a caretaker for the saints and it is in their name that I negotiate. Nothing belongs to me. Despite this, I have a great responsibility. I don't have permission to stop, falter, give up, fail, or go against the wishes of my mother Nanã. But I have fallen!
2014 was a long year, with constant meetings with the negotiator from the City. I remember the second meeting I had with him. I'd had months of meetings and evaluations with a real estate lawyer, who specialized in evaluations. I brought the documentation to him. He looked at it, threw it down on his desk towards me, and said, "This isn't worth a thing."
The negotiator called me almost every week and offered me values that wouldn't be sufficient to buy a new piece of land. One time I explained this to him, and his response was that I should find land in another favela, as then the sum would be enough, and that I was to forget the chance of buying a legalized property.
He often called me in just to look at me and insist on repeating the same offer. This would happen in meetings with no new agenda, which served only to repeat the previous offer, to pressure and corner me. Stories of similar situations in which people were left empty-handed would be told to me to emphasize the fact that by allowing so much time to pass meant the property was decreasing in value. For, he said, it was certain and there was no doubt that everyone, absolutely everyone, would leave.
I remember at one point a public attorney mentioned that I would never see that amount of money in my life again, and continued asking me how it was that he would explain to his son that people from a favela could have so much money and not he, a public attorney.
I remember the first week I was called there and there was no fair offer. I showed them my cane and asked that they be kind enough to only call me in when a decision was reached, since I was in a great deal of pain, with eight metal screws in my body. He completely disregarded my pain and my physical restrictions.
In December of last year, I was already very tired and feeling pressured by him. I also had religious obligations to attend to and the house had come to a standstill. I signed the agreement. They told me they would give me a check within a week and that I would have to leave the house the following day. This was a week before Christmas last year.
I organized my move and rented an apartment to stay at while construction of the new center was taking place. I arranged for construction workers and waited. I phoned them throughout January and half of February. I ended up losing the labor, and had bricklayers fighting with me because they had set the month aside and now would have nothing to eat.
I had to scrape by to pay rent that I had not planned for, I had been counting on the check they promised would be mine a week after signing the agreement. I'd put in a downpayment on a piece of land that I later had to back out of.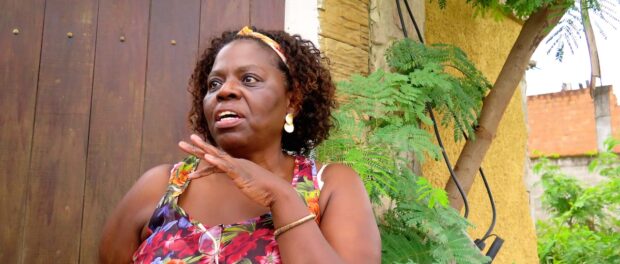 My followers with their troubles, they couldn't wait all this time for me. I lost practically all of them. Now I am taking a large number of medications for depression and anxiety and I've been having panic attacks.
I didn't go back to City Hall again until late April, but they also didn't call me. Behind my home were four studio apartments that belonged to four other families. In April of last year, when they registered my house, they registered the studios and the people who lived there.
In January of this year, when I was supposed to receive my compensation, the residents of the studios went to find out about their situation because they needed apartments. The negotiator claimed that they were not going to receive anything, and that I had known that and I was trying to deceive them. I received death threats. My son, who always helped me, could no longer go to Vila Autódromo. I feared for his life; I was terrified that they would do something to him.
I have trouble getting around and am retired with a state pension. I began going to Vila Autódromo alone. I had great difficulty going but I needed to feed my pets, water my plants, and light candles to my orixás. I wasn't allowed to terminate the rental contract I signed, so the expenses and bills are all overdue. We are practically bankrupt.
In April of this year, I learned of the expropriation of my home. I went to the Public Defenders' Office to try to revert it. I also went to the subprefecture of Barra da Tijuca to see if it could be resolved more quickly there since my health is poor and is only worsening with all this stress.
My spiritist center has been closed for over a year. I don't think I should have closed it, but I only insisted because I wanted to resolve everything for the sake of my saint.
I scheduled an appointment and said I wanted to make a deal. The negotiator told me that he also wanted a deal, but that the terms and my signature on this deal would have to be at the Public Defender's Office, so we went straight there. At the Public Defenders' Office we were informed that we couldn't write up the agreement there, since in effect in doing so I'd be going against the case the Office had already opened up in my name. The correct thing to do would be for the public attorney to offer us a deal.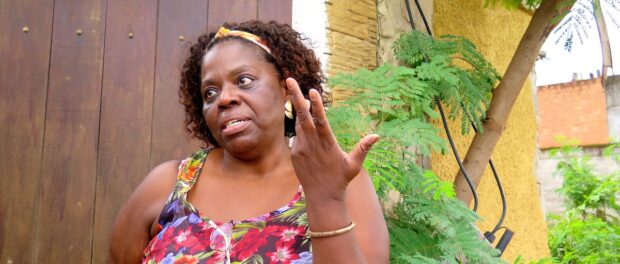 We returned to Barra by taxi from downtown, since I suffer many aches and pains, as I mentioned, and had already spent the whole day using my cane whilst trying to resolve this matter. Upon arrival, we passed on this information to the negotiator. He said it was exactly that, that he could draft the agreement, but that we should email what we wanted in the agreement to another public attorney and his advisor. After a week and a half, the advisor sent an email saying that the document was supposed to be drafted with the negotiator.
I returned to the Public Defender's Office once again and they told me we could resolve everything at the subprefecture. When I arrived there, they told me to come back in a week on the following Tuesday, July 14, at 3pm. Upon leaving I said, "If it's God's will, everything will be resolved next week." To this, the negotiator replied, "If it's not God's will, it will be his enemy's will." I was offended by this, as I do not worship the enemy of God. Anyone with minimal religious knowledge knows that God's enemy is Lucifer. I don't have the habit of saying this name and the negotiator has no right to associate me with this entity. In the end I just replied that my father is God. I didn't want to think of anything aside from the signed agreement. I left thinking that everything would be resolved the following week.
I arrived there at 3pm the following Tuesday and first met with Sub-Mayor Alex Costa, the negotiator, and Costa's assistant, Marli Peçanha. We settled the details of the agreement and left the sub-mayor's office to go to the negotiator's office and finalize the agreement there. We didn't even make it through the door, however. He asked us to wait outside.
He met with everyone who showed up that day before attending to us. I said I was in pain and that it had been my turn some time ago. He didn't care. Eventually I laid down on the floor near the door to his office. I could no longer take the pain in my back.
When I entered his office, he said I couldn't sign the agreement that day. He said another half dozen things before we left. Which was at 10:30pm!
I returned on Thursday without my son, and didn't argue the finer points of the agreement; I just wanted the whole thing to be over with. I spoke to Marli as the sub-mayor was unavailable. Marli said that everything was resolved and all that was left was to sign with the negotiator. I asked Marli to please speak to him so that he wouldn't leave me waiting a long time as I had health problems and was already in a great deal of pain, especially after having been left waiting so many hours on the Tuesday. The response I received was that he would see me when he had time, and Marli put me in his office as soon as he was free.
There was no dialogue, only a show of power. There were gestures and veiled words in order to show that it was he who was in charge and that he would do nothing! Among many things, he said my problem was that I wanted everything done right away and that things didn't work that way. However, how can a person with health issues who had waited weeks and more weeks, which became months and finally over a year, be called impatient?
I replied saying that he was the one who said everything could be resolved quickly, that there were templates for the agreements and it was as simple as printing and signing them. He asked if I was a registered lawyer or if my son was. I said no, and he said he thought he was because my son was very "intelligent." He was sarcastic the whole time, and said he was the registered lawyer and therefore the one who could say what could or couldn't be done. I said goodnight and left the office.
When I arrived at the reception, I saw Marli and told her that there was no agreement because the negotiator wasn't prepared to sign. That's when I lost it. I know that I screamed, but I can't remember much of the rest. I felt so much pain and desperation. I was tired, very tired, and I felt angry at being humiliated. I felt an emptiness at seeing the pleasure he felt by demeaning me. I felt like I would go mad from so much pain in my soul. I felt I was losing everything, dying, and that there was no one to take care of me. I trembled and cried uncontrollably on the floor in the middle of the reception.
I spent four days in bed unable to get up. I would wake up and cry. My heart rate would go up and I would tremble. Eventually I did get up, but I wouldn't leave the house. I tried to be strong and move on, but it's very hard. The antidepressants don't appear to have any effect. I'm still very anxious and it's hard to sleep.
The other day I got worried, I was talking to a friend of mine and she said the negotiator would be back before his vacation was over. I mumbled something in response and hung up, then a few moments later began trembling and crying without even noticing at first. My heart was beating very fast, and I had to take a whole pill before the correct time and go to sleep.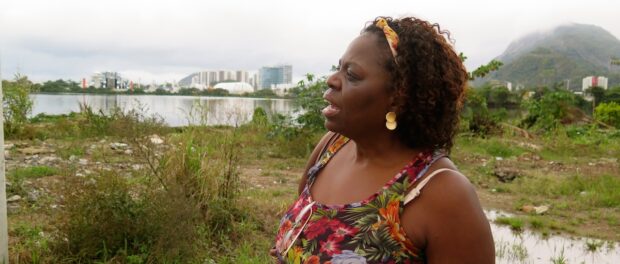 Sometimes I think he has something against my religion. I say this because of his illogical comments and jokes, and because the compensation the City proposed for my home was so much lower than the ones my neighbors received, even those who had smaller houses. I was told he called me a macumbeira, but that's not something I can prove.
I don't know what to do. I want my home back, I want my lagoon back. I want the peace I felt when I was out in my yard watching the lagoon with my cats and dogs around me.
Why don't they let me resettle in the community? This is common practice in other communities. I have the right guaranteed by a decree from 1993, but the negotiator said that it wouldn't be possible and that no one from the community would stay there.
I also have a deep desire now to work in defense of the lagoon, to work tirelessly, with the knowledge and understanding I have for the lagoon. My affinity with the cause is immense, and it truly is a part of my life. I've been studying a lot on the subject. My children and I, along with various members of the community, have already discussed the possibility of establishing an NGO to protect, preserve and clean the Jacarepaguá Lagoon.
I am a religious person, and my happiness comes from serving and guiding others through their various problems.
How can I live without being able to watch over and manage the house of Nanã in the place that she chose?
Images from Vila Autódromo, September 12, 2015: