This October Rio de Janeiro organized its first official Semana Lixo Zero, or Zero Waste Week. Organizations and communities throughout Rio hosted workshops, lectures, debates, and activities related to zero waste awareness from October 21 to November 1. With Brazil wasting R$8 billion a year on the incorrect disposal of garbage that could be recycled, Zero Waste Week works to model and encourage waste reduction practices that can be widely applied by the broader population.
Zero Waste Week is an internationally recognized concept that encourages dialogue and action to limit the amount of waste produced. In Brazil, the Instituto Lixo Zero Brasil has organized Zero Waste Week in cities around the country for several years. However, 2015 is the first year that Rio de Janeiro hosted its own events.
The intent behind Rio's Zero Waste Week is to encourage a "reflection on waste management," says organizer Egeu Laus. Egeu, a designer and cultural producer, leads the group Viajantes do Território, a collaborative group that focuses on socio-cultural development in the Port Region. While events focused on the themes of recycling and waste management, the week maintained a flexible structure to allow all participating groups and communities to organize their own events and projects on any topic promoting a dialogue about zero waste.
Rio's Zero Waste Week encouraged participation of people from diverse backgrounds. To facilitate an interdisciplinary sharing of ideas and practices related to waste awareness it is important "to bring people from different professions and different areas, because each individual has a different vision of the subject of zero waste," says organizer Egeu Laus. By encouraging dialogue between varying groups and individuals they "can converse and produce more appropriate ideas and suggestions."
International and local voices were in dialogue during this week of action. A variety of public discussions were held throughout the week, such as the event Porto Sustentável (Sustainable Port). The meeting was hosted at the Museu de Arte do Rio in the Port Region to discuss the issue of garbage accumulating in the world's oceans and to look at solutions for recycling waste. Pal Martensson, director of the Zero Waste International Alliance presented on the Alelyckan re-use Park in Sweden which sorts and resells recycled objects donated by the community. Expert on marine pollution Captain Charles Moore presented on the 'seas of plastic' islands of garbage that have accumulated in the world's oceans as a result of improper methods of discarding waste. With the urgency associated with the pollution of the Guanabara Bay in the lead up to the 2016 Olympics, conversations and solutions for reducing water pollution are pressing.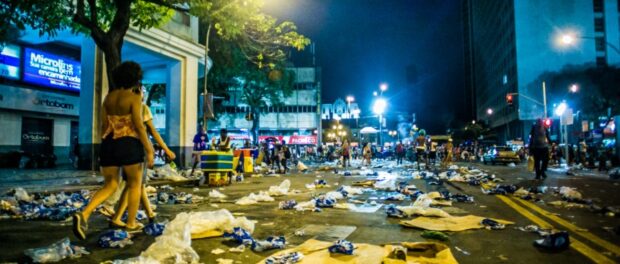 Zero Waste Week also encouraged individual projects and movements within favelas across the city. Rio das Pedras, a community in the West Zone, held multiple events for Zero Waste Week including a fashion show presenting clothing made from recycled materials and a walk to raise awareness about the importance of maintaining a clean, waste-free community.
Zero Waste Week also served to strengthen existing community initiatives. Rio das Pedras resident and community activist Cleusa da Cruz Florenço affirms that waste-conscious practices are already functioning in her community. After reading a report citing her community Rio das Pedras as the dirtiest in the Jacarepaguá area, Cleusa created the project Patrulhinha da Limpeza (Little Cleaning Patrol). The project's youth participants walk through the streets of the community with whistles, calling attention to anyone who throws garbage in the streets. The intent is to raise community awareness about the problem of waste, encourage the proper disposal of waste, and to eventually teach people to properly separate their waste before throwing it away. "Our actions have already been happening for awhile, and they are going to continue," says Cleusa.
Zero Waste Week worked to introduce awareness across the city that waste management and reduction must be considered on a daily basis. Though garbage is thrown "away," the waste that is produced remains in the environment. "We live in a closed system, there is no 'away'," says Egeu.