This is the third of a three-part series on the language spoken in the peripheries of Rio de Janeiro. Don't miss Part 1 and Part 2.
Everything in the favela is different,
Even the people, you can't deny,
A great samba, for example.
Even a young child
Knows how to dance samba.
Another very important fact,
And interesting at that,
Is the language from there.

Padeirinho da Mangueira – A linguagem do morro (The language of the favela)
In a country that is dramatically split by class, cultural expression is one of the ways in which different social groups participate in exchange. Samba, funk, hip-hop and literature use and manipulate the language of the favela to spread awareness of local issues, knowledge and culture both within the community and to the wider population. The final part of this series shows how engagement with–and the popularization of–these art forms can break down social boundaries by promoting favela language as culture.
Samba
Despite its fame as the national music of Brazil, samba has its roots in persecution. As one of the original cultural expressions of the working class, it formed part of the black resistance movement in the early 20th century championed by musicians such João da Baiana, Donga and Padeirinho da Mangueira who used samba to tell stories about their everyday reality. In a recorded testimonial at the Museum of Image and Sound (MIS) archive in Rio de Janeiro, João da Baiana recounts a time when "tambourines were banned. Samba was banned and so was the tambourine. I was playing the tambourine at a party in Penha… The police took away my tambourine and arrested me. I have a magazine at home with a picture of me behind bars with my tambourine."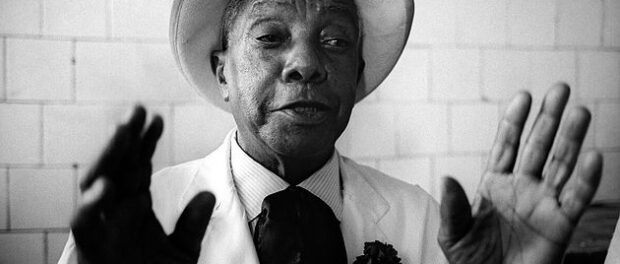 The repression of samba during the First Brazilian Republic came from a desire to Europeanize Rio as a capital city. The recent abolition of slavery meant the working class was heavily stigmatized, their cultural practices seen as as "backwards," and their behavior as markers of what it meant to be a dangerous and criminal class of people. This meant that samba musicians, similar to modern day hip-hop and funk artists, were associated with criminality to the extent that even their clothes became cause for arrest. In another MIS recording, João da Baiana talks about how policemen used to pretend to be samba musicians and start a jam session so they could arrest the people who joined in:
"We also weren't allowed to wear wide-legged trousers… In 1904, lawyer Virgolino de Alencar… played guitar and sang a love song so he could arrest us. He was a deputy and wore a wig. He played guitar and sang and serenaded in the streets, to get everyone together so he could then arrest us."
However, with the advent of the radio in the 1920s and the Vargas nationalist movement, samba transitioned from the peripheral to the public sphere. Samba musicians started selling their compositions, getting record deals and participating in nationwide competitions placing samba firmly in the national arena. As journalist Francisco Guimarães (also known as Vagalume) noted in his book Na roda do samba (1933), at first samba was "repudiated, mocked and ridiculed. Only the people who played samba treated it with care and love… Now, no one wants to play anything else!" A sentiment which is reflected in Tom Jobim and Vinícius de Moraes' samba O morro não tem vez (The favela doesn't get a turn):
"The favela doesn't get a turn
But if it is given one,
The whole city will sing."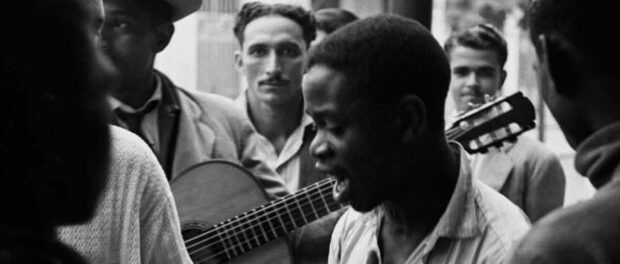 The distinctive language of samba became a point of interrogation that samba musicians used to educate middle and upper class people who were singing or listening to samba but were unfamiliar with favela culture. Padeirinho's composition A linguagem do morro (Language of the favela) quoted in the epigraph, which has since been sung by artists such Beth Carvalho, is one of many examples of this:
"A dance in the favela is fandango,
A car is called carango,
Discussion means bafafá."
His music became a sort of treatise of slang which pushed the latest phrases and vocabulary out from the peripheries to the public sphere, and at the same time inverted social hierarchy whereby the illiterate became the educators. Padeirinho was translating the culture and point of view of the favela communities for the elite in an act of resistance that permeated the genre at the time. A few decades later Bezerra da Silva also took language as one of his subject matters in songs such as A gíria é a cultura do povo (Slang is the culture of the people) in which he says that slang, both inside and outside the favela, represents the culture of its speakers:
"There is always slang on the asphalt and the hill
Because it's the culture of the people."
His songs demonstrate the richness and variation of favela language and his popularity outside the community meant that the language too gained recognition.
Funk
According to MC Leonardo, funk is "popular expression in its purest form." It helps residents to keep up to date with what is happening, what people are saying in their community, and allows for new slang to be spread, as described in Part 1. The circulation of news, opinion and commentary through funk within the community is characterized by a freedom of subject matter (from resistance, to sex to dance) and also in who is able to become an MC.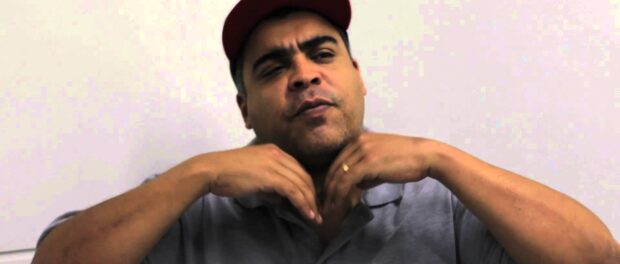 Funk is a powerful communication tool within communities not only in its use of a familiar language that brings residents closer to what is being discussed, but also because the repetition in the rhythm and lyrics of funk stick in your head and popularize messages. This catchy rhythm facilitates the spread of messages outside the community as in MC Sargento's Rap da Fazenda dos Mineiros where he challenges perceptions of favelas and funk music by talking about the art of funk, the difficulties communities face and the rich culture in Rio's favelas.
MC Magalhães is an example of how anyone from the community can become a funkeiro: he was a street vendor who became an MC by rapping about the everyday reality on the streets. His song Rap do trabalhador (The workers' rap) is a funny, social critique of the persecution of street vendors during the mayorship of César Maia in Rio de Janeiro. He describes how "they took my box of sweets… He messed it all up, César Maia" referring to the repression the street vendors faced after the introduction of the Municipal Guards at the time. He plays with nonsense words such as "tchurunarublaize" and "marauklanfer" which pokes fun at the jargon in legal rulings like that which established the Municipal Guard, echoing Bezerra da Silva in the documentary Onde a coruja dorme (Where the owl sleeps):
"When the slaves would plan their escape strategies they would use slang so that their masters wouldn't understand. It's exactly what the intellectual class do today with us. They go to school, learn the revertere ad locum tuum, burugundum, data venia. And then they come here and talk to you all day and you have no idea what they're on about. So what do we do? We can also talk to these university graduates in the same way, they'll sit here for the whole day and also have no idea what's going on. The score's then leveled."
Like samba and other forms of cultural expression from the favela, activism is a prominent theme in funk music. In light of the current political and economic crisis that has engulfed Brazil in the run up to the Olympics, funk artist Mano Teko and MC Laska released a song called Contagem Regressiva (Countdown) which criticizes the effects the Olympics has had on Rio's communities:
"Olympics of denial, it's for foreigners not for us people […]
"The rate of genocide is soaring, we suffer from bullets, we suffer from removals."
MC Carol opens her song Não foi Cabral (It wasn't [Pedro Álvares] Cabral) with the national anthem before aggressively challenging the discovery of Brazil and criticizing the first genocide of the indigenous population:
"Who discovered Brazil?
It wasn't Cabral.
He arrived on April 22
And colonized
Calling it Pau Brasil
No one brought family
Even less people brought children
Because they already knew
That they would kill lots of indigenous people."
The feminist funk movement presents another form of resistance. Artists such as Tati Quebra Barracos, Deize Tigrona and Valesca Popozuda use funk to talk about women's sexual liberty and in doing so confront and subvert funk music that present women as objects of sexual desire. They sing about having orgasms, complain about useless men, give explicit details about what they like to do in the bedroom and how they seduce men using the same type of obscene lyrics as funk music about women.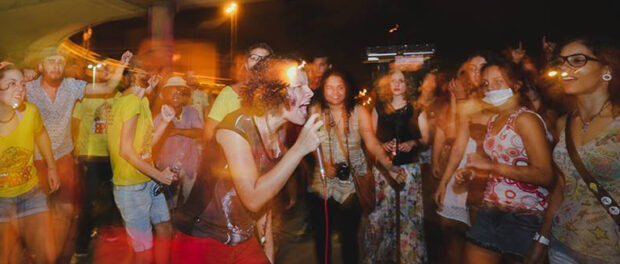 Groups such as PaguFunk from Baixada Fluminense take feminist funk in a different direction focusing on issues such as violence against women and male chauvinism. In an interview, MC Lidi from PaguFunk explains how the beat of funk makes people situate the reality of girls who live in poor communities within a wider feminist discourse: "It's about the way we speak our language, the language of the periphery, with our female neighbors about women's rights. The catchy choruses help us send out messages."
Funk narrates back what people are saying in the community in a way that makes people rethink or understand issues in a different way.
Hip-hop and Rap
Much like similar movements in the peripheries of other cities around the world, a lot of rap and hip-hop from the favelas aims to communicate the harsher reality of favela life, interrogating issues such as violence, inequality, poverty and discrimination through language that is rich in metaphor and imagery.
Antiéticos (the unethical ones) is a rap trio whose name was chosen to present "a challenge to the current status quo," and "not a lack of ethics." Their music seeks to address racism and violence towards the black community and promote community cohesion. This is achieved not just lyrically but symbolically by all three members being from different favelas. In an interview for RioOnWatch one of the members explained:
"To be from different favelas is symbolic. Here in Rio, there's a war between [drug] factions. In some places, you can't go to other favelas. There's a lot of separation. So I think our being from different communities symbolically breaks this illusion."
Eleveulove is an example of such songs, with lyrics such as "this is what I celebrate: our brown skin" and "I'm the product of noble saints, from where the good guys rule; favela Africa, Africa favela and sound."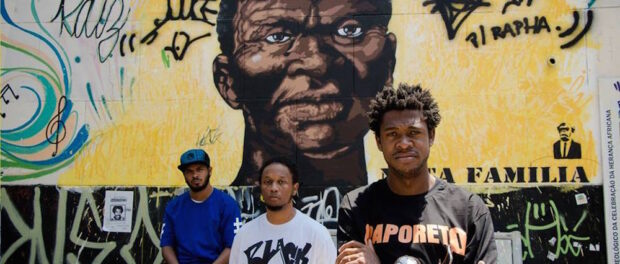 Artists such as MV Bill focus on issues such as young boys working in the drug trade in Soldado do Morro (Soldier of the hill) which describes the harsh conditions and corrupt system which force children to go into drug trafficking.
The use of favela language is a key part of creating community identity through music. By using popular language to convey information, community residents enter the public arena communicating issues that are important to them in their own terms, challenging the social and linguistic hierarchy that usually stigmatizes this form of expression.
Literature
As interest in literature is increasing in communities with projects such as Ler é 10 – Leia Favela (Reading is Tops – Read Favela) and literary festivals such as FLUPP, the language of the favela is gradually gaining exposure in a written form. As a primarily oral language, it is usually used by writers from the community for literary effect or within speech, creating context for scenes and characters in creative portrayals of favela culture.
Otávio Junior, author and founder of Ler é 10 – Leia Favela, writes children's books which focus on two main themes: reading and the periphery. His novels such as O Livreiro do Alemão have books as their subject matter and are set within favelas. In an interview he explained:
"I use a mixture of poetic language and the language of the periphery in my books. I use a lot of slang and I also like to play around with the community character, with the traditional toys, like marbles, kites and spinning tops. These are toys that are most common in the favelas of the North Zone of Rio… I like to use elements that are specific to that region."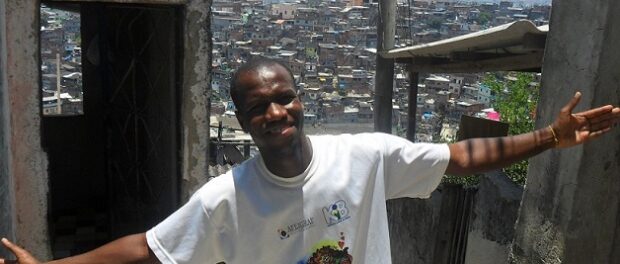 By using familiar language and settings, Otávio gives something for children within the community to relate to in his books and allows them to interact with books and reading in a way that doesn't feel alien or too difficult. Otávio explained:
"My books are for children who live in the communities but also for children who don't. The children who don't live in the communities therefore have the opportunity to get to know our culture and can interact with our reality through stories."
The juxtaposition of the two dialects acts as a way of legitimizing the language by showing each dialect as representative of a different culture.
The art forms discussed demonstrate the use of local resources to resist exclusion and redefine the relationship between favelas and the city. However when it comes to cultural production from the favelas there is a contradictory response from outside the community where listening to funk music, or an acknowledgement of the roots of samba does not always create the understanding that translates into positive attitudes combating stigma. It is unlikely that this language will ever be fully accepted as a legitimate way of speaking, a fate that is shared by peripheral societies around the world. But they are a resource for community members that offer a model for identification, a creative outlet and form of resistance.
This is the third of a three-part series on the language spoken in the peripheries of Rio de Janeiro.
Gitanjali Patel graduated from Oxford University in Spanish and Portuguese and is currently working as a researcher specializing in Brazilian language, culture and society. She is studying for an MA in Social Anthropology at SOAS, University of London.
Listen to some of the songs cited in this story: