Last Saturday, May 7, the City launched long-awaited Morar Carioca upgrades in the Cordovil region of Rio de Janeiro's North Zone. Five communities will receive upgrades in this phase of the program: Pica-Pau, Brás de Pina, Bom Jardim, Roraima and Divineia. Mayor Eduardo Paes spoke at the launch ceremony attended by over 100 residents, as did a number of government officials, including Municipal Housing Secretary Sérgio Zveiter and Pedro Paulo Carvalho Teixeira, Executive Secretary to Mayor Paes and candidate in the upcoming mayoral election.
Communities in the Cordovil district have developed largely since the early 1960s with little government assistance, and are in urgent need of infrastructure upgrades. Thousands of homes not properly connected to the City's water or sewerage system instead rely on a stormwater drainage channel that flows into the Guanabara Bay and consistently floods streets and enters residents' homes through showers and taps during heavy rains. In the case of Pica-Pau, several dozen homes situated on a precarious slope are also in danger of collapsing. Residents have requested government support in upgrading infrastructure and improving sanitation conditions for decades, with little notable success before the promise of Morar Carioca projects.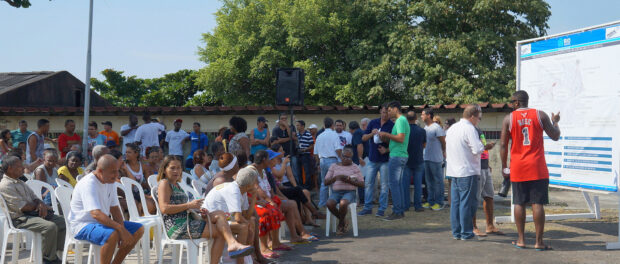 The Cordovil district was selected to receive upgrades through Morar Carioca in 2011, but the project plans were cancelled without warning or explanation in January 2013, just months after Eduardo Paes' reelection. Last summer, city officials returned to the communities to survey the area and informed residents that the project had received new funding and would be implemented, once again in an election year. Residents were told the works would begin in April, but a scheduled launch was canceled with no clear explanation. The lack of transparency and action throughout this six-year process has led many residents to question the motivations of the City. Saturday's event was the first indication in years that this project will in fact be realized.
In his remarks on Saturday, Mayor Paes did not account for the three year delay, but praised the efforts of Morar Carioca in bringing essential services to favela residents.
"We are here to discuss the government obligation to provide pavement, water, sewerage, street lighting–these things are obvious. It is absurd to reach the 21st century and still have places in Rio de Janeiro without these things. The Morar Carioca program looks to these communities in our city, which is a huge reality, and looks to complete this work with dignity…We prove here that the money exists to do all of this."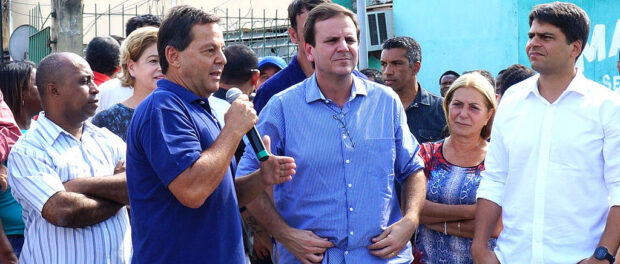 Similarly, Pedro Paulo's presence and brief remarks indicate he has aligned himself and his campaign with Morar Carioca. In this sense Pedro Paulo is following Paes' example of promoting the hugely popular program before elections. Unfortunately for residents of the Cordovil district, the heightened rhetoric around favela upgrades during Paes' 2012 reelection bid did little to deliver the promised projects.
Reactions to the launch of Morar Carioca varied. Maria do Carmo da Silva, a resident of Pica-Pau for over 30 years, said she hopes the projects will improve the environment with better sanitation and more frequent trash collection, which the neighborhood desperately needs. But, she added, "this is a wonderful place–we have so many good things here, we just lack these basic services."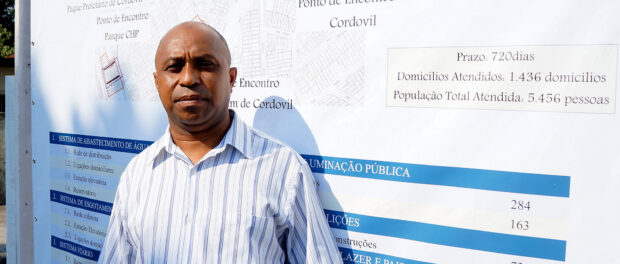 Other residents of Cambuci, which borders Pica-Pau, expressed frustration that their small neighborhood was not included in the plans despite suffering from serious challenges with water supplies and sewerage. Several women said they feel helpless and abandoned by public authorities, without whom they have little hope of improving their sanitation infrastructure.
Irenaldo Honorio da Silva, president of Pica-Pau's neighborhood association said past experience has taught the community to not assume this process is over. He obtained direct contact information for both Pedro Paulo, promising to "stay on top of him," and for the lead engineer for the projects, who Irenaldo said this time "isn't going to mess around, no."