The Popular Committee for the World Cup and Olympics and the Marcha Das Vadias (Slut Walk) came together last week, June 16, to discuss mega-events, sexual tourism and the regulation of prostitution in Rio de Janeiro. The Marcha Das Vadias, a group of feminists who fight against sexual and gender violence and in favor of autonomy of bodies, invited the public to participate in the conversation at Casa Nem, located in Lapa in central Rio de Janeiro.
The compact space at Casa Nem was "the fullest [they had] ever seen," but the organizers were content in their location decision as it is a safe and accepting environment for sex workers. The event was also streamed online where another 350 people tuned in.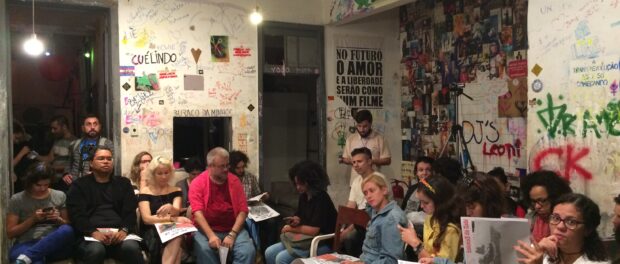 The aim of the event was to discuss decriminalization of prostitution along with highlighting the issues around rights violations and mistreatment, particularly in the lead up to the Rio 2016 Olympics.
The debate panel was comprised of Indianara Siqueria, the trans leader at Casa Nem, Amara Moira a trans student at the University of São Paulo (USP) and blogger, and Monique Prada, head of the Sex Workers Central Union (CUTS) based in Porto Alegre. For context on violations, Laura Murray, American researcher at the Observatory of Prostitution at the Rio de Janeiro Federal University (UFRJ) and Larissa Lacerda, representative from the Popular Committee, were invited to the panel. Originally two representatives from RadFem (Radical Feminist Group) were to present their viewpoints but after a recent conflict Marcha Das Vadias decided a safe environment for the sex workers was more important and they were removed from the panel. Following this, there were rumors the evening's event was to be attacked by the opposing RadFem Party but this did not come to pass.
Larissa Lacerda from the Popular Committee spoke in broad terms about city government human rights violations leading up to the Rio 2016 Olympics and emphasized mistreatment of prostitutes as one more violation to add to their list of 100. Lacerda highlighted how mega-events are being used as a pretext by the city government and gave examples of violations including the forced removal of 22,000 families in favelas, rampant real estate speculation, and the mistreatment of the homeless in an attempt to "clean up and disguise the city."
Laura Murray addressed her research findings on victim management and protection for prostitutes in Brazil. Murray, along with Amara Moira, stressed the importance of having people unite with trans women and prostitutes and understand their needs, which they believe will help them gain desired respect.
The trans women at the event presented their immediate social concerns with sex work. The influential activist and blogger Amara Moira said, "[Our] biggest dream is to have society look at us like citizens." An important message from the trans speakers was for "better rights and conditions, and more job security," for which they need others in society to help them fight.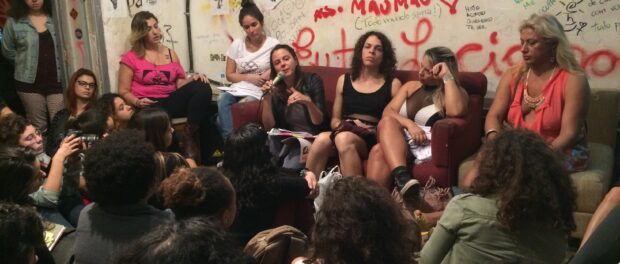 According to Thaddeus Blanchette, anthropologist at UFRJ and researcher of prostitution and mega-events, the prostitute movement in Rio is fighting for two things: decriminalization and regulation of prostitution. Ideally the women want the latter where their work conditions are improved and wages are fixed.
Groups like RadFem see this as officializing pimping but in reality this is already the case: 40-60% of wages made by women in brothels is taken by the house, so "effectively there already is regulation [which is] effective for everyone except the workers, who have no rights," the researcher highlighted. Sex workers are willing to accept the current system but they demand more rights, which in turn would put greater control and accountability on the work they are doing.
There is however an opposing side within the trans and prostitute community as well.
There are several individuals and groups against prostitution because they believe society forces them into this type of work due to limited access to other jobs. These individuals are fighting for greater job opportunities and against the idea that "prostitution is their [only] destiny."
Indianara Siqueira, a powerful figure in the trans community, wrapped up the evening's discussion. She began: "There was a war here [in Casa Nem] decades ago and all you have to do to know who won is look around and see who is still here. We are still here." The audience cheered.
In support of her sex work, Indianara stated: "I won't say that prostitution saved me, I would say prostitution liberated me." She highlighted that 20% of a sex worker's salary goes to taxes, therefore giving a fifth of their income to the needs of the general public.
Indianara noted: "5,000 women who are involved in relationships and marriages are murdered in Brazil per year. So before we stop prostitution, let's stop marriages. Let's stop violence against women." 
In relation to sex tourism, Indianara believes in reality it doesn't really exist. She said: "People are coming for the Olympics, and they will have sex yes. But this isn't just the case for men. Women do this as well."  She gave the example of women traveling, for example, to Cuba to indulge in Cuban masculinity, as well as other Latin American men. "Women are also participating in this so-called sexual tourism." She argued that sexual tourism is not just about provocative, sexual exploitation.
That being said her primary concern is with the need to regulate spaces of sex work. "It's not about taking anyone out of work, saving anyone or helping anyone. It's about negotiating rights and work in legal places, safe places."