On the northern edge of Nova Iguaçu in the Baixada Fluminense lies the district of Tinguá, home to roughly 5,000 people, waterways that flow into Guanabara Bay, and the start of the Tinguá Biological Reserve. Across from the town bus stop is Onda Verde, a socio-environmental NGO dedicated to protecting the surrounding landscapes, promoting individual environmental responsibility, and uniting the community. Founded in 1994, the organization has a long history of educating local residents about sustainability and providing education programs for people of all ages.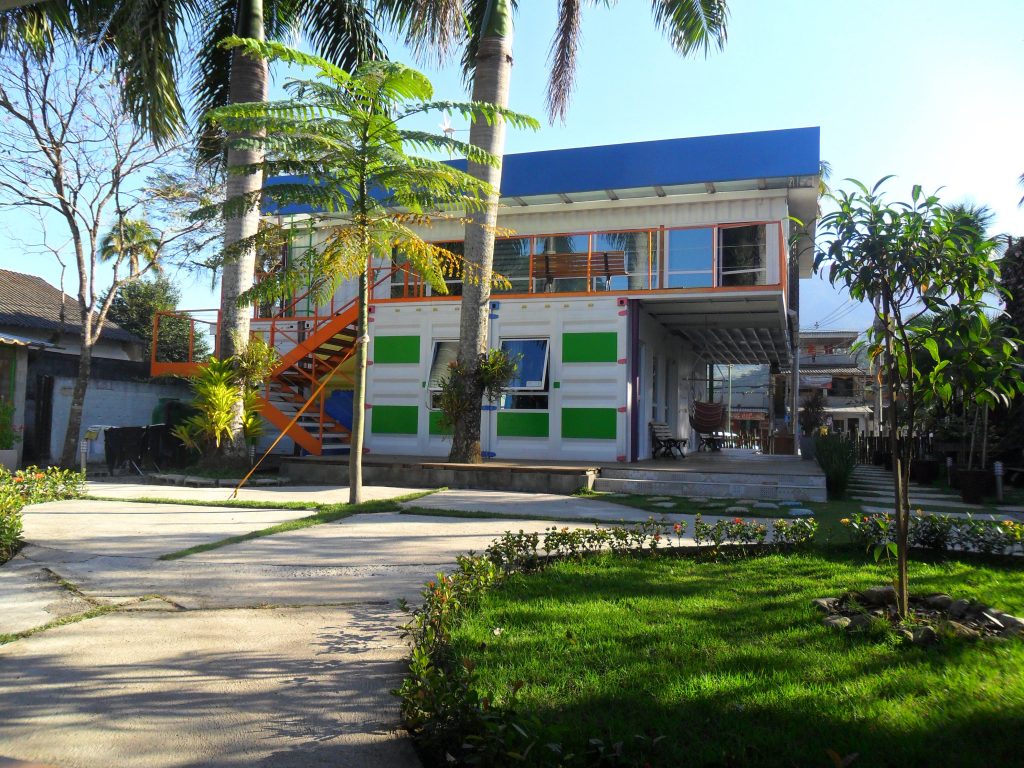 Understanding the importance of Onda Verde, according to founder and manager Helio Vanderlei, himself born and raised in Nova Iguaçu, requires some knowledge of the Portuguese Empire's legacy. Not long after the Portuguese arrived in Brazil, a significant portion of the hillside forests surrounding Rio de Janeiro were destroyed to make space for coffee plantations. Over time, however, the Portuguese realized many of the springs and waterways providing water to the city had dried up, and that deforestation was the cause. In 1882, Dom Pedro II shaped reforestation into law, which took decades, but established the first public recognition of the need for sustaining native ecosystems in order to maintain a water supply. A majority of the population in Tinguá today are actually descendants of the laborers and slaves that were originally responsible for this reforestation effort, and the water supply system they constructed, originally for Rio, now supplies 170 million liters a day for Nova Iguaçu's 787,000 residents.
Environmental programs
Onda Verde is a modern day extension of those efforts towards sustainability. One ongoing project that mirrors the colonial era is the Rio D'ouro Reforestation Project. The Rio D'ouro region is a major contributor to the Guandu River watershed, which accounts for roughly 80% of the water that ultimately supplies the Rio de Janeiro metropolitan area. Reforested land protects the soil against erosion and prevents rain from compacting the soil too densely. It also provides shade that helps regulate temperature, which is vital for the fragile biodiversity of the river ecosystem. As reforestation technician Carlos Alfena explained on the bank of the Rio D'ouro: "The vegetation is growing… Reforestation work is very important for the maintenance of life on the river."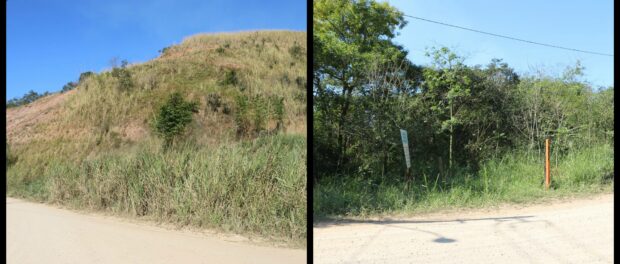 A team of 11 men from Tinguá have worked routinely on the project in the Federal Biological Reserve (ReBio) of Tinguá for the past few years, removing invasive species and planting native trees. The process takes three years: two for planting, and one for maintenance and protection. They have already planted 329,000 seeds, and their team has just six months left in their third and final year of the project. The program also incorporated training activities in the Ecology and Degraded Areas Restoration Laboratory (LERAD), in order to encourage scientific research and provide technical support to the project.
The team's vision for the land involves more than just reforestation—they agree that a biological reserve is not the best form of conservation. The ReBio doesn't allow for tourism, which could serve the dual purpose of raising money and giving people a reason to support the environment, through experiencing its beauty and earning income off its conservation. "In my opinion, [Tinguá] should be a National Park," said Guilherme de Assis Rodrigues, a reforestation technician with the Rio D'ouro Reforestation Project. "If you go to the Tijuca Forest, there will be at least 40 people working. Right now, ReBio Tinguá has two."
Environmental education
In addition to fieldwork programs, Onda Verde hosts a variety of educational programs that aim to cultivate environmental responsibility. Most months, their Environmental Education Center (CEA) receives farmers every week for information sessions about sustainable practices, or opportunities for funding in return for adopting certain environmental projects. On Monday July 11, the focus was a sustainable initiative that originally began in Paraná during the 1980s. It plans to provide each farmer that applies to it up to R$10,000 in government funds in exchange for a variety of specific farming tasks; specifically, the program aims to collectively plant 1.7 million seeds, create 100 seed nurseries, and foster communal decision-making amongst farmers to strengthen community bonds, all over the course of five years.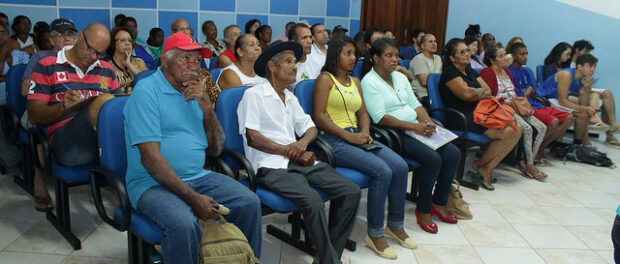 Onda Verde has three facilities in total: the Mata Atlântica Research Center, which houses the four laboratories, the CEA, and the Creative Economy and Ecology Education Center (CEEEC), which contains beds and a workspace for volunteers and visitors.
The CEEEC is Onda Verde's physical manifestation of environmental sustainability—the entire rooftop is slightly slanted in order to gather rainwater, which is collected and feeds into four collection tanks. Two tanks treat the water so it can be used in the showers and sinks, and the other two are used for appliances such as the washing machine. The roof also has nine solar panels, a wind turbine, and a solar water heater, which feed into two batteries that operate the house. Most of the light switches are sensor-operated and all of the faucets have timed handles, so it's impossible to waste resources. Food and human waste are processed in a sanitation biodigester, which recycles nutrients and 100% of treated water. Biodigesters are an efficient, low-cost technology that have been implemented for food waste or even sewage in some favelas in recent years. Finally, the house itself was built by reusing eight 12 meter shipping containers.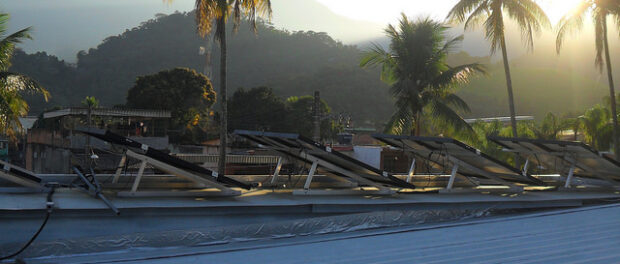 Community engagement
Onda Verde caters to all types of people to promote its ideals. They receive field trips from nearby primary and secondary schools in Nova Iguaçu, entertaining and teaching children using the facilities. Each year, they host their annual Environmental Education Festival, which typically involves up to 800 school kids participating in two days of activities including recycled art, a science fair of environmental projects, education awards, a farmer's market, and more.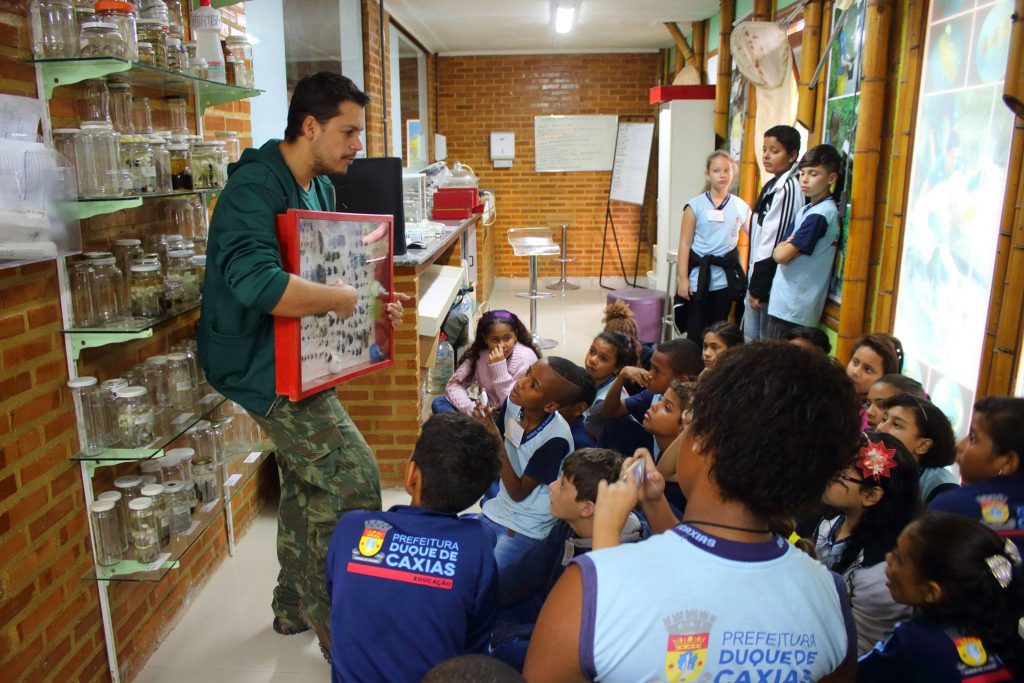 When their kitchen isn't being used to cater events, it is transformed into a restaurant school that aims specifically to helping women in the community who already own and operate restaurants, but who have never had the opportunity to take culinary courses. Annually, the restaurant is also transformed into an incubator for young chefs interested in owning their own restaurant.
Down the hall from the restaurant is the library, which plays an especially important role because Tinguá has no public library. Local mothers Dulcinéia Rosa, Ama dos Santos, and Fribuma Goulart have been meeting there twice a week for nine months, to spend time together and sew. While they themselves enjoy the facility, they treasure the effect it has had on their children. "In this community, Onda Verde is very important, because creativity was being deprived," said Dulcinéia. "Here kids can access the Internet, read books, everything they need to study."
One of the most active current programs is the Women's Group, Meninas Criativas. Fourteen women in their 20s meet almost daily to participate in a wide variety of activities, all of which fundamentally empower them and enhance self-esteem. They study French, photography, theater, ecology, and more. Every participant said that over the course of the program, they have experienced positive personal growth; improving their relationships, their social consciousness, and their ability to resist discrimination are just some examples they gave. "Primarily, I have changed how I see myself," says Lorena, who comes to Onda Verde all the way from the urban center of Nova Iguaçu. "I understand more about rights, being a woman, a student, about sustainability."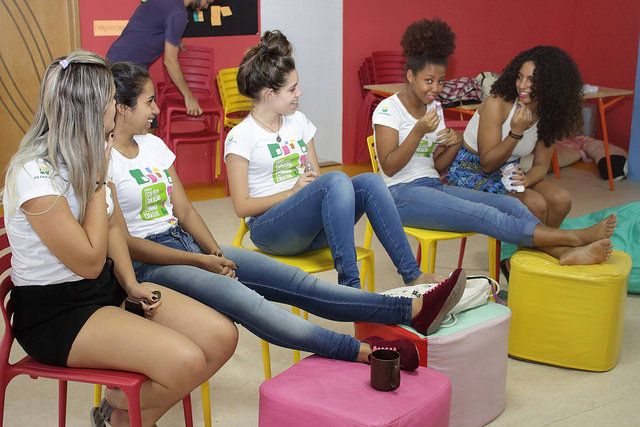 Remaining challenges
Onda Verde's presence in the community of Tinguá was not established without a struggle. The acceptance of environmentalism, conceptually, is still very much in progress. For example, on the drive back from the Rio D'ouro project, there was a small hillside completely ablaze not far from the road. The NGO's manager, Helio Vanderlei couldn't give an explanation as to why, but more importantly, he explained that even if someone intervened, they would be doing the same thing somewhere else two hours later.
Onda Verde's water quality lab, officially the Laboratory of Physical-Chemical Analysis, boasts better technology than anywhere else in the state—yet it has remained closed for six months. Vanderlei cited many reasons investors are not currently funding the lab, referring mainly to the financial crisis across most of Brazil, but fundamentally he lamented that "[Environmental] research is just not a priority in Brazil. Every American university has laboratories, in Holland they have laboratories. Scientific research is fundamental to the US and Europe. In Brazil, it's nothing."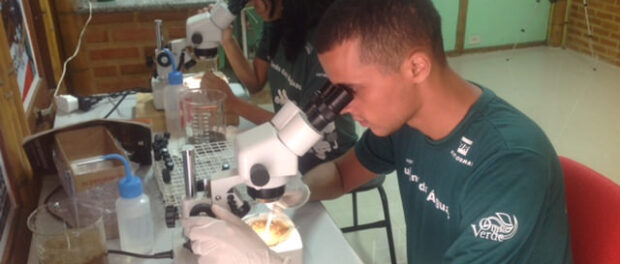 Many of the tributaries that flow into the Guanabara Bay begin near Tinguá; pollution at any part of these rivers can compromise the rest of the waterway, so environmental protection is difficult to manage. While Onda Verde has worked hard to combat the degradation at its source, the task is impossible to achieve unilaterally. However, the Rio government has opted instead to manage the products of pollution rather than the problem itself, creating eco-barriers to trap trash but doing little to facilitate the constant flow of raw sewage into the bay.
Vanderlei also regretfully describes how community organizations are now feeling the responsibility to compensate for the failure of the Olympic legacy, expressing that the government's promises always "existed as a fantasy." The metro still doesn't come all the way through Nova Iguaçu, Guanabara Bay is still glaringly polluted, and Nova Iguaçu's hundreds of thousands of kids still lack any sort of cultural or sports center.
Despite these setbacks, Onda Verde has accomplished incredible things. At its core, it renders Tinguá and all its inhabitants greater than the sum of their parts, providing a space for the community to improve practically every aspect of life. A visit to their campus or events is time well spent, and any contribution will be put to good use.