Marlon Gangazumba and his Chilean partner Natalia Urbina are videographers, photographers, activists, and capoeira instructors. Girasol Comunicações was born in 2012 when they organized a center for popular communication after frequently being asked to film community events. They started blogging—in both Portuguese and Spanish—about debates and events happening in Marlon's home favela of Jorge Turco in the North Zone of Rio de Janeiro, with topics including capoeira, the World Cup, poetry, reparations for slavery, and most recently, community media and local activism in the context of the Olympics. Along with their three children, the pair have now published more than 50 videos on their YouTube channel and have facilitated many community debates. They also maintained a radio channel throughout the World Cup.
"Girasol Comunicações arose as a family initiative of autonomous popular communication addressing the need to disseminate what happens in favelas, such as different cultural and political activities," Urbina explained. It also emerged out of a "need to strengthen our local culture, which bit by bit strengthens our racial outlook, our Latin American outlook, our Afro-American outlook."
"Girasol" with one s is Spanish for sunflower (spelled with two in Portuguese). Girasol Comunicações therefore translates to "sunflower communications." Urbina said the initiative created new ways of conceiving of popular communication "by mixing our academic and professional forms with our everyday lives, as well as discovering the truth in our African diaspora and Latin American identities." 
When RioOnWatch interviewed Urbina in Babilônia, in the South Zone, she arrived carrying her newborn daughter. Rather than only sitting down for a traditional interview, she preferred to talk while visiting a local bakery, checking out a community book borrowing stand, and stopping by the school her children attend. Afterwards Urbina explained that to understand Girasol Comunicações, one has to understand the favela. Girasol Comunicações does not exist in isolation, she says, but is an extended voice of community residents. 
During RioOnWatch's visit, Urbina also conducted an interview with André Constantine, the president of Babilônia's Neighborhood Association. André expressed skepticism towards journalists, scholars, and other outsiders who come to favelas—particularly Babilônia, which is at particular risk of gentrification—to excavate information. But he enthusiastically discussed racial justice, reparations for slavery, feminism, and the Olympics with Urbina.
"Media by favela residents respects our protagonism," said Urbina. Girasol Comunicações is "favela media" because the narrative is always from the inside out. It ignores outsiders' perspectives looking in, and instead amplifies the stories and news of the favela, maintaining the protagonism and dignity of favela residents. Girasol Comunicações disseminates "images that fortify the cultural identity of each place," with a particular focus on "those brothers of the African diaspora, to the sisters who have children, to workers."
For Urbina, community media is also about democratizing the creation of media: "Popular communication says that you can communicate with whatever you have. If you don't have a computer, use a poster; if you don't have a poster, use a megaphone; if you don't have a megaphone, shout! The richness is not in the audio-visual production, but in the discourse."
When favela residents ask for assistance with written communication, Girasol Comunicações publishes messages exactly as the speakers present them. There is no need to correct grammar too much, Urbina explained. Instead Girasol keeps the dignity and language of the people; the message gets across, and no one feels silenced.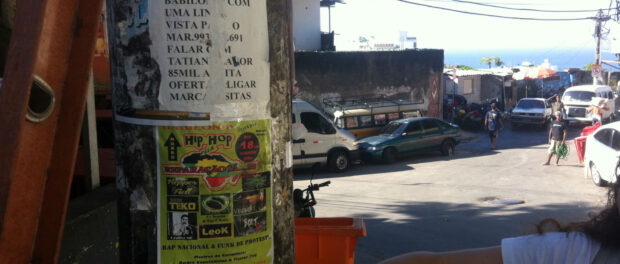 Currently, Girasol Comunicações is "working with different black liberation groups, documenting all that occurs in the fight for reparations for the enslavement of black and indigenous people."
"Even though we have supported over 17 projects, we have not earned anything," Urbina said. To cover expenses, Urbina and Gangazumba sell cakes, breads, sweets, photography services, and teach capoeira. Finding resources and funds is a challenge though. While they kept a live radio program throughout the World Cup with one computer, it became very difficult to work on any other projects. Thus the pair now only revive the radio station during pivotal periods. Despite these difficulties, Girasol Comunicações proves every day that anybody can communicate.
The future of Girasol Comunicações is in education and a focus on youth. "We are launching a YouTube channel for children. We'll be working with language and images that reinforce the diverse identity of our children," Urbina explained. "All of our communication products can be used in educational settings as well as other conversations and debates."