Homes belonging to approximately 200 families were destroyed by Rio's state government last weekend, after residents were forcibly removed from a small favela in Complexo do Alemão.
At 11am on Saturday October 1, officers from Alemão's Police Pacifying Unit (UPP) arrived at Favela da Skol and ordered residents to evacuate. Military Police also arrived and following resistance from residents, officers used tear gas and rubber bullets to forcibly clear the area. Residents estimated that 15 to 20 officers were present. By 4pm, only rubble remained on the site where 200 simple homes, several community spaces and three buildings had stood.
The area, named after the Skol factory that had previously employed residents, was declared an "area of risk" and residents were evicted in 2010. Many residents from Skol had accepted government offers of social rent while new social housing apartments would be built for them in the same space. However, Rio's state government has repeatedly failed to deliver on this promise, and the favela was listed as one of the potential campus locations for Mayor Paes' promised Complexo do Alemão university. However the space remained vacant and on September 30, around 200 families returned to occupy the site after six years of broken promises.
"We've had problems here because of real estate speculation," said resident Camila Santos. "The government said they owned this land, and that they would build public housing here for us. But we learned that their claim of ownership was false."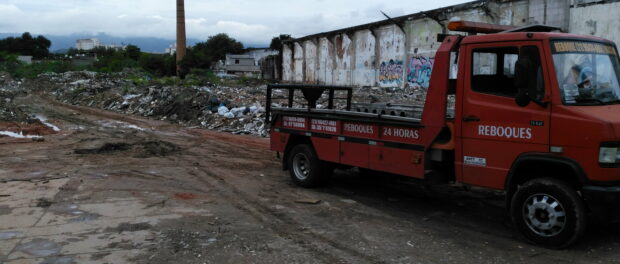 Santos and other residents later discovered that Rio's state government was planning to offer public housing located far from their communities, schools and jobs in the city's West Zone. Skol residents are now entirely in limbo with no housing solution offered and dwindling state help to pay rent.
"My salary is R$700 per month, and rent is R$700 per month. I have three children. What do I do?" asks Santos. "When we left, we were happy because it seemed like a good deal: social rent, with the opportunity to rehouse. But we were tricked."
"We went to the mayor, we went to Alerj, but nothing. They say they will build apartments, public squares, and they tear down your beautiful house and leave this," said Santos, pointing towards the debris.
Last weekend's removals and demolitions garnered international media attention after community journalists Rene Silva and Renato Moura were arrested while broadcasting events over a live Facebook video stream. Silva and Moura were detained around 3pm for contempt of authority, civil disobedience and trespassing. They were later released and the police action has received condemnation from Rio's Public Defender's' Office, Amnesty International Brazil and the Brazilian Association of Investigative Journalism (ABRAJI).
Rio's state security department has tried to dispel notions that police behaved aggressively, with criminal investigator Mauro Ricart providing a statement to Globo that attempts to discredit footage from Silva and Moura. Ricart's statement willfully ignores eyewitness statements and implies that the gunshots could have come from the favela itself. However, Santos says that while Skol was a poor community and living conditions were precarious, violence was never a problem.
"There were no traffickers, no criminals–only workers and their families," she said. "There was never any trouble here. Our biggest problem [as a community] was sanitation."
Santos and the favela's other residents are now awaiting a meeting with Rio's state security department, due to take place on October 10, to investigate who authorized police operations and the aggressive behavior demonstrated on October 1. They are also waiting to learn about the latest developments to their housing situation, and currently remain without any word about what will happen to their social rent or when they will have somewhere new in the community to live.