To help our readers digest the major news and themes of the past month, we've summarized the stories we published here on RioOnWatch along with a few other must-reads in the media on favelas. Access past monthly summaries here and full digests here.
October Highlight: Rio's Municipal Elections
October 2016 arrived in Rio flanked by the city's mayoral elections, with the first and second rounds respectively taking place on October 2 and October 30. RioOnWatch kicked off the month by examining favela residents' attitudes towards vastly different policies proposed by the 11 candidates competing in the first round. We then published, just before the final round of voting, a similar examination of favela residents' attitudes towards the two final candidates participating in the runoff vote.
Rio's final two candidates stood in stark contrast to one another: conservative bishop and PRB candidate Marcelo Crivella, with the support of the evangelical church and the militia, avoided public appearances, media attention and debates. Crivella's policy proposals total at eight pages and his campaign was marred by numerous scandals and accusations of corruption. He proposed combating effects of Brazil's economic crisis in Rio by cutting the number of government departments–which research shows could do greater harm to the city's residents. By contrast, human rights defender and PSOL candidate Marcelo Freixo, best known for his investigations into links between Rio's militia and its government, campaigned throughout the city, including in the favelas. Freixo's past work, such as ensuring human rights for prison inmates, led to discussion of popular misinterpretations of human rights definitions in Brazil. Freixo's campaign platform was a 70-page policy proposal document based on feedback gained in 18 months' worth of focus groups and research with Rio's diverse demographic and geographic needs.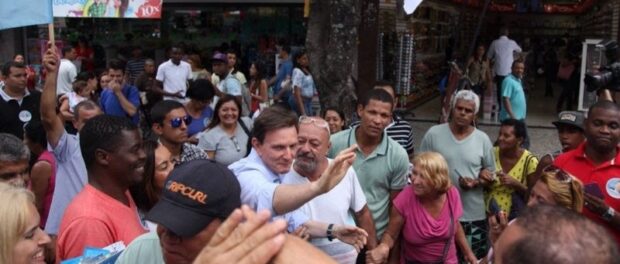 Crivella's 59.4% win in the elections at the weekend saw Rio de Janeiro participate in a national backlash against the country's two biggest political parties, Lula and Dilma's Workers Party (PT) and outgoing mayor Eduardo Paes' Brazilian Democratic Movement Party (PMDB). Despite Crivella's win, the 2016 mayoral election presents a questionable victory: half of the 2016 mayoral election arrests for electoral crime took place in Rio de Janeiro, and 45% of the city chose to spoil their ballots or declined to show up at voting stations. Progress may not be as rapid as the city's inhabitants hope, with post-election analyses saying that results are indicative of ever-growing inequalities in the city.
Rio's new city councillors were also elected on October 2, with the appointments of two favela-born candidates, Marielle Franco and David Miranda renowned for advocating black, women's, LGBT and peripheral rights. Indiana Siquiera also became the first trans woman close to achieving public office in Rio, winning enough votes to become a substitute city councillor.
Olympic Legacy and Human Rights Violations
The municipal elections also served as a first taster of how residents feel about Rio's Olympic legacy, with voters not even selecting the candidate from the political party responsible for preparing the city for the Games to the second round of voting. Prostitution Policy Watch also provided another perspective on the Olympic legacy through its analysis of Games' impact on the sex industry in Rio.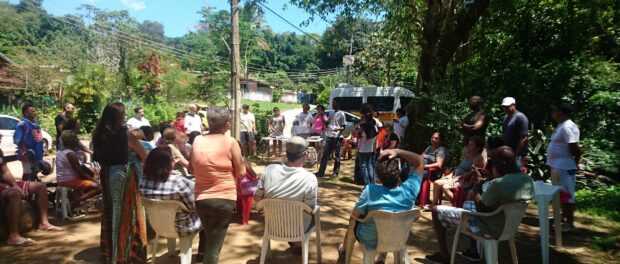 In between election fanfare, October saw further housing violations take place: one family in Horto became the first to receive an eviction notice in the lush and peaceful, bicentennial community. In Complexo do Alemão, two community journalists were arrested while documenting the forced eviction and demolition of approximately 200 homes in Favela da Skol. Long-time residents in Tijuca Forest National Park, already without electricity in their homes, have received written notices demanding their departure, but have yet to receive offers of alternative housing or compensation. For The New York Times, photographer Peter Bauza shared images on A Vibrant Life Amid The Ruins of Rio.
Public security in Rio continued to prove a concern, as State Security Chief José Mariano Beltrame, responsible for the introduction and implementation of the Pacifying Police Unit (UPP) program in the city's favelas, announced his resignation. The UPP program's reputation began declining in 2013 when pacification police in Rocinha tortured bricklayer Amarildo, the subject of new film In the Shadow of the Hill.
Meanwhile, reports said crime continued to grow in Rio but that police operations continued to cause unacceptable levels of collateral damage, as well as serious psychological damage for residents living in war-like conditions. Attempts to tackle police violence and corruption continue in Rio state, with two officers charged with the murder of a youth in Paraty.
In this moment of post-Olympic reflection, Juliana Barbassa contributed an excellent multimedia report with Americas Quarterly What Went Wrong in Rio's Favelas?:
Urbanism, Community Solutions and Favela History
October welcomed the UN's Habitat III conference in Quito, offering opportunities to reflect on how the New Urban Agenda's proposals could be applied to Rio and its favelas as well as the chance to look at Brazil's official critique of the Agenda's Zero Draft. Meanwhile, RioOnWatch published the first three articles in a five-part series on housing policy lessons from the favelas, examining favelas' construction and community, collective action and diverse needs, and distrust, gentrification and titling, all with an eye to improving housing policies directed to Rio's favelas. With Google Map's reincorporation of 26 favelas, questions were also raised regarding how and why Rio's favelas should be mapped, and the advantages of doing so.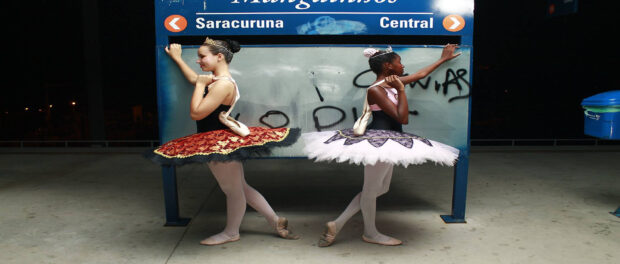 Favela residents' innovation and creativity also found praise in this month's media, with community media organization CDD Acontece receiving international attention. Community media continued to tackle favela stereotypes and stigmas through Humans of New York-style profiles of residents throughout Rio and Manguinhos celebrated homegrown cinematic representations of favelas with its own film festival. Nearby, social project Ballet Manguinhos received attention for challenging perceptions of urban life through its bi-weekly ballet lessons and performances. Meanwhile, NGO Obra Dona Meca, in the city's West Zone, strives to provide rehabilitation and support for hundreds of disabled children, and other dedicated parents from favelas contemplated the role of parents in Rio's educational system.
Meanwhile, a UN documentary profiled sustainable micro-businesses in Rio de Janeiro, offbeat city guide Secret Rio unveiled hidden gems and favela attractions throughout the city, while the book Favelization examines how favela aesthetic is culturally appropriated to sell luxury items.
Finally, favela history was on display this month, as Rio's oldest favela Providência, celebrating its 119th anniversary, provided inspiration for innovative storytelling. A look into Complexo da Maré's fascinating history provided a vital understanding of how the vibrant community was shaped by its surroundings, as did the voice of City of God's Therezinha in the below testimonial: