On Saturday, October 29, the favela-based theater group Cia Marginal launched yet another season of its critically acclaimed and award winning production Eles Não Usam Tênis Naique (They Don't Wear Nike Sneakers) at the Teatro Glaucio Gill in Copacabana.
The piece was written by Brazilian playwright Marcia Zanelatto, and tells the story of a father, Santo, who is reunited with his daughter, Roseli, after several years of being apart. He was a drug trafficker in the 1980s when drug trafficking groups in Rio's favelas were still politically motivated; she is a drug trafficker today. The piece is an ideological debate between the two characters, presenting a refreshingly nuanced panorama of drug trafficking that addresses the political, the social, the spiritual and the affective.
Ranging from tenderness, to rage, to regret and utter heartbreak, the play recounts a father's desperate attempt to save his daughter from a life of violence, crime and suffering. He struggles to win her over, as she remains distrustful of a father she believes abandoned her when she needed him most, though he claims he disappeared in order to protect her. His communist idealism is outdated, no longer sharing common ground with the reality of trafficking today, and even less with his daughter's deeply cynical worldview.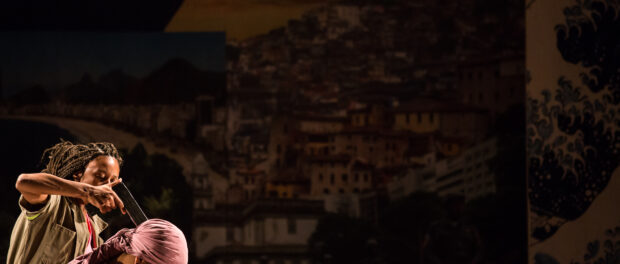 Four actors seamlessly interchange the roles of father and daughter on stage, at times playing the characters all at once, and even swapping roles irrespective of gender. This unexpected shuffling of roles is not confusing, it grips the viewers' attention and keeps the audience on its toes. The energy of the piece is electric, visceral and thick with tension, as moments of affection and playfulness quickly morph into violence. The swiftness and effectiveness of these transitions is owing to the powerful command of the actors, whose performance is captivating, gritty and real. Toward the end of the play, the actors also share their personal stories as favela residents, recounting struggles and loss as well as their dreams for the future.
Cia Marginal first premiered this piece in August 2015 at the Teatro Glauce Rocha in downtown Rio de Janeiro. Marcia Zanelatto invited the company to premiere her work as part of a project sponsored by Funarte called Grandes Minorias (Great Minorities), a two month cultural occupation of the Teatro Glauce Rocha featuring artistic productions that showcase stories and issues related to marginalized groups of society.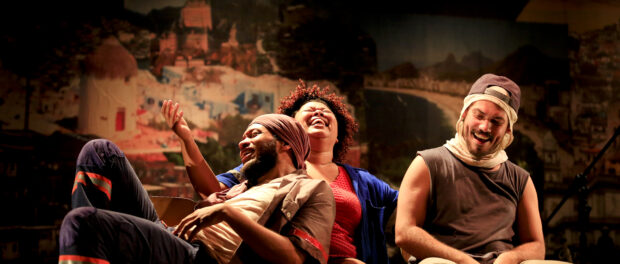 Cia Marginal was founded in 2005 in Complexo da Maré in the North Zone. It came about from a series of theater workshops for youth in the favela that were provided in partnership with the respected community NGO, Redes de Desenvolvimento da Maré, or Maré Development Networks. Director Isabel Penoni led these workshops for five years before a group was consolidated to form a theater company.
Geandra Nobre, one of the actors in the group who has been with the company since its inception, describes her entry into the world of theater: "What made me begin to like theater is probably what also made me uncomfortable when I first started. When you go into a class about the history and geography of Maré, usually there is a chair and you sit and look at a blackboard. In the theater workshops there wasn't even a chair, you had to think not just with your mind, but with your body."
Actor Jacqueline Andrade's experience also echoes this: "When I first started I was shy and it was difficult to get me to talk to people, but I started to feel alive… I saw my body transform, I saw what it was capable of, and I saw what my friends and colleagues were also capable of, and that's what made me want to stay in that space."
Wallace Lino explains that what drew him to the theater workshops was that it was horizontal in nature: "The theater teachers didn't come to 'save' anyone. That's what makes a difference in this kind of work, that continuous investment of time." Following on this line of thought, Geandra shares that "there was something that bothered us a lot when we first performed. People would ask us how theater changed our lives, coming from the assumption that theater necessarily changes and saves lives of favela residents. This isn't a question that they ask of people who do theater outside of a favela, but it was systematically asked of us."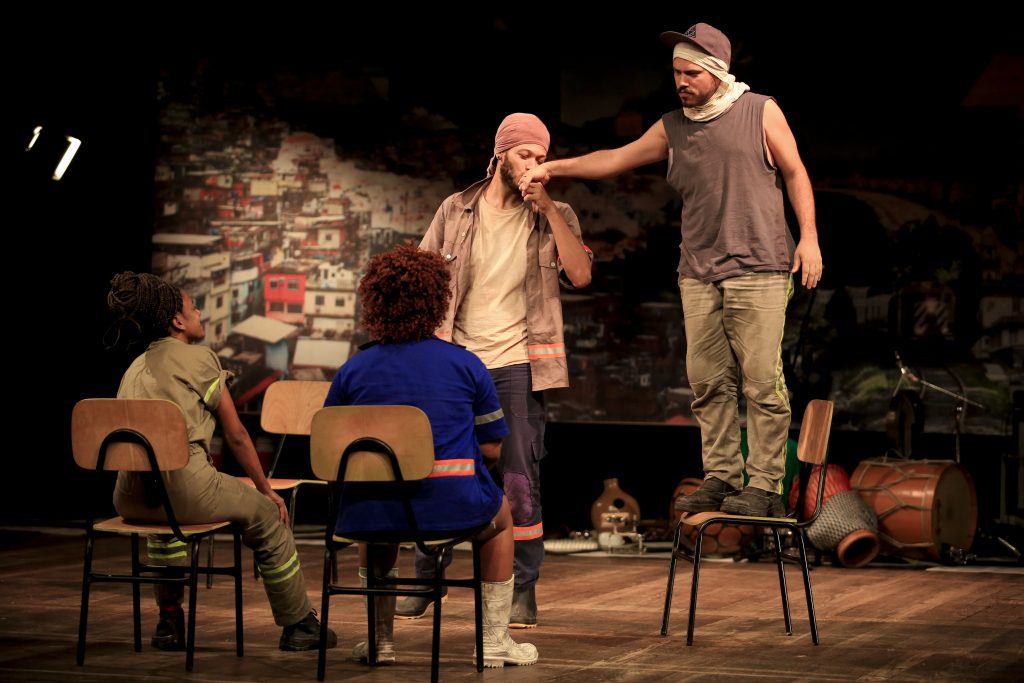 The mission of Cia Marginal is to democratize theater, make it available to members of society who have been historically excluded from the art form, and is collectively operated. Isabel Penoni explains that "what was crucial to the formation of the company was the relationship between theater and critical thinking, theater and politics, in order to discover a new way of engaging in politics, and in turn, a new way of making art."
"I grew up in Caju, a favela near Maré," recounts actor Phellipe Azevedo. "It is completely abandoned. So I didn't understand that I had rights to things, I thought it was something I had to run after and pay for with money… It was in this [theater] space that the idea of rights first called my attention. When I first saw Cia Marginal perform I began to see myself in theater."
Eles Não Usam Tênis Naique is the company's fourth production, but first written piece. The other works of Cia Marginal were created by the group, and feature stories both within and outside of favelas: Qual é a Nossa Cara recounts the memory of the neighborhood of Nova Holanda in Complexo da Maré, inspired by a series of interviews conducted with local residents. Their second production Ô Lili features narratives of inmates in Rio's penitentiaries, also based on a series of fieldwork and interviews with incarcerated individuals and their families. Finally, In_Trânsito is a reimagining of Homer's The Odyssey, as it discusses the everyday voyages of commuters in urban public transportation. It is performed in train stations and train cars, and calls on the participation of audience members/commuters on their daily odysseys.
Eles Não Usam Tênis Naique will run at Teatro Glaucio Gill until December 5. Showings are every Saturday, Sunday and Monday at 8pm. More information on the company and the event can be accessed on their Facebook page.