An energetic crowd met on Saturday, March 25 to show support for the community of Vila Hípica, situated within the Tijuca National Park in Alto da Boa Vista. Three years ago, the Park's administration decided to cut the community's access to the power grid leaving residents without power. According to two residents of Hípica, Lucy da Cantara and Maria Teruz, each family in the community used to pay R$90 per month when the Park sent them billing statements but three years ago, the Park stopped sending these statements and shortly thereafter cut their power. The administration has maintained that electricity was cut in order to improve the power grid but residents have noticed that others including local businesses maintain access to the power grid, while they are left to live in darkness. Supporters are convinced that the Park's actions are an indirect way of trying to force residents from their homes.
Although residents of Hípica have been meeting over the past three years to brainstorm how to best resist this passive eviction, Saturday marked the first time they held a public rally to bring attention to the problem. According to Otávio Alves Barros, president of the Residents and Friends Association of Alto da Boa Vista–as well as leader of his own community of Vale Encantado, the eco-favela located near Hípica–relations have been strained between Hípica and the Tijuca National Park since the community's beginnings.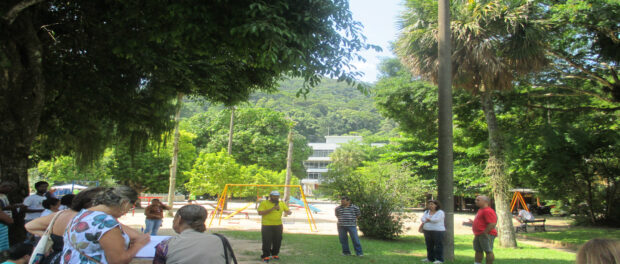 Hípica was founded in the 1940s by employees of the Brazilian Equestrian Society (Sociedade Hípica Brasileira) whose headquarters were located in Alto da Boa Vista. After the Equestrian Society left the area in 1984, former workers remained in their housing and continued to build their community.
Supporters, including representatives from other favelas that face or have lived through evictions, like Horto and Vila Autódromo, as well as members of Rio's city council gathered to learn about Hípica's struggles and offer their solidarity. Residents of Horto spoke about the current state of their community, which is located on land administered by the Botanical Gardens. They noted that like Hípica, Horto residents have also been treated like invaders and have been negatively affected by stereotypes of favelas as drug and crime-ridden. Sandra Maria from Vila Autódromo spoke about how the modest crowd represented the many people in favelas who are facing eviction or have already been removed from their homes and affirmed that the maintenance of Tijuca National Park is thanks to communities like Hípica which have tasked themselves with taking care of the environment.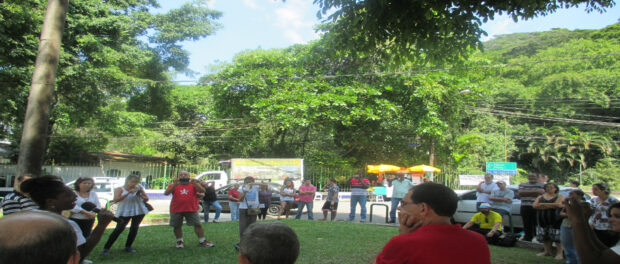 A theme reiterated by several speakers during the rally was the importance of raising awareness about Hípica's being denied electricity. Otávio, who is charged with overseeing eight small favelas within Alto da Boa Vista, is aware of the difficult battle that Vila Hípica faces. For him, the primary goal is to restore electricity to the community, but he added that if Hípica is forced to move, that they should be guaranteed "dignified" housing.
To help further publicize the issue, Hípica is planning to hold weekly organizing meetings starting April 11 that will be open to the public.