The New Blacks Institute (Instituto Pretos Novos, or IPN), a museum in Rio's Port Region hosting the largest slave cemetery in the Americas and one of the main sites preserving the city's legacy as the largest slave port in world history, has been fighting for its survival since earlier this year when the City of Rio cut off the Institute's funding. Despite these challenges, IPN has continued to receive visitors and host programming, and this week will participate in International Museum Week with five days of events.
IPN has been receiving funding from the Urban Development Company of the Port Region (CDURP) as part of downtown's African Heritage Circuit. After being advised in late 2016 that their funding would be discontinued, IPN began finding ways to secure funds from other sources. In January and February, the Institute hosted paid courses on historical topics, using the registration fees to pay basic bills. A course on the foundation of the city from the black perspective, for example, paid for cleaning materials, while one on the Afro-Brazilian history of carnival funded a renovation of the museum's women's restroom.
After a meeting with City officials on March 3, IPN was informed that they would have to operate without government funding until at least June, when another meeting is scheduled. IPN protested these conditions, launching the #IPNResiste (#IPNResists) campaign to call attention to the government's neglect. The initiative generated money from individual donors, but so far the City has refused to change its official stance toward the museum.
Representatives of the municipal government point to Brazil's ongoing economic and political crisis and the City of Rio's post-Olympic struggles as the reason for the lack of funding for the museum. From IPN's point of view, however, "This crisis is the government's, meanwhile the people have to go about doing things the way they've always done them." In addition to maintaining the museum's physical space, IPN is relying on funding to open new exhibitions and continue to be a first-rate resource for history researchers.
Since Rio secured the Olympic bid in 2010 and began the Porto Maravilha project, the Port Region has become an increasingly popular zone for the creation of new museums. IPN expects to be an active member of that circuit, respected and funded by the City as much as any other institution. The municipal government has provided for IPN in some ways, establishing the African Heritage Circuit in 2011, an action that brought more publicity and funding to the museum. In other ways, though, IPN and sites like it have been slighted. The City has shown a preference for newer projects, like when news broke earlier this year that over a million reais meant for projects in the Port's Morro do Pinto favela had been reallocated to the area's Museum of Tomorrow.
IPN has also encountered a legal obstacle to its continuing operation, with an obscure law preventing the use of outside funds in paying bills like the museum's water and electric costs. CDURP paid these expenses up until the beginning of this year, but now that its funding is gone, IPN is facing the prospect of being unable to put whatever money it does receive to use where it is most needed. In response to this increasingly untenable situation, IPN is considering beginning a symbolic "protest closing" closing this month, if these issues cannot be resolved. This act of protest will represent IPN's taking charge of its future on its own terms and draw more attention to the ongoing struggle. IPN's work will also not stop even during this period of protest: "If people come by, we will be here."
Part of IPN's commitment to continuing its activities as normally as possible is its participation in Rio's edition of International Museum Week, happening this week. Yesterday, Monday, May 15 and today, Tuesday, May 16, IPN has been taking its work outside, first to the Bank of Brazil Cultural Center (CCBB) in downtown Rio and then to the neighboring town of Saquarema. Tomorrow, Wednesday, the museum will host a seminar on archaeology, museology, and community. On Thursday, May 18, former Columbia professor Hebbe Mattos will give a lecture on reparations and the history of blacks' human rights. Finally, on Friday IPN will host an event on the "patrimonialization of pain, horror, and terror."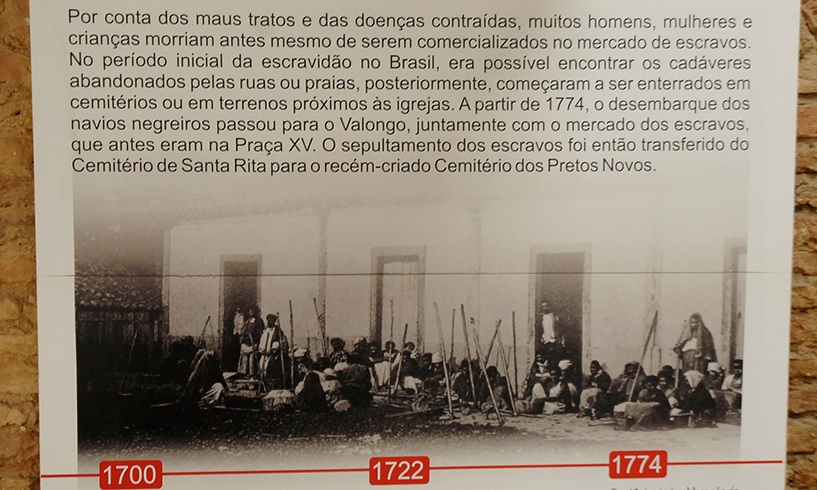 This year's theme for Museum Week, saying the unspeakable in museums, is especially significant for IPN. The enslaved Africans who were buried in the mass grave where the museum now stands had their voices taken from them, along with their lives, by the traders who brought them to Brazil. In a larger sense, all enslaved Africans in Brazil, even those who survived the Middle Passage, had no official voice until the abolition of slavery in 1888 (an event whose anniversary of May 13 falls just before the beginning of Museum Week). Even today, the history of slavery and the experience of Africans and Afro-descendants in Brazil remain rarely discussed topics—if not unspeakable, at least not spoken about often enough. IPN exists, and will fight to continue to exist, in order to correct this imbalance.
Museum Week also represents a chance to "rethink IPN itself after 21 years of its existence." As the Institute enters its third decade, it remains determined to constantly stay current and focused in its mission to provide a crucial historical service to the citizens of Rio, Brazil and the world. The fourth stage of the large-scale excavation process that has been ongoing at the site since its discovery in 1996 is slated to be completed sometime this month. IPN's resolve and the dedication of its directors and many collaborators ensures this continuity of activity, even in the face of so much uncertainty.