Rio de Janeiro is known worldwide for beautiful beachfront neighborhoods such as Copacabana, and the striking statue of Christ the Redeemer, yet beyond the scenic views of this southern edge of the city, exists a contrasting reality which is every bit as marvelous. Scattered across Rio are over 1000 favelas, which occupy a crucial role as the backbone of Rio's economy and the soul of Carioca culture. Housing over a fifth of the city's population, these communities are the home of a huge portion of Rio's working class. In the words of Claudia Rose, a resident of Maré, in Rio's North Zone, "If all our favelas stopped working just for one day the entire city would stop." In addition, these tight-knit neighborhoods have been shaping the city for over a hundred years through cultural expression such as music, dance, and graffiti, creating the vibrant city that exists today. Yet, despite providing both the economic and cultural lifeblood that has sustained Rio for generations, favelas have constantly been marginalized from the formal city both by other groups in Rio society and exclusive government policies. As a result, favela residents have formed a culture of resistance to overcome both prejudice and systematic repression.
To celebrate this resilient history and continue the fight for equal integration, favela born-and-raised City Councilor Marielle Franco, in collaboration with the Museu da Maré (Maré Museum) hosted a series of discussions, workshops, and cultural activities on Friday-Saturday, June 23 and 24 at the museum. The event, which included food, debates, dance performances by the group APAFUNK, skits performed by Project Between Places Maré, and workshops to develop forms of resistance and expression, brought together residents of Maré, Alemão, and Providencia, as well as other favelas, to foster community and motivate collective action.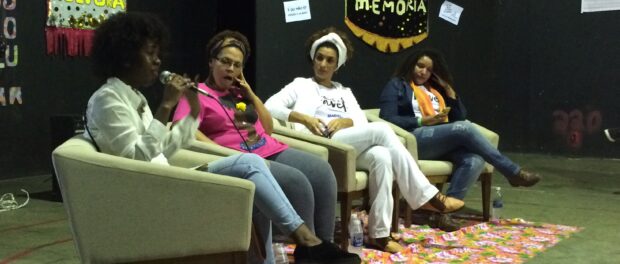 The event began with a discussion led by Marielle Franco, Ana Paula Lisboa, and Claudia Rose who spoke of their personal experiences with exclusion from the formal city and the pride they feel in their community. The floor was then opened to other residents who expressed what favela rights mean to them.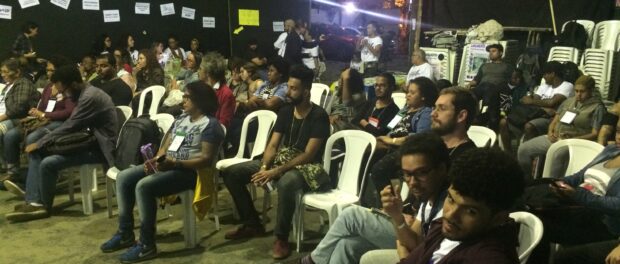 Discussion focused on identifying and pursuing the rights of residents, both those granted in Brazilian law and international human rights. Central to this struggle is what Marielle Franco called the "Right to Life." She explained: "Maré is a place that should be treated not as the periphery but as another neighborhood of the city that has access to transport, sanitation, organization, economic processes, and businesses." Residents are often denied these opportunities because of persistent policies and biases which treat them as separate entities and not part of the formal city. Specifically, public infrastructure is poorly maintained and needs for public transport go unmet making travel between its communities and the rest of the city difficult. In addition, schools and health services are also poorly maintained which can further limit the opportunities available to residents. These factors combine to make daily life difficult for residents, inhibit economic activity and interaction with the rest of Rio.
In addition, residents are often denied their right to exist with dignity as equal members of society. Misrepresentation of favelas in the media, government neglect, and racism all combine to create inaccurate stereotypes of favelas as impoverished and dangerous areas primarily inhabited by criminals. As a result, many residents experience condescension and discrimination from residents of the formal city because of where they live. In some cases, residents are even denied jobs or entry to education programs because of their favela identity. Despite the prevalence of these stereotypes, many residents take great pride in their communities and demand the respect and acceptance of formal city society. Ana Paula Lisboa commented on this saying "Residents of the South Zone need to realize, we don't live in Maré just because we need to, we live here because we want to." Residents of the formal city need to dismantle harmful stereotypes and begin recognizing the value favelas bring to Rio.
Finally, the discussion centered on the right to safety and freedom from state oppression. Violent conflict is common in many communities as a result of the current war on drugs, which has failed to stop the drug trade and has sparked bloody confrontations between police and traffickers in many communities. In the current climate, many residents feel that their wellbeing and basic rights are fundamentally disregarded. "We don't want our rights just when the war on drugs is over, or when trafficking ends. As citizens of the city and citizens of the favela we want our rights today," stated Marielle Franco, demanding that community safety be at the forefront of security policies.
In addition to this initial conversation, Friday night included a number of workshops designed to empower residents in the pursuit of their rights. Lessons in dance, graffiti, cultural production and theater provided residents with tools of cultural expression to celebrate favela identity and be used as a form of resistance. Another workshop focused on memory and the history of Maré, to strengthen the community's identity. In addition, a class about police violence provided peaceful techniques to confront police violence and prevent abuses.
Saturday included major conversations on the Right to the City, discussions of Sanitation and Health, Education, and Discrimination of Public Security forces. The day also included a skit by Project Between Places Maré centering on homophobia and violence again women. The diverse and powerful discussions provided residents with forums to express their experiences and frustrations, continue strengthening cultural identities, and gain skills to strengthen resistance. The event both continued to build on the legacy of favela resistance, and celebrated it.