As part of Black July week, the Human Rights Center of the Nova Iguaçu Diocese, and the Fórum Grita Baixada held a panel to discuss the recently published Atlas of Violence 2017, a study on violence and homicide in Brazil realized by the Institute of Applied Economics Research (IPEA). The study shows that young blacks are the principal victims of violence in Brazil. The Black July panel, titled 'Beyond Numbers,' illustrated the importance of humanizing statistics and research. Specifically, researchers unveiled the institutionalized racism behind the the astounding numbers that put Brazilian police as one of the most murderous worldwide.
The panel took place in Nova Iguaçu, a municipality in Greater Rio's Baixada Fluminense region that experiences state negligence and has a strong history of resistance. As one audience member commented, "the Baixada has always screamed" since its roots as the Quilombo of Iguaçu and its continued fight to be heard. This is not the first time various organizations in the Baixada have voiced their concerns about public security and pervasive police violence. In September 2016 another report was released on State Negligence and Human Rights violations.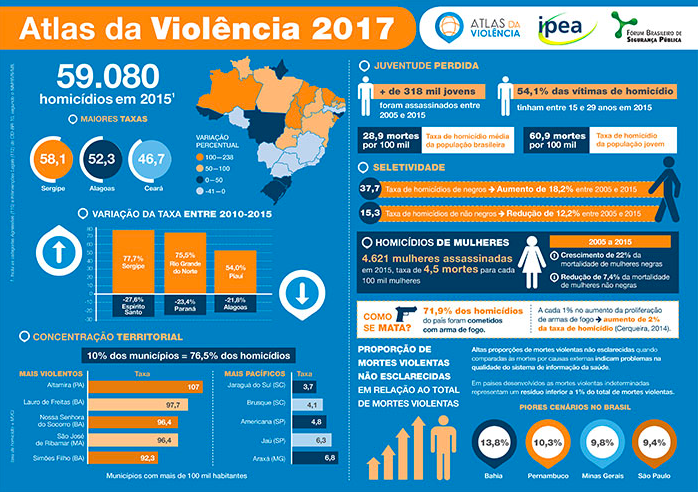 The Atlas of Violence 2017 shows that in relation to the 48.136 homicides that occurred in Brazil in 2005, the number of fatalities increased significantly over the past 10 years. In 2015, the country recorded a total of 59.080 homicides, a ratio of 28.9 deaths for every 100.000 inhabitants.
While Rio's homicide rate significantly decreased by 36.4% between 2005-2015, recently, statistics of deaths associated with legal police interventions (not counting illegal or illicit activity) and war operations in Rio have surged. This year police killings in Rio de Janeiro increased by 60% (178 deaths) in relation to January to April 2016 (111). As ongoing police shootings leave behind victim after innocent victim and favela residents engage in mass protests against violence, the legitimacy and efficacy of police interventions as a solution to crime and violence are increasingly debated.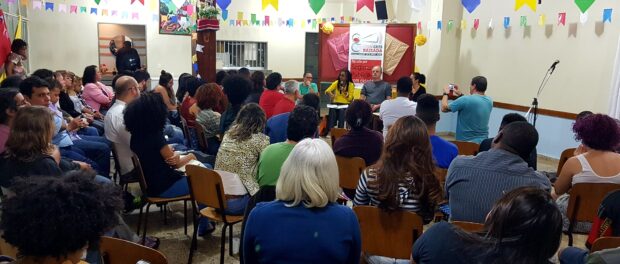 Alongside and beyond acknowledging these numbers, the event opened the debate to talk about the social consequences and experiences of communities living under the conditions of militarized police operations in favelas and criminalization. Understanding Rio's social context, and in this case the Baixada's, allows for a critical analysis of the recently published statistics. The Baixada has armed off-duty police mafias, known as militias. Police are highly militarized and use caveirões. And executions by police are common, such as the case in Japeri where at least eight people were murdered by the Special Operations Police Battalion (BOPE). The violence experienced by Baixada residents, and people living in Rio favelas, is a consequence of the continuation of Brazil's sociedade escravocrata, or slave-holding society that is embodied and perpetuated by the state. This understanding, alongside with the Atlas of Violence, set the stage for a productive debate on alternatives to ensure public security in which people's lives are preserved and valued.
The first panelist was Fransérgio Goulart, historian and political advisor to the Human Rights Center of Nova Iguaçu. A committed activist in the struggle to end state violence against favela residents, Fransérgio spoke about the role of whiteness and white supremacy in the debate on public security. "People always speak about police, Black people, the poor, etc. when debating public security, which are data that, in a way, the Black population already knows. But what other factors do we need to add to this debate?" Goulart went on to explain that white privilege needs to be added into the debate in order to confront the question of public safety: "The end of racism will only become possible with the end of whiteness. If we don't confront the subject of privilege, we won't reach a policy of security." Fransérgio continued, confronting the role of white researchers, who he said rarely speak about how the homicide rate among whites is declining. White people researching favelas and oppressed communities "need to understand themselves as the oppressor." This self-awareness is crucial to eradicate white supremacy. He continued, emphasizing the revolutionary potential of the movement of Mothers and Relatives of Victims of State Violence. "These mothers, in majority Black women, and their national network are the great protagonists against state violence in Brazil."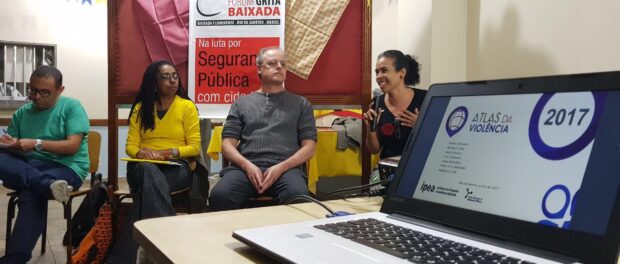 Other panelists included Daniel Cerqueira, researcher at IPEA, and Jurema Werneck, the executive director of Amnesty International Brazil. "Public assistance should confront racism in all its dimensions," Jurema stated as she explained how public security is historically militarized in the country and therefore "citizen security" should be envisioned and pushed for as an alternative security policy. Citizen security, she explains, actually serves to protect its citizens instead of using violence against them through militarization. "The census conducted by CESeC (Center for Security and Citizenship Studies) in Rio shows that 92% of people think that the police does not have the right to kill anyone… We need to contest the perspective and relationship between public security and the war on drugs. Everybody knows that a war produces victims and kills many people." She continued by arguing for the disarming of police: "Brazil needs to acknowledge the international protocol to protect the lives of human beings. If numbers point out that the police kills, these forces have to draw back their weapons."
Following the panelists, the floor was opened to comments and questions, in which participants, majority Baixada residents, expanded on the critical discussions. Topics brought up included the need to centralize discussion of privilege and the elite's strategies to maintain power in debates on public safety. The city invests in education, security, and health in wealthy areas such as the city's South Zone, but sends brutal militarized police into favelas and neglects their basic needs. State violence functions as a tool of oppression and in effect serves to preserve white supremacy and privilege. People also brought up how the State is involved in counter-insurgency planning. The police came up with a manual for counter-insurgency in 2015, and an anti-terrorism bill was also recently passed which further criminalizes poor and Black populations in Brazil. The conversation closed with an acknowledgement that "victories are accomplished through processes," highlighting the importance of celebrating victories won in the struggle against state violence and recognizing that the fight continues, with more victories to come.