On Saturday, September 16, activist, community communicator, and Complexo da Maré resident Gizele Martins received the Pedro Ernesto Medal at a ceremony at the Museu da Maré (Maré Museum). The Pedro Ernesto Medal is the highest honor awarded by Rio de Janeiro's City Council, and recipients are individuals who have made stand-out contributions to Brazilian or international society.
Approximately one hundred people were in attendance on the day for a series of activities organized to commemorate Martins. Martins has worked as a journalist and as Managing Editor for O Cidadão, a newspaper dedicated to the sixteen North Zone favelas that make up Maré, but that is just one of her many projects. She has organized communications conferences and courses for Maré residents and led workshops to educate residents about their rights, as well as gender and racial inequalities. She is also a part of Rio de Janeiro's Youth Forum—which was responsible for creating the "Nós por Nós" (Us for Us) app to help report police brutality—and has guided tours to destigmatize favelas.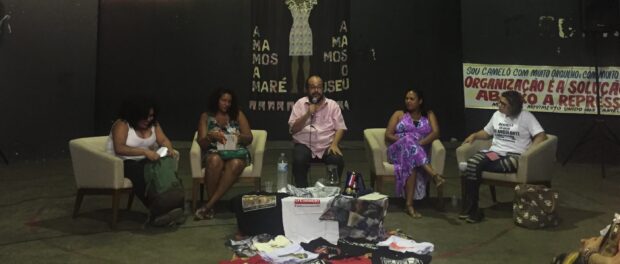 The first activity of the event was a panel discussion titled, "Militarization of Life and Resistance in Rio's Favelas." The panel featured community communicator Dr. Renata Souza, street vendor Maria dos Camelôs, specialist on the prevention of torture Patrícia Oliveira, and Justiça Global coordinator Glaucia Marinho.
They discussed the militarization and occupation of favelas, with a particular emphasis on their impacts on education. Renata informed the audience: "Operations have been so constant that a researcher from Maré found that Maré students missed twenty days of classes in 2016. Now let's do a quick calculation—twenty days without classes means students missed a month of class. In twelve years this same student… is going to lose one year of the twelve years of education he or she is supposed to have." The panelists also criticized mainstream media for their role in the criminalization of poverty through one-sided reporting of military operations in favelas.
After the discussion, food and drinks were provided before actors from the Grupo Atiro e MaréMoTO (part of Maré's Theater of the Oppressed) performed scenes depicting racism, health, and faith.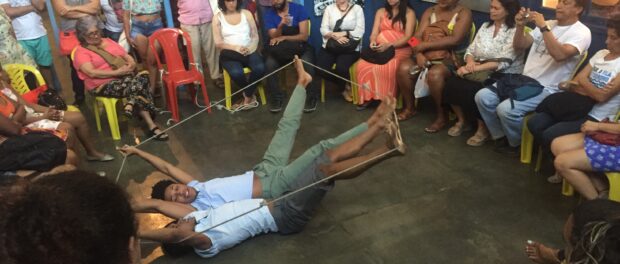 Then, turning the focus to the woman of honor, community members took turns praising Martins for her many accomplishments. Speakers shared personal stories involving Martins' triumphs and resilience, and described her as a beacon in the community. From mothers who lost their children to pastors and local organizers, all were in agreement that Martins represented not just herself and her family but all of Maré. She was a "warrior," they said.
These sentiments were echoed throughout the following days on social media. One comment on Martins' Facebook page read: "You are so deserving [of this award] and as a favela resident I feel represented by your achievement!" Another stated: "Thank you Gizele Martins for all your work shining a light on the persecution and genocide of black favela residents." One commentator described her as "tireless," pointing out that the day after receiving her medal, Martins was marching against religious intolerance.
Before presenting the medal, city councilor Renato Cinco echoed the idea that Martins is representative of a larger group, explaining that to celebrate Martins' work was to celebrate favelas and their resistance more broadly.
During her acceptance speech, Martins spoke of her struggles as a student from Maré attending the Pontifical Catholic University of Rio (PUC–Rio), a prestigious university located in the wealthy South Zone. She reminded the audience that "here in Maré, we don't have a bus that goes directly to the South Zone." Moreover, she spoke of the way she was treated and made to feel as a favela resident at university, recounting that "the faculty treats us like garbage because we're not rich," and describing how other students judged her clothing. Still, challenging these attitudes has become part of her struggle: "We don't have to be ashamed…It's them who have to be ashamed, the ones who don't respect us."
Exemplifying why so many people view her as a representative, throughout her speech Martins repeated: "I am favela, I am gay, I am indigenous…," each time acknowledging and declaring solidarity with a range of marginalized groups in Brazil.
She dedicated the award to the favelas of Maré as a symbol of all residents of Maré finding their voices and resisting oppression. She called all to action, declaring that "the favela lives, exists, and resists."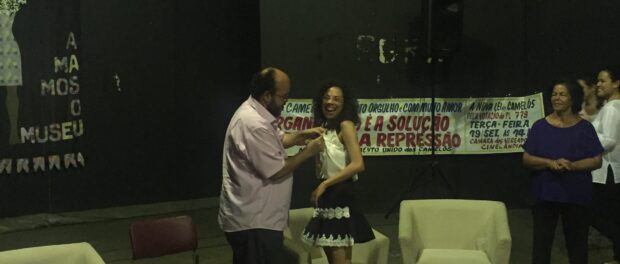 The Museu da ​Maré, venue for Saturday's awards ceremony, was created by Maré residents who realized there were broad misconceptions about the history of the area and how it came to be. With the opening of the museum eleven years ago, they aimed to inspire a more positive image of favelas and amplify the voices of its residents. As such, it was a perfect location for Martins to be honored.