On Saturday, December 2, several local organizations from Complexo da Maré, in Rio's North Zone, teamed up to produce Afro Maré, a cultural day for children featuring rollerskating and longboarding, rap battles and a DJ, spraypaint art, and film screenings.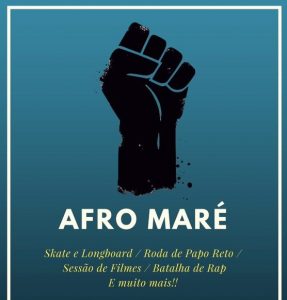 Although the emphasis throughout the day was on having fun, the idea for the event arose from challenges facing black culture and communities in Rio de Janeiro. One of the organizers representing the breakdance collective Maré Skills, Pedro, explained that "the idea was to have an event that addresses culture and different problems in our city. We need to pass our knowledge to each other…We need to fight, we need to know why we have to keep fighting." He said the raised fist symbolizing black power had been featured on several of the event flyers in order to reflect the organizers' aim to encourage the appreciation of black culture and resistance.
The event took place at Nova Holanda Plaza, located deep in the Maré favela neighborhood of Nova Holanda. Pedro emphasized that the choice of location was deliberate, because "generally there is a non-governmental organization that always holds events at the entrance of the favela that we [residents] don't go to but people from outside the favela come just to visit a favela. We created this event inside of the favela—by the favela, for the favela—to change that." Each child at the event was given an opportunity to leave his or her mark on the square. A map of Africa was outlined on a ramp at the center of the skate park, where kids could pick a country and, after learning some details about it, choose a color to spray paint within its borders, leaving a beautiful final work of art.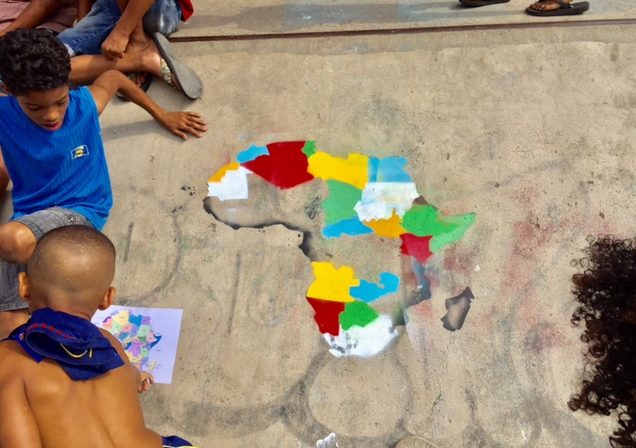 Several groups beyond the Maré Skills collective joined in organizing the event, including Maré Longboard, Jamaica Connection Gang (CJG), and Na Favela. Pointing to a shortage of activities for children in Maré, Pedro said: "I organize events once a month, CJG [organizes events] every week, because if we didn't organize them then there wouldn't be any cultural events available."
Maré Longboard is a collective that formed organically as longboarding grew in popularity in Complexo da Maré. The first few individuals to pick up the hobby sparked interest among others in the neighborhood, and organizer Diego recalled a moment of realization: "Everyone's here, wow, let's create a group!" Today the group is comprised of between eight and ten organizers and a fluctuating group of kids and teenagers. Diego sees the group as an important example of a positive activity in a neighborhood usually viewed from a negative lens: "Complexo da Maré is seen as a center of crime, you know, with weapons, drugs, maybe kids starving, but [this view] doesn't see the essence of the people." For him, the true essence includes "a lot of ability here—we have designers, great ones, really talented with their skill, skaters and so much more."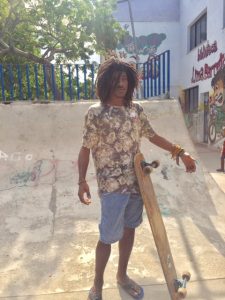 Both Diego and another collective member, Marvin, highlighted the importance of skateboarding not only as a collective sport and a hobby to keep children focused on learning, but also as a way to open their minds to the possibilities for breaking boundaries, to motivate them to reach for new opportunities they previously hadn't considered possible. "A week before planning this cultural event," Diego recounted, "we saw a group of kids walking by playing with fake guns… going towards one walk of life, you know? So why not skate? Let's hear some new music, let's open some new doors. Skate introduces you to hip-hop, skate introduces you to new types of dance, skate makes you want to go to new places, then bon voyage!" Marvin reflected that favela residents are at risk of internalizing stereotypes about themselves and their neighbors, especially in the current climate of conflict and fear. "We have to take that out of our minds. Those stereotypes exist here within the favelas, but skating can eliminate that."
Conexão Jamaica Gang (CJG) organizes a weekly rap battle bringing together MCs from around the city and sometimes even from other countries. The collective includes about eight regular members including MCs, beat makers, producers and DJs. Their goal is to help "create more culture for the community," explained Andre, one of the group's representatives at the Afro Maré event. CJG aims to provide a platform for community members to explore their musical talents, and Andre assured all Afro Maré attendees they would be welcome at CJG's Friday rap battles. With the growing accessibility of social media, the group also encourages residents to seize expanded opportunities to publish their work for others to hear.
Another collective present at the event was Na Favela—the Favela Audiovisual Nucleus—which uses film to promote change or "plant the seeds" for social change in people's minds. After sunset at Afro Maré, the collective screened short films that tackled themes of living in a favela and black consciousness. It was a fitting way to wrap up a day of children and positive messages of black consciousness, independence, and growth through music, conversation, art, and longboarding.